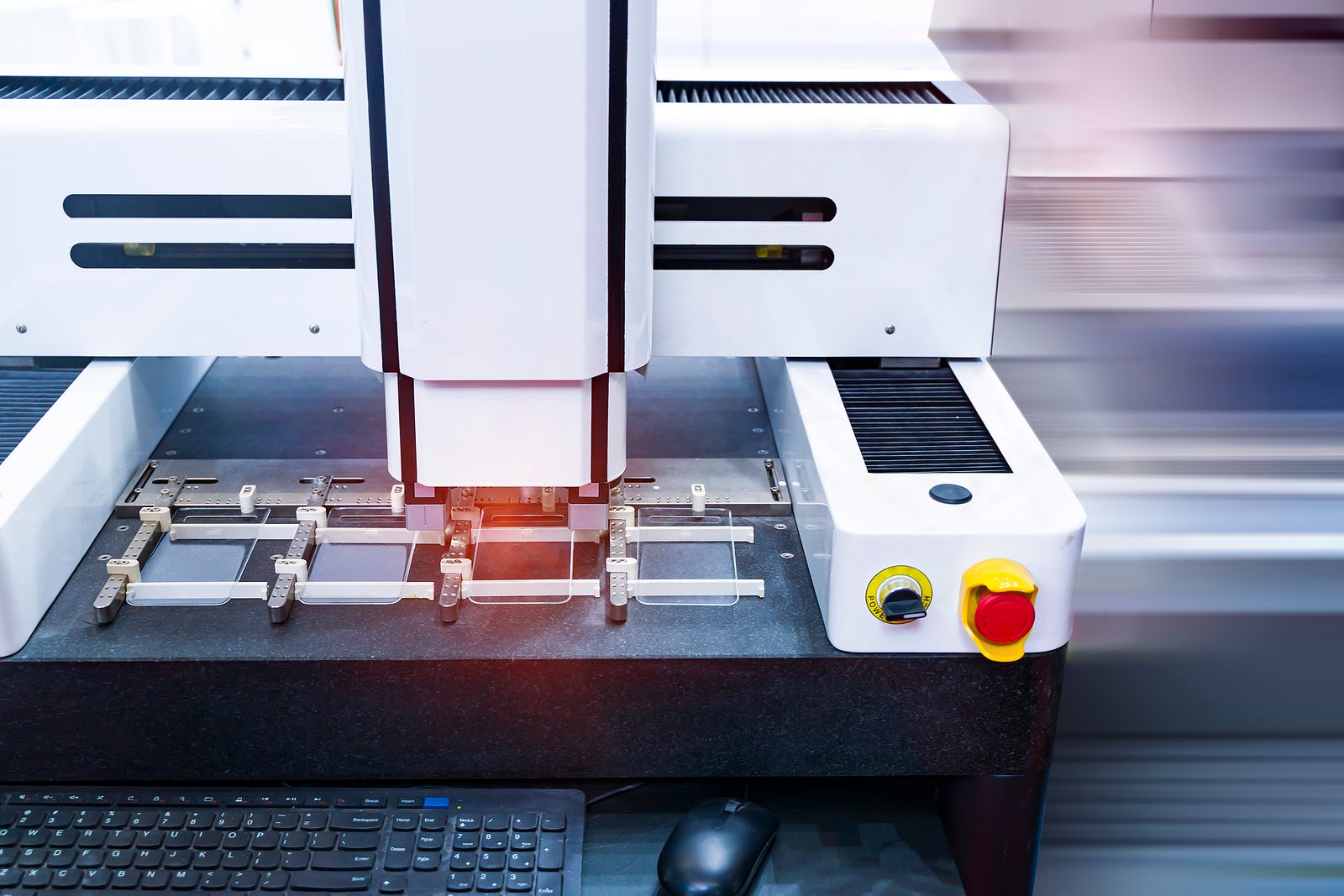 The role of mobile devices has never been more important. Nowadays, with the ever-intensifying standards of mobile processing power and camera quality, and an increasing reliance on the cloud, smartphones can get the most of computer vision.
This opens up numerous opportunities for companies, such as back-office process optimization, customer engagement, and automated visual inspection in manufacturing, retail, logistics, and other industries. Let's look at the most potent applications of computer vision in mobile apps.
Agriculture
In essence, every farmer's biggest concern is crop wellbeing. While the industry giants now rely on computer vision-enabled drones to monitor hundreds of acres of crops, smaller local farmers won't find such an investment feasible.
Smaller farmers often rely on experience, gut feeling, and very inflexible methods to maintain their crops. They often don't know what exactly infests their crops and how to deal with it in the most effective way. Farmers are also notorious for applying lavish amounts of pesticides on every square meter of their land, which has a detrimental effect on the environment. Moreover, they also don't know what pesticides will prove the most useful, effectively wasting already tight budgets. The majority of these decisions can be made based on real data rather than assumptions.
This is why AI-based mobile applications like Plantix can be definitive game-changers. Upon installing the Plantix app, farmers can use their smartphone cameras to identify plant diseases, soil defects, and nutritional deficiencies. Most importantly, the app also provides correct treatment plants and precise prescriptions for a given situation. With over 150 supported countries, 18 different languages, and over 15 million downloads, Plantix is well on the way to changing the small-scale agricultural business for the better.
Inventory management
In general, computer vision plays one of the leading roles in inventory management technologies. Mobile computer vision can make employees' jobs easier by offering an alternative to traditional handheld scanner guns. Organizations are now turning to mobile barcode applications to streamline a range of operations in manufacturing, retail, and logistics. With mobile barcode scanning, the tracking, tracing, and sorting of items are becoming more accessible.
Sometimes harsh industrial environments require additional hardware attached to a mobile device. With various enhancements like dust- and fall-proof cases, barcode reader hardware, and advanced optical recognition technologies for extended range scanning, mobile barcode scanning becomes usable in an increasing number of settings.
For example, Cognex has developed a range of mobile barcoding solutions that significantly expand smartphone capabilities. With additional Cognex modules, smartphone cameras can reliably read DPM from as far away as 10 meters and handle highly reflective surfaces. With an ultraviolet module and lens filter, mobile devices can also decode invisible codes. The most basic Cognex mobile barcode model augments the smartphone with the centered aiming pattern and light diffusor, which dramatically enhances scanning performance.
Customer engagement and personalization in retail
Nowadays, customers expect to have the convenience of online shopping at a physical store, while personalization has proven to be among the top driving factors of customer engagement. Brick-and-mortar stores can provide personalization by augmenting the in-store experience with the power of computer vision-based mobile applications.
For example, with Scandit's barcode scanning AR solutions, customers can simply hover their smartphones over the shelf to see useful information. Scandit's Matrix Scan AR allows customers to scan multiple products on the shelf at once and quickly determine the product containing the lowest amount of sodium. Upon scanning the product barcode, customers can receive recommendations on what other food works best with the already selected ones. Moreover, customers can instantly check reviews and ratings of scanned products. Given that 9 out of 10 consumers check online reviews before making a purchase decision, such customer experience enhancement can have a significant impact on sales.
AEON, a Japanese retail giant, has turned to Scandit to develop a self-checkout and self-scanning mobile application to enhance the shopper experience and decrease waiting times. Customers can now scan the products they are going to purchase (which also allows them to know the total cost of their purchase in advance), then scan a QR code on the terminal and pay without any queues along the way. After integrating Scandit's computer vision solution, the Japanese retailer has seen a 5% increase in store sales with a 67% app retention rate.
Syte, a Swiss-based AI company, also aims to provide customers with an e-commerce-like experience in retail fashion. Customers can take pictures of products they already have or have just picked up in the store, and receive product recommendations right on the spot. The computer-vision-based app can automatically identify the person's gender and age, as well as the items' brands and style, allowing the underlying algorithm to quickly suggest other relevant items. Syte reports an astounding 423% average ROI.
With the combination of computer vision and AR, IKEA allows its customers to get a better idea of how different products will fit the interior. By installing the app on their smartphone, customers can virtually place the 3D model of the desired product in any environment. The app automatically adjusts the size of the projected item in accordance with the space that the image has been taken in.
Interestingly enough, IKEA was among the first companies to use mobile AR as the majority of products in their catalogs were 3D rendered pictures enhanced with light and shadows. Although there are no statistics on the matter, with close to 4 million downloads and overly positive app reviews, IKEA has made a great case for providing value through an immersive user experience.
Given that we rarely put our smartphones aside, the access to an HD camera and the internet at all times has opened up tremendous opportunities for mobile computer vision applications. Companies can streamline their back-office operations, while customers have a range of new ways to access important information and engage with their brands of choice on a whole new level.
Published: October 1, 2021