Have you recently developed new software with the intention of selling it? The good news is that everyone is always looking to upgrade their software – the bad news is that they usually stick with big-name companies with established reputations (even if their software isn't as awesome as yours.)
In order to be able to compete on a larger scale, reach new customers, and see higher conversion rates, there are a few suggestions that you should know. We're here to tell you the 3 tips that new software companies are using to help improve their sales and overall growth – keep reading for more information! 
The Use of Data Warehouses and ETL
You're probably already familiar with the term data warehouse and their functions – but the question is, do you have one? A data warehouse can be helpful to companies of any size and is especially useful to keep historical information from the time of your business' conception. 
As a new company, storing data from the beginning of your operations can help you see growth over time, where your efforts are paying off, and what changes need to be made. Additionally, a data warehouse will allow you to search by subject and can compress collected information from a variety of sources.
The way that your data warehouse collects its information can vary based on your preferred method, either Extract, Transform, Load (ETL) or Extract, Load, Transfer (ELT). ETL has been the process primarily used for a number of years because it works well while ELT is a relatively new concept. The choice between the two depends on your business' needs.
It's important to note that ETL is more secure and cost-effective than ELT methods. The best ETL tools will be the ones that offer flexibility, are easy to use, and offers the type of analytics that your business needs and can grow as you do. 
When you choose to use a data warehouse paired with proper ETL tools, you will gain insight into your business and be empowered to make informed decisions as your software company grows. These insights will help you decide what's best for your company and your customers.
Becoming Mobile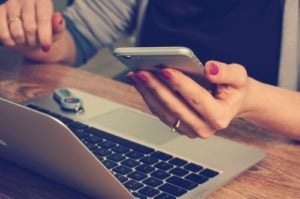 Photo by William Iven on Unsplash
Depending on the type of software your company offers, you may or may not already have an app designed. As the online world becomes more mobile-friendly, companies are having to adjust to the needs of mobile device users with some offering multiple downloadable apps to meet various needs. 
These apps are great when they run correctly; unfortunately, apps are known to crash, have numerous bugs, or need constant updating. Luckily, Microsoft PowerApps is taking a lot of the guesswork out of the development process, allowing for a business to create or update apps as they need them. 
While the software isn't necessarily difficult to use, it may be wise to hire a Microsoft PowerApps developer to help meet your company's needs without stretching your team too far. A developer will be able to create the applications you need while ensuring full functionality and in a timely manner. 
As of June 2019, it is estimated that 81% of adults own a smartphone and that number is only slated to grow in the coming years. While this doesn't mean that computers are draconian and on their way out, it does mean that more people than ever are using mobile devices and requiring mobile-friendly software/applications. 
In order to continue to grow and compete with larger software companies, you will need to expand your software to the mobile market if you haven't done so already. If you've already created mobile apps for your software company, it is still worth considering a designated PowerApps developer to help improve current apps and build new ones. 
Cut Costs by Using Open-Source Software
In order to show higher profit margins (which can attract investors and making your company more appealing), you will need to cut costs. This is especially true in the beginning stages of your business – but it can be difficult to discern where to make those cuts.  
One of the easiest and most effective ways of lowering costs without sacrificing your product or user experience is by choosing to use open-source software. When choosing to do this, take time to research the best open-source alternatives to ensure that cost-cutting doesn't affect the overall quality of customers' experience. 
Open-source software often has a bad reputation for being difficult to use and having no product support. This is only a half-truth; support isn't always a given but open-source software doesn't have to be difficult (it can actually be easier than what you use now!)
On the upside of the open-source argument, you aren't locked into a particular program that you may outgrow or pay for software you ultimately don't use. Opting for a well-known alternative to your most costly programs will end up saving you thousands of dollars per year, allowing you to better spend that money where you need it, be it on marketing or continuing to develop new products.
Showing Growth
If you choose to follow the steps listed above, your new software company should be able to show a profit as well as overall growth at a nice pace. This isn't to say that you should ignore other areas such as marketing and customer service; rather it is to stress the viability of using all possible avenues for your company's expansion. 
By choosing to focus on the use of data warehouses, ETL, being mobile-friendly, and cutting costs, you are opting for a holistic approach to growing your business. This approach will be slightly different than what you see your competitors use as they likely are more focused on rapid growth by way of heavy marketing. 
Keep in mind, they might see fast results, but they won't be lasting; these tips are designed for sustained growth, even if it is at a slightly slower rate.