Knot & Bow founder Erin Ozer talks organic growth, hiring tipping points, and the importance of risk.
Opportunity is all about perspective. Some people look at $200 and see a flight to somewhere warm. Erin Ozer, founder of the Brooklyn-based gift and party supplies company Knot & Bow, saw a business.
Having quit her job at Columbia University, the freshly minted mother of one started Knot & Bow out of both desire and need—the desire to provide customers with meaningful products and the need for a flexible work schedule. With creativity, vision, and a shoestring budget, Ozer aimed to fill a void in the gift wrap and party supplies business: think less explosion of plastic ribbons and gilded paper, more wool twine and matte surfaces. From its start in 2010 as an Etsy shop, Knot & Bow has embodied a kind of wholesome taste and temperate enthusiasm—something that was surprisingly difficult to find at the time.
A mix of in-house products and the curated offerings of others, Knot & Bow's nostalgic aesthetic has been readily embraced by magazines (Martha Stewart Living), television (The Today Show), the internet (every party blog you can think of), and–with the opening of its brick-and-mortar shop in 2013–the store's local Brooklyn community. Each item Ozer chooses to incorporate into the lineup feels personal and homemade, letting the spirit of the day speak for itself. After all, when it comes to celebrating, why gild a perfectly fine lily?
Here, we talk to Ozer about organic growth, hiring tipping points, and her fail-proof party soundtrack.
Were you always a dyed-in-wool crafty person?
I've totally been a crafty person my whole life—always interested in arts and crafts and being creative.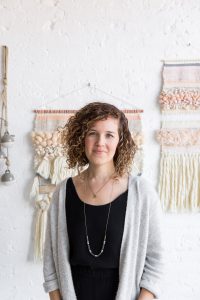 When you started Knot & Bow, did you see a big gap in the market in terms of product?
I had quit my job at Columbia after I had had my first son. I was looking to do something on my own, making my own money on my own schedule. That was really important to me. As I was looking into different ideas of what to sell and what to create, the packaging component became what I was most interested in. I found myself looking at all these different gift tags and twines and wraps and envelopes. That's how it all happened. Aside from maybe Paper Source—which didn't have as big a presence as it does today, at least in Brooklyn—that sort of simple, beautiful product was difficult to find and buy easily.
What is it about these simple, nostalgic products that appeal to you?
When I moved to Brooklyn, I kept noticing all these places with a real sense of history in our neighborhood. It was so charming. It's a pretty special thing when you buy a sandwich and they wrap it up and tie it with twine—you have a package to unwrap when you have your lunch. But when I'd go to buy wrapping paper, everything was super colorful. It was all shiny paper and plastic ribbon—not the look I was going for. There's such a tactile quality to those materials. I just wanted to bring more to the customer.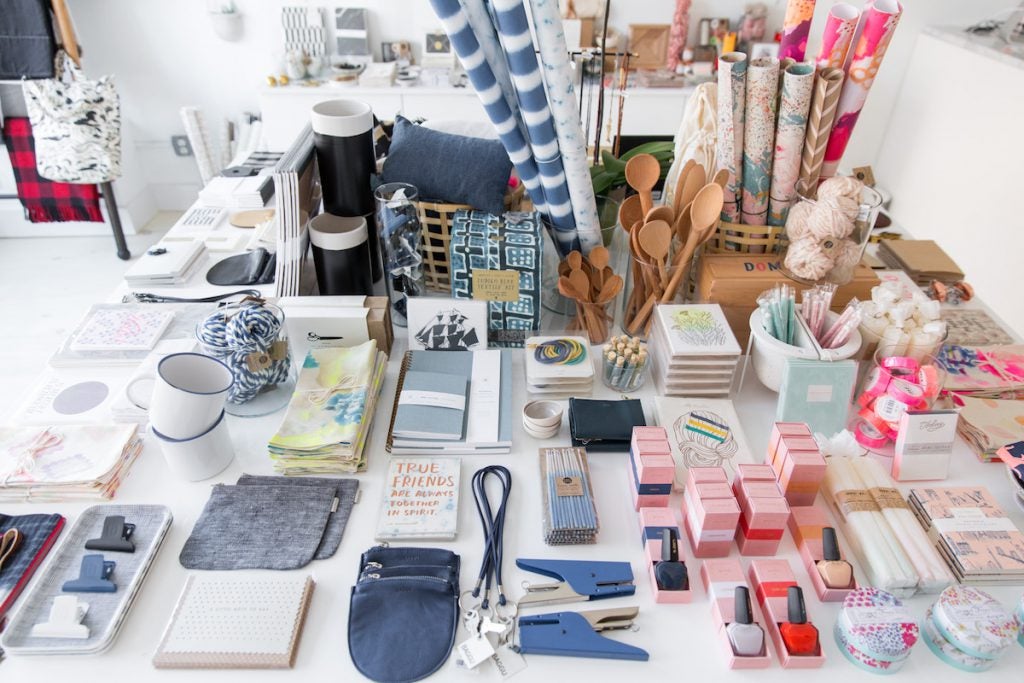 What was the first product you sold?
When I first started, I had $200. I had quit my job and had been a stay-at-home mom for around nine months. At that point, we didn't have anything to spare. Once I got the idea, we decided that I could spend $200 building up the Etsy shop. I stretched it as far as I possibly could. I wanted to fill up the entire Etsy page so it looked like a full shop. I had just a few products but I spread them across in all these different combinations so that it looked that I had more than I did. I had craft paper, ribbon kits, two colors of gift tags. Everything was red and light blue. Craft paper, twine, and gift tags were essentially the start of it.
So Etsy is where Knot & Bow got off the ground?
Yes. We still have our shop on there, though we're working really hard on a Shopify shop that's going to be a little more "us." [The web store] part of the business has admittedly been the hardest to attend to, since our wholesale business has been our bread and butter for so long. But Etsy has been really good for us for the most part. They gave us a lot of support in the beginning, and the people shopping on Etsy are our target market. It's been a good fit for us.
Was that transition from online shop to wholesale business a fast one?
It was pretty quick. That first year we were on Etsy, I only sold a few thousand dollars worth of product in the first few months. It was really, really slow growth, but to me it felt like I was getting a lot busier. I was going from zero on up. After three or four months, we got our very first wholesale inquiry from a very reputable store in Brooklyn. We didn't end up selling to them, but that was a sign that there was potential for us.
Our first wholesale order was from Terrain, which is a branch of the Urban Outfitters brand. I had to learn really quickly how to do wholesale. I didn't have a line sheet, I didn't have a catalogue, I didn't even really understand wholesale pricing. I had to figure it out. And it's not an easy first order, but it was a really good way to jump into the deep end of wholesale. Since then, wholesale has been a really big part of our business.
How long was it before you realized you needed to hire more staff?
I started in 2010 and I didn't hire my first employee until 2012. For the first two years, I was really doing everything in the middle of the night while my son was asleep. It was a slow start, which is kind of the way I needed it to be. I was really trying to focus on being a mom. I had one to two employees for the following two years. I didn't start having a full team like the one I do now until about two years ago. At first we were in a small studio, which is now our retail shop. A year-and-a-half ago, we moved into a 2,000-square foot space where we were able to buy more products and house more people.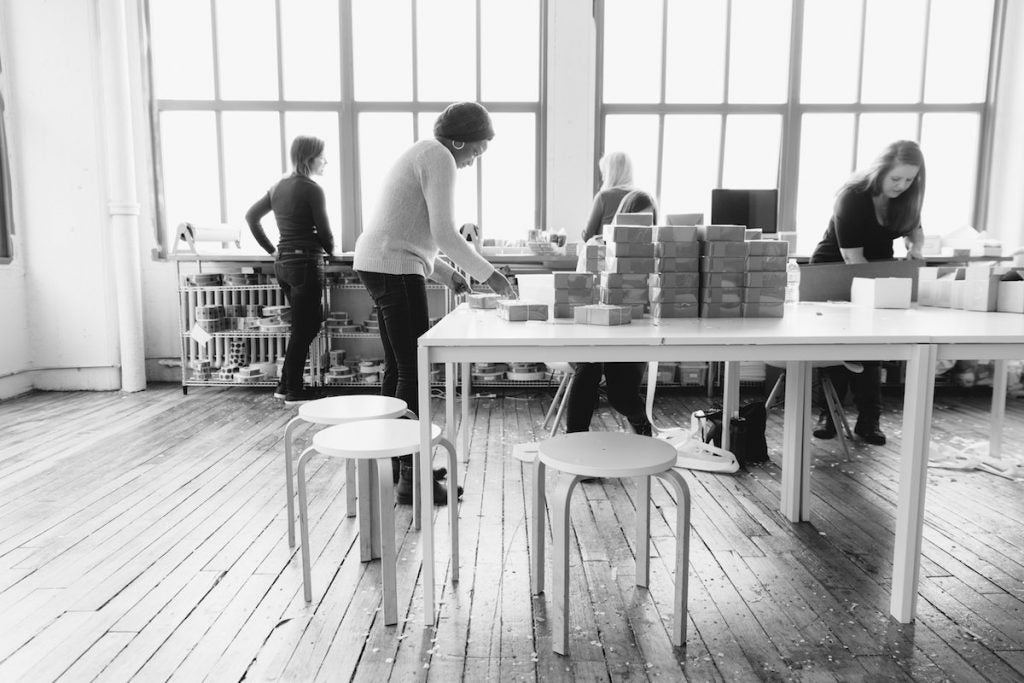 When did you decide it was time to pursue a physical retail location?
I had a lease on the space already, since it was our first studio. We signed right before Gowanus really had anything to offer—it didn't have Dinosaur BBQ or Ample Hills Creamery or [the Royal Palms] Shuffleboard Club or any of the places Gowanus is known for now—so the rent is really reasonable. I knew I wanted to hold onto it, even if we moved. When we moved into the bigger space, turning the small studio into a storefront just made sense. It was always something that had been in the back of our minds.
How do you decide when or what to add to the product lineup? Is it seasonal?
There are always little bursts after the tradeshows. I feel like I'm constantly placing new orders on a rolling basis, which I find to be great for the shoppers. We have a lot of people mention [our variety] when they come in—that we have new things all the time, as opposed to in big chunks. Over the years, I've met so many amazing designers and makers in the gift and stationery industries. Finding product has been really easy, I think. It's just been a matter of editing all the cool things they have to offer and picking the best of the best that will work for our space.
What's the strategy in the product mix at the store?
We offer the Knot & Bow product line that any of our wholesale customers can order. But we also carry a little over a hundred other vendors' products in the store. It's a mix. Even though I know brand-wise it might be more appropriate to have the store to be mostly Knot & Bow with a few other things mixed in, to me, as a customer in the neighborhood, I would much rather go to a store that has a lot to offer. I'm just trying to make it the best store that it can be.
Do you work with a sales team to manage your 1,500 wholesale accounts?
We have a couple in-house staff members who work directly with stores, as well as a couple different rep groups who work with us on the ground around the country. We also started working with international distributors, which has been amazing for us, though it's proven to be a lengthy process because so much of it depends on the value of the dollar. There's a lot of negotiation with that.
How do you handle surges in orders around holidays?
Last year was the first time we started doing Christmas orders in May. We do so much international sales now, which means the product has to get on a boat and ship out to make it on the shelves in time. The holiday orders trickle year-round for us now. The big trade shows, which happen three times a year, create bursts of pretty big orders, too. Very seldom are we sitting around with nothing to do. We usually are really hustling to get orders out because we have more than we can handle.
How did you come across Bond Street initially?
I had heard of them at the conference Nearly Impossible. They had a speaker from Bond Street present. Honestly, it wasn't anything that crossed my mind in the beginning. I've always operated debt-free. I was really scared of the concept of taking on debt. But all of a sudden, I was trying to open a store and buy tons of merchandise all at once. On top of that, I was having to buy tons of merchandise for our wholesale line because holiday orders were coming. I realized I was going to tie up all of our cash trying to open the store. So financing became something I had to look into. The way Bond Street worked was really appealing to me, in that it was fast and you could get it working really quickly.
Knowing what you know now, what advice would you give someone considering opening their own business?
For me, one big thing has been to just start. I feel like I sat around for a year trying to figure things out. Sometimes I've been almost too cautious in thinking about things and possibilities. Especially for people who might be in a job that they're unhappy about and they want to start a business, I feel like it's pretty important to just go for it. Even if you're not quitting your job right away, you have to start working towards that goal and take steps to facilitate that change.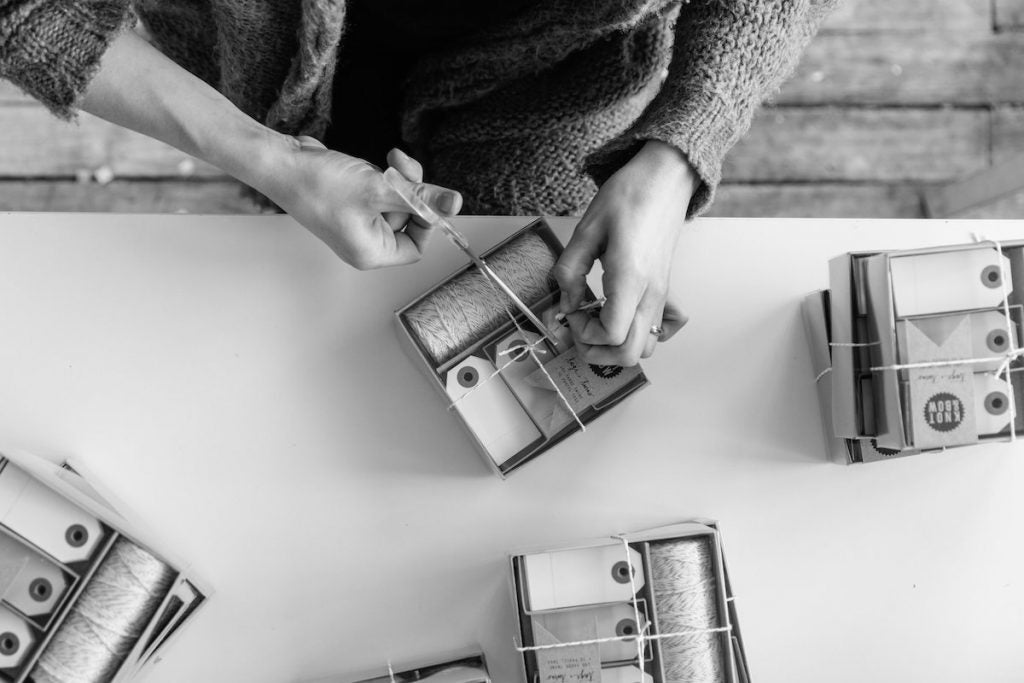 One book every entrepreneur should read:
There are a lot of business books still on my "to read" list, but this one is chockful of things to think about on one of my favorite topics: The Best Place to Work: The Art and Science of Creating an Extraordinary Workplace.
Favorite blogs for Knot & Bow inspiration:
I don't read a lot of blogs anymore, but I try to keep up on what's going on through Instagram and social media. Some favorite feeds/sources of inspiration:
Fail-proof party soundtrack:
The new Justin Bieber album in its entirety? We've almost overplayed it in our studio, but we haven't quite gotten there yet.
5 favorite small businesses:
I have to include our shop, of course, which is filled with my favorite things. I'm drawn to tactile shopping experiences that are thoughtful, incorporate an element of discovery, and—judging by the shops I came up with—are filled with flowers and plants!
Knot & Bow, Brooklyn
Twig & Twine, Los Angeles
Terrain, Philadelphia
ABC Carpet & Home, New York
Bellocq Tea Atelier, Brooklyn
Author: Michael Jones is the Director of Community Development at Bond Street, a company focused on making small business loans simple, transparent, and fair. Contact Michael at Michael@Bondstreet.com