So, you have an excellent idea for a business. Congratulations! Starting your own business is an exciting adventure, and it's not for the faint of heart. But where do you start? How do you turn your great idea into a reality? In this blog post, we will walk you through the process of getting your business off the ground.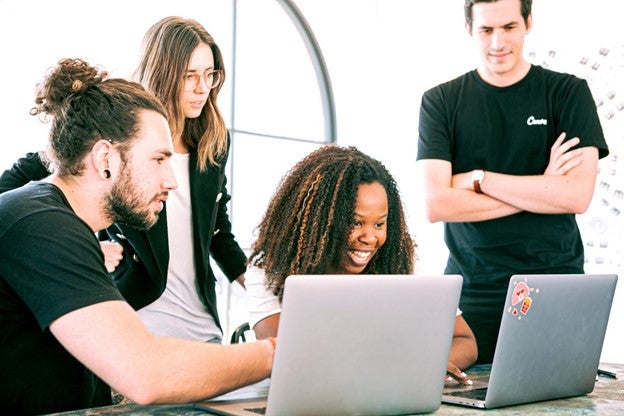 Photo by Canva Studio from Pexels
#1 Create a business plan
The first step in starting your own business is creating a business plan. This document will outline your business goals, strategies, and how to form a limited company. It's important to take the time to create a detailed and well-thought-out business plan, as it will be your roadmap for launching and growing your business.
If you're not sure where to start, there are plenty of online resources available that can help guide you through the process. The Small Business Administration (SBA) has an excellent guide on how to write a business plan, which can be found here: Also, consider consulting with a local small business advisor or SCORE mentor; these professionals can provide valuable insight and guidance as you get started.
#2 Source funding
Once you have your business plan in place, it's time to start sourcing funding. This can be done in a variety of ways, depending on your needs and the stage of your business. Some common sources of funding include:
Personal savings
Debt financing (e.g., bank loans)
Angel investors or venture capitalist
Grants from government agencies or private foundations
It's essential to do your research and identify the best sources of funding for your business. Talk to other entrepreneurs who have started businesses similar to yours and see what worked for them. With regards to funding, your options may be limited if your business is in its early stages. However, as your business grows and becomes more established, you will have more options available to you.
Once you have secured funding, it's time to start building your business! This includes registering with the appropriate government agencies (e.g., Secretary of State for businesses operating in the US), setting up a bank account, and purchasing insurance.
Be sure also to create a website and social media profiles for your business; these online platforms are a great way to reach customers and promote your products or services.
#3 Set up a robust marketing strategy
No matter how great your product or service is, you won't make any sales if no one knows about it. That's why it's crucial to have a solid marketing strategy in place. This will include everything from branding and website design to email marketing and social media outreach.
Again, there are plenty of online resources available that can help you get started.
There are loads of excellent guides on creating a marketing plan, which can be found here: Also, consider working with a marketing consultant who can help you develop a strategy that fits your business and budget. In addition, be sure to track your marketing efforts and analyze the results. This will help you determine what's working and what needs to be tweaked. Digital marketing tools like Google Analytics can help you do this.
#4 Make valuable connections
One of the best ways to grow your business is to make valuable connections with other entrepreneurs, customers, and industry experts. These relationships can help you get advice, feedback, and even new customers. Attend networking events in your area, join relevant online communities, and start blogging or writing articles about your industry. You never know who you might meet or what opportunities will come your way.
Partnering with another business can also be a great way to expand your reach. This could involve co-marketing, cross-promotion, or even joint ventures. The bottom line is that it takes hard work and dedication to get a business off the ground. But with a solid plan, ample funding, and a strong marketing strategy, you're well on your way to success!
#5 Outsource small tasks
The final step is outsourcing the smaller tasks that you don't have time for. This could be anything from social media management to bookkeeping. Find a service that can take care of these tasks for you so you can focus on your business. There are many excellent services out there that can help you get started. Just make sure you do your research and find one that fits your budget and needs. Outsourcing these tasks will free up your time and allow you to focus on what's important – building your business!
Outsourcing smaller tasks is a great way to free up time so you can focus on what's important – building your business! There are many services available that can take care of these tasks for you, so do your research and find one that fits your needs and budget.
In addition, make sure to check out our previous blog post on tips for starting your own business!
#6 Set realistic goals for the near future
If you're just starting out, it's important to set realistic goals for the near future. However, trying to do too much too soon can be overwhelming and can lead to burnout. Instead, start by setting small goals that you know you can achieve and then gradually increase the difficulty as you get more comfortable with your business. This will help keep you motivated and on track.
In addition, make sure to always celebrate your accomplishments, no matter how small they may seem. Acknowledging your successes is a great way to stay positive and motivated when things get tough. So, give yourself a pat on the back every time you reach a goal—even if it's just a baby step!
Also, don't be afraid to ask for help. There's no shame in admitting that you don't know something and need some guidance. In fact, most successful people will tell you that they've had to seek out mentors and advisors at some point or another. So don't be shy—ask around for advice and see who might be willing to help you out.
#7 Get your finances in order
One of the most important aspects of any business is its financial stability. This means that you need to have a solid understanding of your expenses and how much money you're making (or losing). If you're just starting out, it's best to keep things simple and focus on breaking even. This means that your income and expenses should be roughly equal, so you don't end up in the red. Instead, you can gradually increase your profits as your business grows.
To track your finances, you'll need to create a budget and track your spending. A great way to start is by tracking your net worth—that is, the total value of all your assets minus all your liabilities. This will give you a good overview of where you stand financially. It's also a good idea to consult with a financial advisor or accountant, especially if you're not familiar with business finances. They can help you set up a system that works for you and make sure you're doing everything correctly.
#8 Hire capable managers and employees
One of the most important aspects of any business is its team. If you're just starting out, it's essential to hire capable managers and employees who can help you grow your business.
When hiring new people, it's crucial to find someone who shares your vision and is passionate about your company. In addition, they need to be a good fit for your culture and be able to work well with the rest of your team.
It's also important to make sure that your employees are adequately trained. This means providing them with the tools they need to do their job as well as ongoing training so they can keep up with changes in the industry. Finally, don't be afraid to give your employees some freedom. Trust them to make decisions on their own and let them come up with their own ideas. This will help them feel more invested in the company and will encourage them to work harder.
#9 Get to know your market
To be successful, your business needs to understand its target market and what it wants. This means doing research on your industry and understanding who your customers are. One great way to do this is by creating buyer personas. A buyer persona is a fictional character that represents your ideal customer. By creating several different personas, you can get a better understanding of what they want and how to reach them.
Another way to understand your market is by conducting surveys or interviews with your customers. This gives you valuable feedback on what they like and don't like about your product or service. It also helps you identify potential problems before they become major issues. Finally, keep an eye on the competition. What are they doing that's working? What's not working? How can you differentiate yourself from the competition and stand out in the market?
So, there you have it—nine essential tips for starting a business from scratch. Use this information as a guide, and don't be afraid to experiment until you find what works best for you. The most important thing is to stay focused and never give up on your dreams.