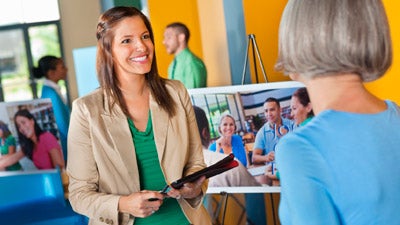 Trade shows can be excellent for helping you engage with potential customers, meet others in your industry, and learn from peers. COVID-19 caused restrictions that limited event sizes, moving many trade shows online or canceling them. Now that they're starting to happen again, use these tips to take your trade show experience to the next level.
Put Enough Time Into the Preparation
Trade shows involve upfront costs, whether associated with airfare, hotels, conference passes, or your rental car. However, it's usually easier to justify those expenses when you think about how many new clients and connections you could get by being at the trade show and making a strong impression.
Even so, you can raise the chances of trade show attendance paying off for you and your company by devoting enough time to the things you need to do to get ready. For example, create a shared calendar used by everyone who will staff your trade show booth. Then, there's complete transparency about who will be available when.
It's also useful for the sales and marketing teams to schedule booth meetings with prospects before the trade show begins. That way, you're not just trying to engage with everyone who passes by and looks interested, but instead have set aside ample time to speak to people who are aware of and eager to know more about what your company offers.
Make the Booth Setup Easier
There's a huge variety of ways to set up your booth to make it accessible for passersby and give it the best chance of showing off your stuff. Beyond figuring out the booth layout, investigate how you could make it easier to set up at all the events you attend.
For example, some booths have two-part systems that align quickly and seamlessly with magnets to streamline the assembly. Other options are lightweight and compact, making them easy to travel with and carry.
Determine what aspects of your booth setup and takedown processes are typically the most challenging or have room for improvement. Then, consider purchasing products that will help upgrade your booth while simultaneously giving you one less thing to worry about when it's time to assemble your trade show stall or take it down.
Cultivate Engagement by Creating a Relaxing Atmosphere
Trade shows can be exciting, energy-filled events, but due to their size and the sheer amount of things to see and do, they can also be a bit exhausting. Recognizing that fact is a great way for exhibitors to attract people to their booths and encourage them to linger.
For example, offering free coffee and tea, plus a comfy lounge area, will appeal to people who want a place to take a short break. Providing a place to charge phones is another tip. Keeping company literature nearby and having representatives on hand to speak to people who want to know more will help you make the most of potential new connections.
Train the booth staff to mention some key tidbits designed to catch attention, too. For example, maybe you use automation to ramp up printed circuit board production. One such company in that space can make 15 different product types each day with an approximate three-day turnaround time. Put yourself in the shoes of booth visitors when thinking about what would attract them the most.
Make Your Materials Mobile-Friendly
Some people do want brochures, catalogs, and other things they can touch. However, we've all seen attendees at electronics trade shows who are so loaded down with those materials that they can hardly carry them.
Make things easier on them and increase their chances of getting in touch later by giving the option of scanning a QR code that downloads a digital version of the materials to their device or sends them to your website. You could even make the QR function to let people book meetings with representatives at your company.
Another option is to create business cards with custom short links that give people easy access to a database of relevant materials. That's an eco-friendly possibility that'll save you money on paper and printing costs. Attendees should also appreciate that they can browse through the material later at their leisure rather than carrying it around the trade show and stuffing it into their suitcase before the trip home.
Create a Comprehensive COVID-19 Strategy
COVID-19 isn't going anywhere soon, which means people exhibiting at in-person trade shows need to think at length about how to follow all the event's protocols while making attendees feel safe and at ease. For example, if the event requires mask-wearing, the booth staff must remember to project their voices and know that smiling is no longer enough to make the initial contact with passersby.
Since we've all gotten used to different ways of greeting each other while living with a deadly and highly contagious virus, the once-standard practice of striding up to someone with a broad smile and an outstretched hand is no longer appropriate either. Some people feel comfortable enough to resume shaking hands with others, but that won't be the case for everyone who arrives at your booth.
Explore new ways of engaging with people and showing them you've taken all the proper precautions. That might mean having bottles of hand sanitizer that staff members use before and after visitor interactions and giving people touchless ways to engage with what's on display at your exhibition stall.
Prepare for a Terrific Trade Show
Succeeding at a trade show means putting sufficient effort into making things work in your favor and not waiting until the last minute to plan everything. Beyond that, these suggestions will help you adhere to best practices whether you're going to your first trade show or have been to dozens throughout the last several decades.