Starting your own business comes with a great deal of uncertainty, and there is no guarantee that your product or service will be profitable. An alternative place to start is with a franchise model.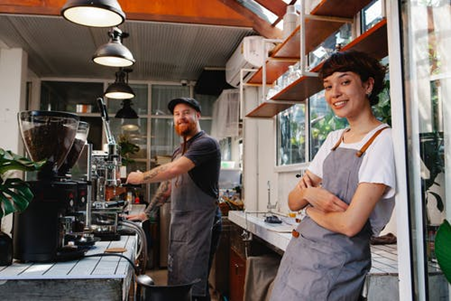 Image Source
Franchising is a form of marketing and distribution in which the owner of a business (the franchisor) grants a third party (the franchisee) the right to run their business using the franchisor's name and business system. In return for this right and the enjoyment of any profits, the franchisee pays the franchisor an initial fee and an ongoing royalty fee.
If you are considering investing in a franchise opportunity, this article will help you understand some of the benefits such an opportunity can offer.
Trade Name
Unlike a start-up business, a franchise has already built up its brand name and reputation. When you purchase a franchise, you are buying an established business with a track record of success. One of the key benefits of the franchise model is that it gives you the right to trade under that name and attract customers without the need for much marketing and advertising to promote the brand.
Lower Risk
In general, the risk of failure is lower with a franchise, as it comes with a proven business model that has been in operation for years.  It is usually a successful brand that has weathered difficulties and learned from its mistakes, gaining the necessary experience to compete successfully in its market.  Having all of this given to you as the franchisee will reduce the need for trial and error and increase the chances of enjoying success earlier than if you had started a business from scratch.
Training and Support
As a franchisee, a franchisor is directly interested in your success so you should expect to receive initial training and ongoing support from the franchisor.  This can include assistance in the opening of your franchise business,  advice on any business-related issues, and granting access to operations manuals that give instructions on the organization and management of the business process.
Raising Capital
A common barrier to expansion faced by many small businesses is a lack of access to capital. Difficulties in raising the initial investment needed to start a business are quite common to any entrepreneur but financing your business may be easier if you choose to invest in a franchise as a bank may be more likely to approve a loan to purchase a business that already has a credible and long-standing reputation.
Buying Power
As a franchisee,  you benefit from the collective purchasing power of the franchisor that can utilize the size of its network to negotiate deep discounts by buying in bulk. The cost of inventory and stock will likely be lower than if you were running your own independent business.
It's important to do your research before choosing a franchise that suits you. While the success of such a business depends on many factors, this article has shown some of the potential benefits that can follow if you do decide to go down this path.