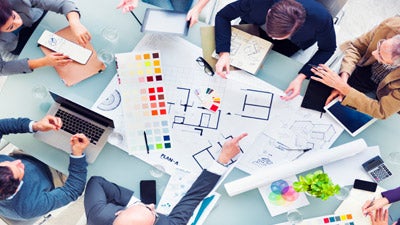 Customers have come to expect much more from the companies they choose to do business with. A great discount and flashy advertisements aren't enough to entice leads to progress through the buyer's journey – they demand value which means you need a solid brand. 
What is a Creative Branding Agency?
A creative branding agency is an expert team of copywriters, graphic designers, and marketing professionals who conduct research, test strategy effectiveness, develop branding initiatives and execute these tactics on behalf of businesses with whom they partner. They may also implement marketing outreach on social media and other digital marketing campaigns. 
Developing creative branding ideas that consumers can identify with is a vital cornerstone of a successful business and new entrepreneurs are finding it increasingly important to work with some of the top creative branding agencies to achieve that crucial objective. 
Top Creative Branding Agencies to Work With in 2022
Partnering with an award-winning agency with a high level of creativity and a deep commercial understanding requires an extensive amount of research. The decision of which creative branding agency to entrust is an investment in the future of your business and should not be finalized on a whim. 
A quick Google search results in hundreds of pages of creative branding agencies but investigating each requires an immense amount of time and energy. Work to develop a narrowed list of potential agencies to explore further.
During the selection process, review the digital portfolio and case studies of each agency candidate on the list. Investigate how long they've been established in the branding industry, their previous client list, and testimonials from previous and current clientele. Carve out time to perform some general brainstorming of each expert team and envision working with them as you make your final selection. 
According to statistics and success rates, the following organizations have been named some of the best creative branding agencies worldwide. 
Stan Branding 
True architects of a bold brand, Stan Branding finds your brand voice, messaging, positioning, and identity. With over 150 top seller products and an excess of 850 satisfied clients, Stan Branding demonstrates a commitment to developing a brand that your customers connect with and truly value. 
Armed with a team of award-winning designers, Stan Branding researches the nuances of your industry, specific target market, and industry competitors to develop a brand that begets originality in the market leading to proven results — with a project delivery on time and on budget. 
Stan Branding has partnered with globally successful businesses including Little Shiny Box, Sport Zero, and VitaGlobal Brands and after the development of a solid, creative branding strategy, these premier organizations skyrocketed in earnings, revenue, and brand loyalty. 
Want Branding 
Focused on their local and global clients' needs for outstanding levels of success and relentless ambition, Want Branding specializes in a 4-prong approach to finding a company's voice. Brand strategy, naming, identity, and research combine to help Want provide strong, striking, and disruptive brands. 
Their three USA-based offices have earned a spot in the coveted top 3 positions on Clutch and Digital Best Branding Agencies lists as well as a widely popular TED talk boasting over 2 million views. 
Clay 
A UI/UX branding company, Clay works not only to develop a visual branding strategy for their clients but also implements the science of consumer behavior into their digital product strategies. 
This San Francisco-headquartered creative branding agency has worked with many A-lister companies including Amazon, Slack, Cisco, and Google providing interactive strategies that evolve over time while offering their clients exactly what they need – an innovative brand. 
Bellwether 
Located in the United Arab Emirates, Bellwether offers most of the same services as the other best creative branding agencies on the list, by breaking it down… simply. Through a multi-faceted approach, the Bellwether team invests themselves into client collaboration and reinvents their story into a brand that performs. 
Granted multiple gold and silver awards during the 2022 Transform Awards MEA, they've added oodi, the American Hospital in Dubai, and Datamena to their long list of happy, creatively branded customer partnerships. 
Interbrand 
For over 4 decades, Interbrand has been devising creative branding strategies for organizations worldwide. Interbrand has been guiding its clients toward an innovative branding strategy to reach new heights by transforming their professional relationship from "customer" to "active participant."
With accolades from all over the world including 2022 Japan's Best Brands, and the AU + NZ Breakthrough Brands of 2021, Interbrand has a vast client list including big-hitters like Microsoft, Kia, and Fujitsu. 
Summary 
While the path to entrepreneurship is exciting and often full of optimism, building a unique and creative branding strategy is one step to success that cannot be avoided or delayed. The world yearns for value… not just a fancy product or a useful service that solves their problems. Working with the best creative branding agencies is a no-brainer for any business owner looking to make a long-term, legacy impact. 
Creating a story through you and your brand allows potential customers to develop a relationship with your values,  your mission, and your drive. It's a well-known fact that many small businesses don't make it past the 5-year mark and many experts agree – one of the reasons is their lack of effective branding. 
An agency employs expert teams to transform market research and creative branding ideas into full-fledged strategies that produce actual results – both on time and on budget. Masters in their trade, a creative branding agency doesn't require small business owners to dive into the depths of branding, but takes your dream and creates a branding package to drive your business forward. 
Research your available options, contact a reputable creative branding agency, and start on the road to ultimate success with a brand that makes waves in the industry.
Author: Daria Chashnitska is Project Manager at STAN Branding Agency | Branding & Packaging design https://stanbranding.com/ https://www.linkedin.com/in/daria-chashnitska/.
Published: October 24, 2022
908 Views