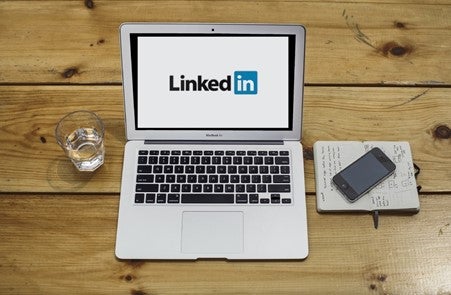 Source: https://pixabay.com/photos/home-office-workstation-office-336374/
Social selling has long been one of the strategies that marketers apply to increase brand visibility. Yet, social media and the shift to digital marketing offer a different perspective for small businesses and startups.
LinkedIn seems to be a perfect example of how marketers use social media to develop B2B relationships. LinkedIn has turned into a networking place used by sellers to make great B2B deals. Almost 75% of the surveyed sellers underline that they will expand their presence on LinkedIn. Why? LinkedIn social selling brings long-term relationships with the customers, a better understanding of industry and prospects, and the sales cycle improvement.
In this post, you will learn why LinkedIn social selling is effective and how to generate leads with it.
What is Social Selling?
The concept of social selling contemplates that businesses connect and engage with the prospects to contribute to sales generation. Nowadays, it is more about developing bonds and sharing insights rather than selling. In terms of lead generation, one may call it nurturing and much can be said about it.
Nonetheless, social selling is different. Yes, it is not about hard-selling; it involves sharing valuable pieces and engaging without pushy messages.
First of all, you connect with the customer. It helps to get to know them. Next, you offer something in return. That way, B2B social selling becomes essential for closing deals and creating sales opportunities due to its networking nature.
LinkedIn Social Selling: Using it Right
The particular strategy is not easy to implement and requires understanding the principles. Irrespective of industry, B2B social selling is to produce specific benefits and establish the bond. That's why a salesperson should think of an image, tone of voice and goals when utilizing LinkedIn for B2B lead generation.
One can apply social selling techniques to contribute to the content strategy; others can use them solely for offering the product. In this regard, one should remember the following things:
Investing in your brand (corporate or personal).
Building relationships.
Listening to prospects.
Offering solutions to their issues.
How to Generate B2B Leads on LinkedIn
Using social selling techniques allows generating leads and expanding small business opportunities. They can result in producing more quality leads and connecting with interested prospects. The main activities refer to networking, research, and offering value. Yet, there are such peculiar factors as your profile and way of communication. Thus, salespeople should consider the following tips.
Boost your networking: write one attract the others
LinkedIn is a platform where everything works on connections. It offers chances to reach your audience. If you connect with some people, you get the possibility to interact with other specialists.
For example, your lead may be a manager at the company, while their colleagues are likely to be managers in other companies. By sharing the value with the particular manager, you can attract the attention of others and increase your network.
Scale-Up Research: Analysis is crucial
LinkedIn is an almost infinite source of data and insights. By making the connections, you open access to the information on leads. In its turn, it contributes to the understanding of the buying persona and better targeting.
It is always best to do thorough research using business contacts and leads databases similar to the https://getprospect.com/b2b-contact-database. They offer the enrichment of the leads, organizing contacts and summarizing available information, including LinkedUrl.
Yet, if you search for a prospect manually, LinkedIn provides freedom in analysis. Once you see a person's profile, make notes, design a personalized approach, and create a message.
Besides, you can use a targeted search campaign if you already know your audience. LinkedIn allows filtering the profile based on location, skills, positions, companies and any keyword you may want to insert. Such an advanced feature will help to get the right leads based on the search results.
Share expertise: solutions and insights
Social selling implies that you offer value to the prospects. On social media, where business is the main topic, sharing your knowledge adds to your credit and reputation. LinkedIn social selling means sharing helpful content, participating in a discussion or starting one.
To do so, a marketer can try publishing content on their feed, creating groups or finding the ones. It can begin with a small community. However, the next thing you see is that it will grow together with your firm.
Design profile you would want to connect with
The LinkedIn community is business-oriented. Its users know much about principles and values. A profile of you, a salesman or sales manager, as well as the page of your company, significantly impacts the decision of a customer to continue communication.
Thus, make sure that your pages' pictures, summaries, and descriptions are clear and simple in showing who you are. The pages help you to support trust and save the time you usually spend on introductions. In this regard, adding videos to convey a message is also the way. Yet, ensure that it is well designed as 75% of B2B advertising lacks a developed story and characters.
Connect your LinkedIn and website: Direct the flow from one to another
For sure, your website has more information on the product and company than the LinkedIn page. There is more space and fewer limitations. That's the reason to direct your prospects to the website using LinkedIn. You may repost blog articles, share best practices, present new offers or present new employees. Your choice depends on the tone of voice and strategy.
Yet, inviting prospects to your site is about deepening the connection and providing even more insights. Such an insight may be a report or a webinar, allowing you to create an email list of the prospects for better nurturing.
Communicate and interact to connect: no selling
As social selling is about building relationships, do not sell anything in the first message. If you approach the prospects correctly, you are likely to get a customer sometime later. You can use ordinary messages to start a conversation or apply the InMail function for high-priority leads.
In each case, you should take a personalized approach based on their interests, position, and your solution or offer. For instance, you can comment on their post and send them a link to your website. Be sure it would be a piece that they will learn insight from.
At the same time, if they are an expert, you may start with complimenting their work to connect with them. As a result, you start the conversation based on the value you offer, not the product. In this regard, focus on their problems or issues with resources. Answering them is a key to getting a loyal customer in the long run.
Summing Up
Efficient social selling is built around the concepts of networking, researching and expertise. Networking helps to reach more prospects. Researching facilitates understanding the buyer persona, while expertise is a way to make the prospects interested. It is a long term strategy that is likely to close deals after some time and bring loyal customers in the end.