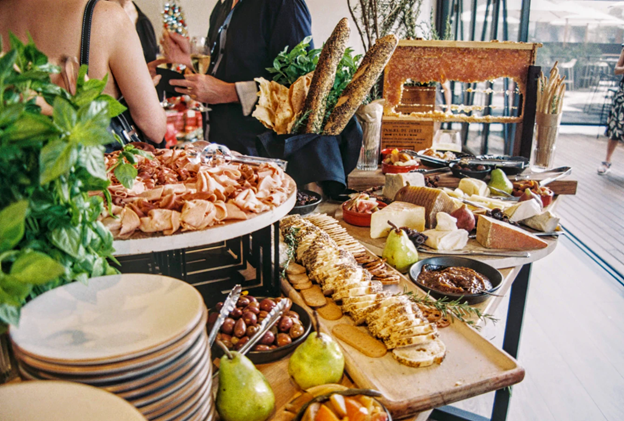 Source: Unsplash
We all know that catering is a tough business. Competition is fierce, margins are small, and the market is crowded with established players. In fact, there are so many catering companies out there vying for your customers that you might feel like you're fighting an uphill battle to stay afloat.
While this is a common problem, don't lose hope! There are plenty of things you can do to increase your revenue and create a sustainable catering business. In this article, we're going to go over some strategies that will help you maximize your catering sales and get more orders.
Host tasting events
Building relationships with potential clients and giving them a preview of the services you're able to provide can be the best way to build a long-lasting customer base. At these events, set out cards potential clients can fill out, providing their contact information and events they may be interested in having catered to.
Use a good catering software program to follow these details, so that you can be reminded if an event one of those potential clients mentioned is coming up around the corner. Check-in with the clients and offer to do a full catering event for them.
Offer a referral program for your catering business
They're a helpful incentive to encourage your catering business clientele to spread the word about your catering to their friends and family. It's a good way to get additional marketing for your business and give your customers an incentive to refer your catering business to others.
Referral programs are used by many different types of businesses for a simple reason, they're proven to work. For a catering business specifically, the types of referral rewards you can give include gift cards, coupons, discounts, or cash.
Avoid food waste
A big revenue killer for catering businesses is food gone to waste. You can lessen this by reducing the portions served and assessing what leftovers can be donated to charity as a tax write-off.
It's also worth knowing how to manage industrial waste. For example, unused produce can often be composted, and you could start a garden for growing your own vegetables, reducing the need to purchase from vendors.
Be on the lookout for new properties and grand openings
Keep an eye out for new buildings and new developments. Catering operations can find themselves in perfect locations for these, such as at the front of new shopping malls or on the busy streets of new business parks.
rand opening events are a good target, too. Many businesses are willing to spend a lot on grand opening parties that offer customers a food and drink welcome and a chance to sample other goods and services on offer.
New venues being opened are also worth reaching out to. Get a head start on your relationship with the venue owners and managers as this may give you an edge over competitors.
Experiment with your menu
Different people have different tastes and being able to adapt your menu to your clients is important for your success. Include or exclude certain foods based on what your clients like, so you can cater to them individually.
It's important to have a menu for clients who aren't picky and just want to choose from a list, but it's worth your time to experiment with the kinds of food that appeal to niche tastes. For example, you don't need to become a vegan catering service, but your kitchen should know a few popular vegan recipes to add to your list.
Don't just cater, offer an experience
Catering and event planning businesses often go hand-in-hand, working together as event planners have a list of preferred caterers to contact. But why not try your hand at the event planning stages as well?
Hosting an event, as well as organizing the food and décor, allows you to branch out and cater to your customers as well as meet new ones. This can lead to a new way to reach your catering clients and make them more loyal to your business.
When a client contacts an event planner, they often rely on the event planner to hire a caterer – but what if the event planner is the caterer? You just saved everyone an extra step, and you are at the center of everything, allowing you to manage the client's experience much more easily.