Trade shows are the perfect opportunity to meet other brands in your industry and stay updated, but what are some of the best ways to network and get results? In this article, we take a look at some of the most effective strategies for engaging with customers and brands at trade shows.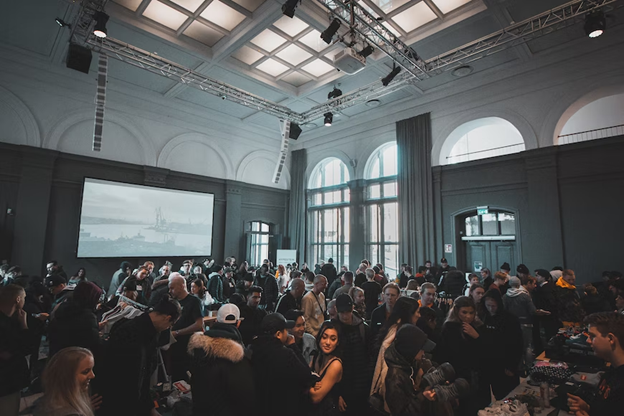 Image Credit 
Carry Out Research 
It's better to be prepared at a trade show and to know what brands and clients you want to connect with instead of being caught out. The last thing you want is to miss an opportunity with an exciting client or vendor because you didn't recognize their face; a little research goes far. 
 Not only do you need to know the brand and business quite well so that you can chat with them in an informed way, but you also need to know who runs the organization at different levels and who are the best people to connect with. Some people might attend the event on different days. 
Identify Targets 
Chances are you have some target customers or brands in mind for the trade show event, you will be waiting for an opportunity to connect with a player in the industry or valuable vendor, but there are many more targets at the trade show it can be useful to talk to about industry topics. 
Depending on the nature of your business, you may or may not have customer profiles for your target customers; if you do, you can use these to target the right demographic on the floor. If you don't have customer personas, it's a good idea to create some and find a trade floor map.
Business Cards 
Business cards are a currency at trade shows; not only will you pass them out to customers and vendors, but you can expect to receive a fair few in return. Exchanging business cards is a convention, but unless you're careful, your carefully designed card will become lost in the pile. 
During your conversations with people at trade shows, make them understand what you offer and what value you can bring to their businesses. A trade show interaction is a balance between friendly information and networking, so try to leave the best possible impression.  
Appropriate Timing 
Part of making the best impression on customers is dialoguing with them at the right moments. At a trade show, there are plenty of opportunities to speak to people, but it's better if it's at your stall instead of the canteen or a corridor. Be creative with your stall with unusual visuals or games that draw people in. It can be an eye-catching sign or contest that wins prizes. How about attracting people with a custom prize wheel? Custom prize wheels are excellent for drawing attention to a stall, they are bright and interesting, and they offer prizes to customers. Once you have their attention, you can ask them if they want to know more about your services and invite them to a networking space nearby. 
Social Media
Social media is a powerful tool to use at trade shows; it allows you to research other brands and connect with customers without the need for marketing materials. Make sure you integrate social media into your branding, advertising, and business cards, so they can find you easily.