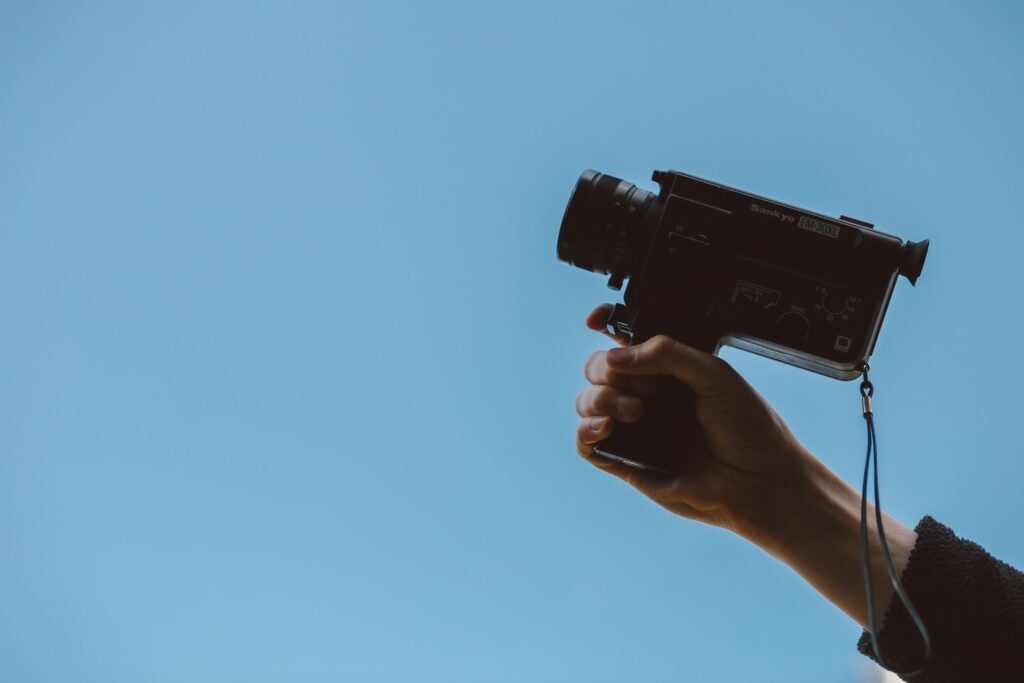 Royalty-free image
Looking to boost your marketing efforts with video content? Find out why that's a great idea and how to do it below…
Video marketing is a great idea for any business looking to grab the attention of their customers, leaving a strong impression and encouraging engagement, loyalty and sales.
Small businesses in particular can benefit from such a present and popular marketing technique because the results can be significant for what can be very simple and affordable input.
If you're unsure, it is also a great idea to consider the various positive statistics surrounding video marketing which should encourage any business to give it a go. Here are just some statistics about video marketing:
92% of marketers place video central to their strategy
Over 70% of customers would prefer to learn about a brand's offerings through video
93% of marketers have attracted new customers through video marketing
Videos are shared over 1200% more than text and image combined
Leads are increased 66% by video marketing
As you can see, it's a really good place to put some time and energy into when it comes to your marketing strategy. The great news is, you don't even have to invest large sums of  money into it either in order to get something really great out there.
To help you get started, here's a brief guide to how your small business can get started with video marketing for a selection of ever-expanding benefits:
What Is Video Marketing?
Video marketing is where your business creates videos that actively promote your brand. This can be done in many different ways, offering videos about your behind-the-scenes life, your services, your staff, and brand goals. It can also include informational videos talking about your industry, or simply a cool product launch.
Key benefits of video marketing include:
Understanding your brand engagement with data from video engagement and views
Multi-platform posting suitability
Encourages organic growth of the business through content sharing
Generates more traffic to your various sites and channels
More engagement with your website and brand in general
Ability to add foreign language voice-overs and subtitles to ensure content is accessible to everyone
Lead generation
Lead conversion
Building trust between your business and your customers
Affordable marketing for all sized businesses
There are also often specific benefits to certain businesses too. Perhaps other types of marketing have failed, or perhaps the business particularly benefits from visual sharing. The impact of good video marketing will be individual to your small business type and sector.
How To Create Excellent Video Marketing Content
It is so important that when you do produce marketing content in video form you ensure it is great quality. It should also be engaging, informative and useful. Here are some tips to help you create excellent video marketing content:
Use The Right Equipment
You don't need to buy lots of special equipment to create a great video. You can hire a studio or use a basic setup in a well-lit space to make your video look professional. Depending on your sector and requirements you may prefer to use professional video services but there are also companies like Matinee.co.uk that provide anything from just a studio space to equipment and professional voice actors.
The trick is to ensure the video looks as professional as possible because low-quality content could not only be ignored by customers, but it could damage your reputation.
Make Sure You Make The Words Count
Whether it is a recorded conversation, a voiceover on top of a slide show, or some sort of creative narrative, the script has to engage your customers. You are trying to effectively communicate information, but that has to be matched with creativity, a good voice tone, clarity of wording and personality in order to be truly engaging.
Ensure The Delivery Is Fluid
Don't be afraid of editing your videos to be as fluid and streamlined as possible. You don't need to fit everything into one video, so make sure each one stands alone as a helpful bite size chunk of information. It's common knowledge that our attention span as a species is getting shorter, so you have to make sure you're delivering all the essential information quickly, leaving out any fluff or filler. If it is a longer video (e.g. a recorded webinar) or a long interview, try to break it into different sections so that your viewer is able to consume it in manageable pieces at a time to suit them.
Keep It Organised
Have a clear and concise content plan along with plans for creation, posting and marketing. Each video needs to be promoted widely, ensuring that the maximum number of people see it. The great thing about video content is that it will continue to be viewed long after you have posted it so a really good video will continue to bring you fresh leads.
The key is to plan really well so that you know when you are going to be posting content. Even if it takes more money, time and energy to create a really impactful marketing video, it will be worth it in the long run.
Top Video Marketing Ideas
There are many different types of marketing videos a business can make. Here are some top ideas for inspiration:
Behind The Scenes
Your customers will love behind the scenes videos showing the people behind the products. This boosts your relationship with your customers and humanises the brand, which is essential for long-term loyalty.
Educational
Educational videos tell your customers, clients and potential suppliers all about your business. You can discuss how it all started, how products are made and even details on how certain products are certified. It's up to you what you share, but the insight will be valued by customers wanting to know more.
Thought Leader
How has your business disrupted your industry? What is your experience in your industry? What new thoughts and ideas does your business have that could change your industry? Thought leadership videos are potential viral hits if you have something exceptional to say. They also establish your small business as a thought leader in your industry.
Testimonials
Testimonials are stories from your clients or customers. They let people know that there are happy customers and clients, and you have impacted them in a positive way. This kind of video encourages new customers to buy-in to what you have to offer because they relate to the customer on screen.
Product Release
A product release video is essentially an advert for a new product, but it can be tailored to individual audiences. You may wish to make a product release for B2C different to a product release for B2B use. You can also make creative videos for marketing purposes that showcase your latest product in an eye catching and shareable way.
Interviews
Interviews with interesting people within your industry can be a great idea for a marketing video. It brings more expertise into the mix, and shows that your business is connected to interesting and knowledgeable individuals within your area of expertise.
We're operating in a world where one good video can lead to a massive social following.   – Mike Henry
With the right research, strong content and professional finishing touches, you can attract and retain customers with your video marketing for ongoing benefits to help your business grow and thrive.