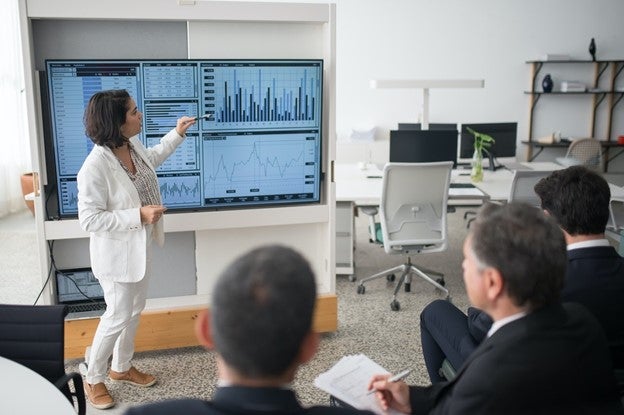 Image Source: Pexels
The pandemic has significantly changed the digital marketplace. So much so that several industries have had to sprint up a mountain full of difficulties just to stay competitive.
B2B industries were no different. In 2020 47% of them suffered from budget-related issues, including purchase freezes. However, B2B seemed to be one of the few sectors that struggled significantly even though their business model is suited to the online marketplace.
The reason why the home & garden, fashion, and beauty industries thrived and B2B didn't is their willingness to adapt to changing markets. 56% of B2B companies in a Carnegie Mellon University study stated that their poor technology infrastructure led to their slow adoption.
COVID-19 stressed the importance of technology, but any kind of transformation isn't easy.
Instead of getting lost in the transition, use the following B2B online marketing strategies, which involve both digital and human interactions, to grow your startup throughout 2022.
7 B2B Marketing Trends to Look for in 2022
In order to grow your B2B startup, you need to stay ahead of the curve. At the same time, you'll need to play "catch-up" with other industries. Here's how you can use marketing to work for you.
Acknowledge B2B Buying Preferences
A McKinsey & Company survey found that B2B customers prefer different types of technology throughout their buying journey. 76% of B2B buyers want to converse with someone when discussing a new product or service, while 52% want to speak to the same person each time.
At the same time, buyers prefer a mix of digital and analog touchpoints, making a hybrid experience necessary. B2B businesses should use customer-facing tools, such as live chat tools and mobile marketing platforms, to keep their buyers happy throughout the process.
Machine Learning, AI and Analytics
B2B businesses are falling behind their B2C counterparts in adopting analytic tools, but more and more companies are investing nowadays. In 2018, only 30% of B2B marketers used AI, a 6% hike from 2017, and about half of all B2B marketers measure success with analytics.
Adopting technology that markets your business and tracks ROIs, like LinkedIn outreach software, is a good way to keep the momentum. However, the B2B industry also has issues with creating a cohesive customer journey, which also greatly impacts their revenue streams.
To solve these problems, B2B marketers should use tools that track analytics to find patterns, AI systems for personalization and automation, and machine learning to run complex systems.
Virtual Reality (VR) and Augmented Reality (AR)
Promotional stunts are a cheap, easy way to gain viral traction. For example, Pepsi's AR campaign featured limited-edition packaging with QR codes. These unlocked AR versions of soccer players that juggled a soccer ball. The player could upload their scores to Instagram.
Startups can utilize VR and AR to create "try before you buy" scenarios that are both fun and educational. In the next decade, both technologies will be cheap enough to fully opt into. For now, one headset is all you need to create physical prototypes and complex 3D structures.
Factoring in Millenials and Gen Z
Baby boomers and Gen X are no longer your primary customer base. It's Millennials and Gen Z, both of which are digital natives, that represent the bulk of the purchasing power. Every single Millennial is old enough to be in the workforce, and in a decade, so will all of Gen Z.
Millennials have already shifted the buying journey. If they feel they're being sold to or that a business is being inauthentic, they won't purchase from you. Gen Z shares that preference in common, but they're 55% more likely to go into business for themselves than Millenials.
To market to both demographics, adopt the following practices:
Interact with them meaningfully on social media. Don't offer canned responses.
Give to charities or sponsor events, as they like to see businesses play their part.
Tailor your engagement to their personal needs (aka personalization).
Offer real-time communication (live chat) and/or face-to-face communication (video).
Millennials and Gen Z together hold a purchasing power of $165 billion. Don't ignore them!
Get on Amazon Business
A whopping 80% of B2B buyers research and purchase their products on Amazon. Forget about marketing exclusively on social media; Amazon is where it's at. It's important for you to opt-in as soon as possible, as you don't want to be a little fish in a big pond of other B2B companies.
Amazon has a self-service portal called "Seller Central," where businesses can choose to be a first-party seller (products are sold, tracked, and shipped by Amazon) or third-party (sell items yourself). Whichever method you choose, don't miss out on this great advertising opportunity.
Performance Marketing
Performance marketing is an all-encompassing term that refers to advertising programs and online marketing programs in which advertisers pay marketing companies to sell a product.
Affiliate marketing is a popular example of this trend, but in any form, both merchants and publishers share revenue for their investments. The B2B merchant would start this relationship by creating a product, and the publisher would promote it via a desired action, like a link.
One positive about this method is that you only pay for results. Both the merchant and publisher share the risks. B2B marketers could give their link out to thousands of affiliates and only pay once a user opts in. With a predicted $8.2 billion market share, there's no reason not to try it.
What's more, performance marketing can help you diversify your revenue streams and increase your advertising reach. This is a great way to earn money with a limited marketing budget.
Sales and Marketing Alignment
Creating a more efficient sales and marketing team will benefit your startup in the long run. Studies show that 80% of sales teams ignore marketing leads, which is the equivalent of watching your money fly right out the window. You'll need to break this silo immediately.
Software providers understand that marketing and sales teams need to work together; that's why CRM tools incorporate this fact in their design. If marketing teams can align their efforts with sales, they'll increase their productivity and hit better marks on their metrics and KPIs.
Conclusion
Although the B2B industry wasn't an early adopter of technology, the increasing need for its use has turned them into believers. With the marketing strategies we've listed above, your B2B startup is sure to disrupt the business landscape and foster its own scalability.