The power of influencers is only increasing. With potential customers placing their trust in other customers far more frequently than in the company itself, it's a mistake not to take advantage of the influencers in your customer pool.
This is particularly critical when selling business to business. Many companies can't afford to make mistakes when choosing another company to purchase from.
Influencers mainly work in the social media realm – and coincidentally, one of the most costly B2B marketing mistakes is neglecting social media.
If your company is in the business-to-business sector and is seeking out effective marketing strategies, building a successful influencer strategy is the right place to start.
Below are eight tips on how to do this.
1.  Know what you want to achieve
Following these tips is meaningless if you don't go into this marketing project knowing what you want to gain from it.
Do you want to increase lead generation? Optimize your company's online presence? Grow brand awareness? All of the above?
Setting out your expectations and goals at the beginning of the process ensures that you always make the right decisions – from which influencers you approach to what style of marketing campaign you select.
Having expectations also means you can assess how successful this endeavor was for your company. Did you achieve everything you set out to? No? Why not?
2.  Accept that it's a long-term strategy
Like building any relationship, it doesn't happen overnight. It can take months for your business's relationship with an influencer to blossom.
Not getting instant results may make you consider quitting. Acquiring leads or growing your brand takes time – which is why you need to accept that this is a long-term strategy before committing to it.
To add to that, the length of time a B2B sale can take means you can't measure the success of your lead gen strategy in the short term.
As long as you embark upon the implementation of this strategy willing to wait for results, you will succeed.
Read more on how to buy leads to improve your marketing and sales campaigns
3.  Track the effectiveness of your influencers
With that being said, you do still need to track how effective your influencers are in attracting B2B sales to your company.
You can set up URL tracking so that you can see how many people click on links provided by each influencer.
Remember: such a relationship should be mutually beneficial.
While you're tracking the effectiveness of the influencer's content on your business, they are probably also tracking your impact on their brand. Make sure you aren't just taking from your influencer but giving them something too.
You are both trying to build brand recognition, and your marketing relationship can only be successful if this happens for both parties.
4.  Look further than follower count when calculating success
It's easy to assume that the most successful and authoritative influencers are those with the most followers on social media. But, most influencers focus on their likes instead as a more reliable indicator of follower engagement.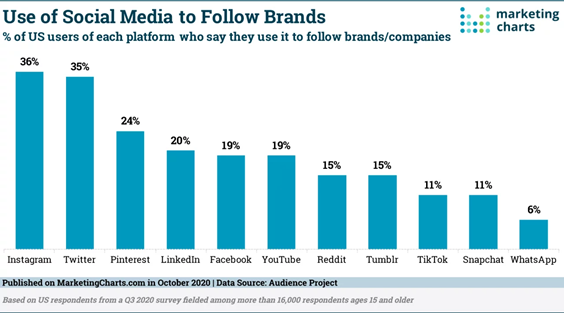 So, when sourcing which influencers to approach for a business deal, make sure you pay attention to more than just how many followers they have.
Next up are more tips on how to select your influencers.
5.  Start by looking at current customers
Are any of your current B2B customers prominent online? Maybe they run their own start-up business, and you provided them with tools to make that dream a reality? These are the best testimonials for your brand.
Creating an influencer network can be difficult initially, so it's best to select influencers that particularly value your company. Furthermore, they will have a genuine story to tell their audience to promote you, and such an endorsement will ultimately bring revenue to your business.
For example, if you provided your influencer with communication software that they believed and reported to their followers to be better than discord – one of the top competitors in the field, you would undoubtedly win a lot of business.
You can also use such a story to complete your part of the bargain and promote your influencer in return. Tell your customers a bit about their business and how you helped it flourish.
6.  Collaborate with your influencers
This brings us to collaborations. Creating content alongside your influencers gives you the best chance of coming up with a plan that works.
Influencers know their own followers better than you, and what you think is a great marketing plan might look disastrous to them.
To plan your campaigns and share information about your followers and customers, you should discuss your content with your influencers face to face. Once you find the best free screen sharing software for your project, you can easily meet up, wherever in the world your influencers are based, and decide which content will be most effective for your target audiences.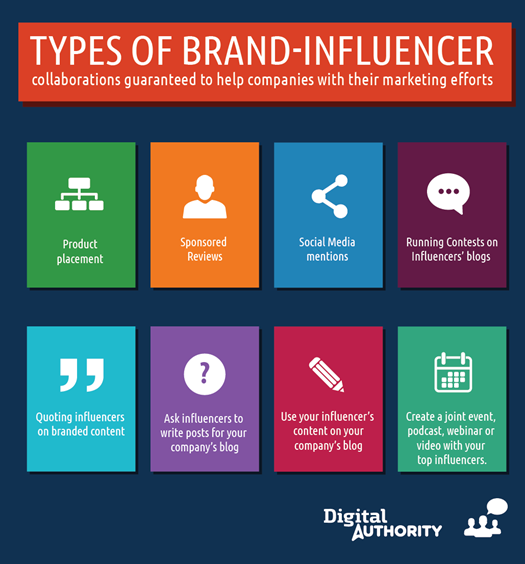 7.  Attract influencers to you
The most prominent influencers in the market will be bombarded with collaboration requests from a variety of companies. This makes them more skeptical about any offers of business that they receive.
What you can do to eliminate this skepticism is attract them to you.
With the content you share, build your brand image. Constructing a personality for your brand makes it easier for people – especially influencers – to resonate with you.
Notice an influencer engaging with your content? Don't be afraid to drop them an email or a call. But make sure you look up the best cold calling techniques first so you don't scupper your chances.
8.  Ask your customers who they interact with
Whether you find your influencers within your customer pool or not, they're still a valuable resource when building an influencer strategy.
Survey current customers about which influencers they follow on social media. You could communicate with them in groups according to their age and location, using a phone with a conferencing speaker, or send a virtual survey by email. As your current customers are clearly your target market, the influencers they follow would likely help you tap into other like-minded consumers.
Cross-selling and upselling tactics can be deployed by your influencers to get other businesses to commit to more significant transactions with you.
And as we said earlier, customers trust other customers' words more than a company's own – making a popular influencer's recommendation a lot more effective than your own.
Summary
Implementing an effective B2B influencer strategy can take time and hard work, but the achieved results will make it worthwhile.
Influencers generally have more power over the public than businesses themselves, so companies must tap into this ever-expanding digital network.