The world we live in is hyper saturated by the media—so how can your marketing stand out? Everywhere we go, in any direction we turn, we're confronted by images begging for our attention. From social media feeds to television screens, billboards to bus stops, magazines, newspapers, flyers, banners… the list goes on and on.
Marketers are up against a tough challenge, tasked with not only grabbing our attention, but also holding it for long enough that we're persuaded to dive deeper. The goal is to get eyes on ads—known as "impressions"—and make them count with clicks, calls, and conversions.
Small business owners face an added obstacle. They tend to have slimmer budgets and need to stretch their advertising dollars as far as possible while competing against the Big Guys who have deeper pockets and seemingly endless resources at their disposal. Driving a high conversion-per-impression (CPI) rate, at an affordable price, is critical.
So, what are the best strategies? We'll show you some solid examples below. Standing out in a sea of noise is no small feat—but these unique marketing ideas can help your small business gain more attention, so you can covert more customers and achieve more growth.
Sell Strong Stories
Hopefully, your website already has a blog. They're not wrong when they say content is king; it's one of the easiest and cheapest search engine optimization (SEO) strategies that can boost your online presence.
Note: A high position on the search engine result page (SERP) leads to increased site impressions, which in turn, drives more traffic in your direction.
Whether or not your content is ranking, one idea you can implement for better CPI is to start selling strong stories. Storytelling is scientifically powerful—the human brain literally lights up, firing electrical impulses that improve memory retention and triggering the release of chemicals that help us form connections.
That's why marketing through storytelling is so effective. It makes your brand more human, relatable and draws people by evoking their emotions. You can provide testimonials, transformations, case studies, personal narratives, business struggles, small victories, and so much more. They'll build brand authenticity and might even go viral if they're shared with enough people.
Stories are also a powerful way to connect with your audience and build a strong emotional bond. When done correctly, they can help you articulate your brand's unique selling proposition and build trust with your customers. The storytelling process can also help you to identify and clarify your brand's core values. By taking the time to participate in a storytelling training and workshop you will understand how to tell stories effectively and ensure that your brand communicates its values in a way that resonates with your audience.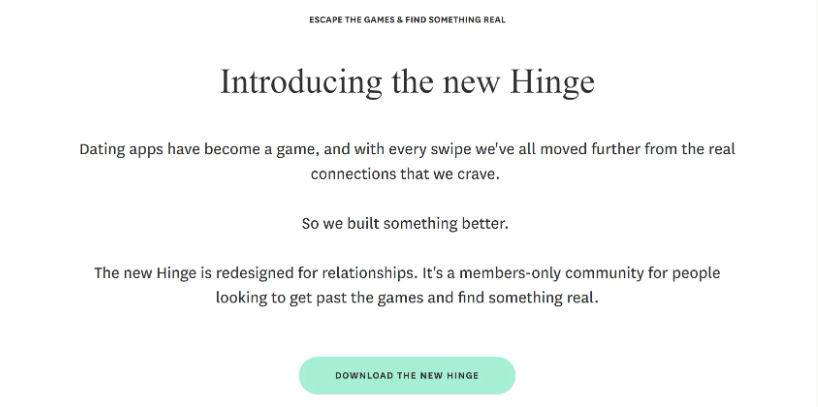 Take a look at the screenshot above to see how Hinge positions itself as an alternative to mainstream dating sites by referencing their audience's vulnerabilities and empathizing with their concerns.
Their website says "The quality of your relationships determines the quality of your life", urging users to sign up for their services to find something more meaningful. They've had tremendous success with metrics that prove how storytelling can help you stand out.
Tug on Heartstrings
Tapping into emotions is key to a great marketing campaign—that's why most unique selling propositions (USPs) try to address a common pain point shared by target audiences. But you can also increase brand awareness by promoting positivity with uplifting material that keeps people coming back for more.
For example, Snowy Pines White Labs helps brighten people's day by using a fun, interactive puppy cam. The cuteness overload is sure to convert a few dog-loving leads into customers. And we've all seen those Corona billboards while we're stuck in traffic, sitting on the freeway, wishing that we could "Find our beach" and attain that level of tranquility, too. Before we know it, our brain goes into autopilot mode and stops at the store to pick up a six-pack on the way home.
Provide the Proof
We've covered emotional marketing examples that are scientifically proven to make audiences notice, remember, share, and buy. However, some consumers appeal more to logic—especially those that feel jaded by brands that offer big but empty promises.
In an age driven by misinformation and a general lack of trust, you can stand out against competitors by highlighting your legitimacy. Sometimes, facts speak louder than feelings, and numbers are stronger than words. It could be in your interest to invest in market research or clinical trials that back your business with credibility.
For example, if your small business sells a certain service, then create shareable assets such as data-driven infographics with findings relevant to your industry. Or, if you operate an e-commerce site, create a slideshow of product images that include verifiable results of its use. In the image below, you can get a sense of how Objective Wellness incorporates this strategy to market green tea energy pills, a type of product that might otherwise raise the eyebrows of skeptical consumers.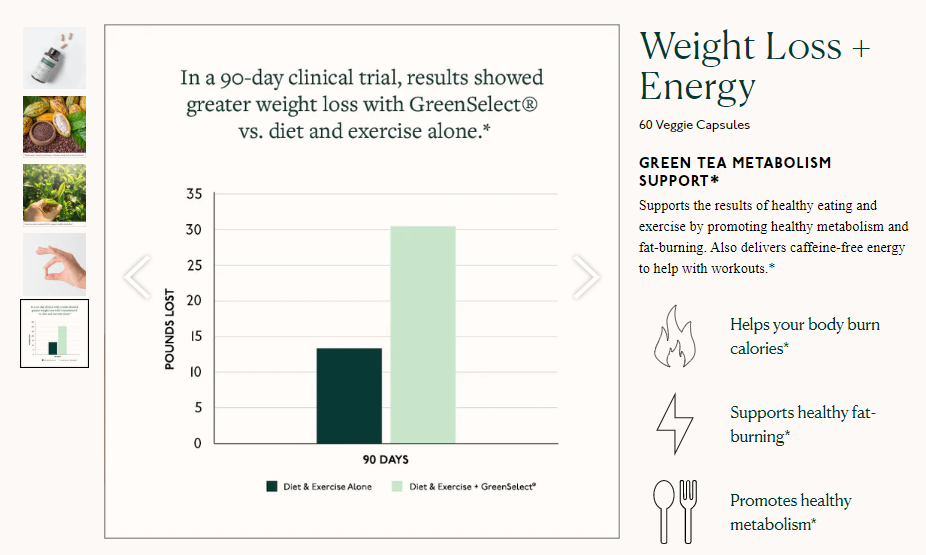 Notice the asterisks placed by each claim that enables users to investigate further, cross-check information, and verify the truth. Confidence leads to conversion, so think about bolstering your authoritative expertise throughout your next marketing campaign.
Encourage Social Media Participation
Another strategy involves targeting the massive volume of Millennials glued to their smartphones with online contests or giveaways. You can create a photo competition that encourages people to post a picture on Facebook or Instagram while using your product in a unique setting, and then grant a prize to the winner with the most likes.
User-generated content is highly effective for several reasons: you can reach larger audiences at a pretty affordable price; reuse and implement the content elsewhere later on; and persuade their followers to make a purchase based on a personal vote of confidence. Compared to the paid social media advertisements that abrasively appear before users scrolling through their feed, a picture that they see posted by a friend promoting a certain company will be much more compelling.
Takeaways
It's not always "go big, or go home". Sure, a tall, inflatable tube man with arms flailing in the wind will make people look your way, and a sign-spinner dressed in a banana costume can cause people to stop and stare. But it's about so much more than getting noticed—it's about being remembered.
These unique marketing strategies can help you maximize visibility and generate leads that drive revenue growth. Your business may be small, but so long as you're clever, you'll be able to keep up with the competition and build a brand that people can't miss.