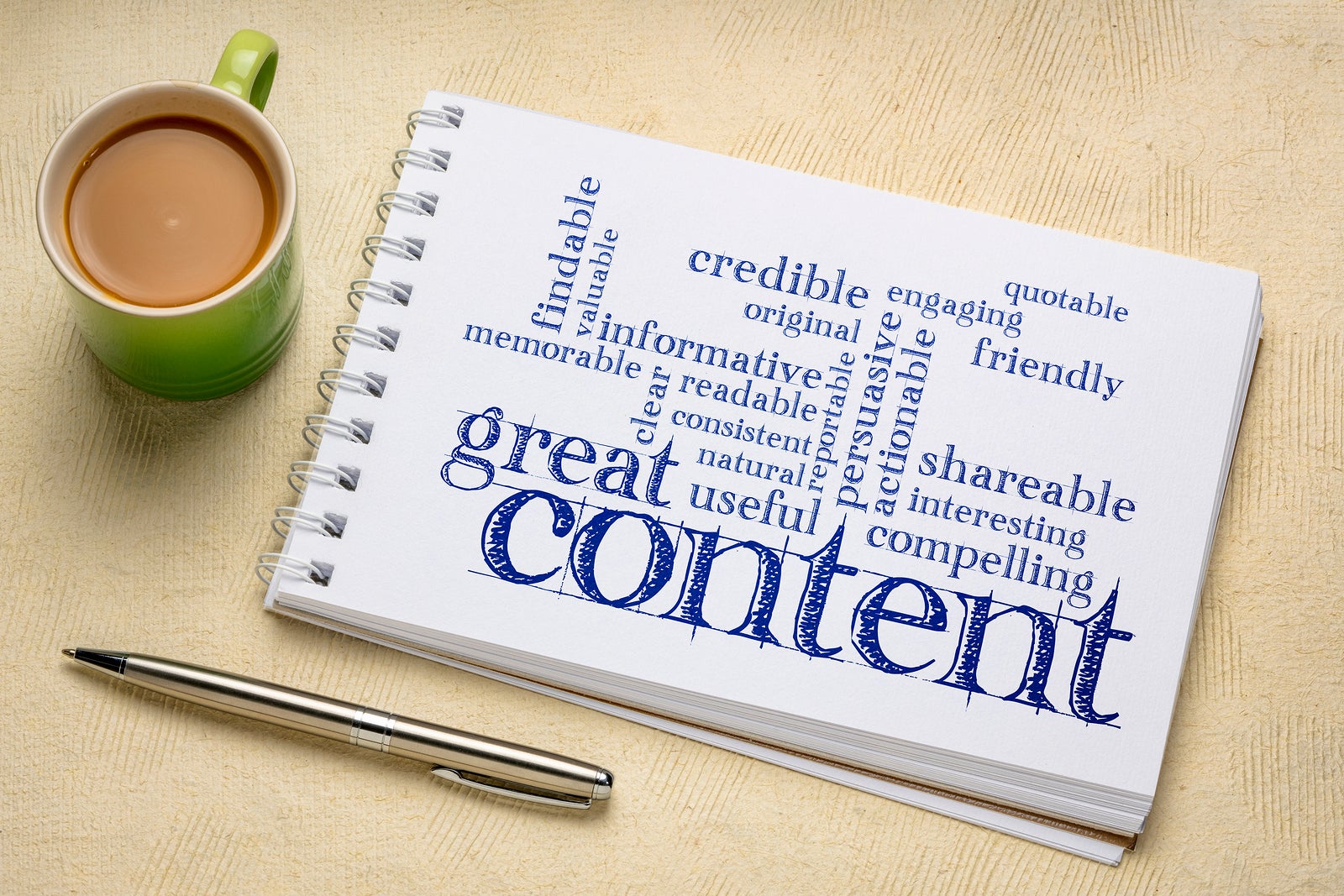 CEO of Marketing Insider Group, Michael Brenner, believes that 'Content marketing represents the gap between what brands produce and what consumers actually want.'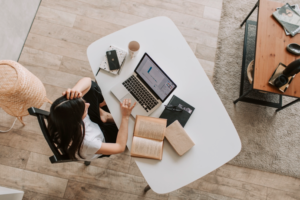 Source: pexels
In the past, marketing felt a lot like talking about your brand, as opposed to focusing directly on customer needs. Content marketing focuses on building trust and relationships and gaining thought leadership. By providing the right kind of content, brands can achieve so much more than sales, including educating consumers, entertaining them, and even participating in activism. All of these things help companies to shape their brand and grow a loyal audience of customers.
According to Small Biz Genius, 'small businesses with blogs get 126% higher lead growth than small businesses without blogs.' Videos, graphics, and podcasts are also very well-received types of content. Brands know that content marketing works; however, it only works with a thoroughly planned and well-executed strategy. To develop a winning strategy for your company, make a start with these ten steps.
1 . Determine your mission
Firstly, you should begin by determining your mission. Doing so will help you to focus on the things that are most important. For instance, focus on the target audience, the type of content you might use to gain their attention, and what the audience gains from the content. At the same time, you will want to think about how providing this content will help your company. You can do this by setting goals. A goal example might be to improve the reputation and credibility of your company or to drive more traffic to your site.
2. Set your KPIs
Your key performance indicators will ensure that your goals are measurable. It's important to determine which kind of KPIs you will use in your content strategy. Typically KPIs include aims for traffic, metrics for social media, and revenue. The numbers you decide on for each KPI will depend on your current performance. A few examples of performance indicators include achieving more sign-ups, improving your search ranking, or reaching a set number of content shares. Once you've hit your goals, simply move the mark and give yourself more of a challenge.
3. Understand your audience
Improving your understanding of your audience will help you to provide the kind of content that speaks to them. First, you should gather as much data as you can about your current audience. Dig deep into the interests, personalities, and demographics of these people. The process will help you to target others who fit the bill. Looking at the analytics info on your social media accounts is a great place to start. Consider data such as location, age, employment, sex, spending habits, and interests. It's also useful to research your competitors. The habits of your competitors can help you to craft your strategy. You can also work on targeting their existing customers. Free tools such as Google Analytics can also be helpful throughout this part of the process. It's not enough to just plan a strategy and hope for the best, you've got to be checking continuously that your efforts are paying off.
4. Customer feedback
To follow on from the point above, gathering customer feedback is another great way to craft your content strategy. There are many ways you can collect customer feedback; for instance, you can send follow up emails once your customers have received and used their products. Pop-up surveys are also a great way to get feedback, or you can opt for collecting feedback using chatbots or surveys on social media. You should ask customers what they think of your products and services, and discover how you can help them using your content. Sometimes, customers aren't that keen to spend time offering feedback. It can be useful to offer your customers incentives, so they are more likely to part with their opinions.
With customer feedback, you can learn how to improve your products, where to target customers and determine which type of content you should produce. Using the info, you can design buyer personas. These personas can help you create content that your audience will find the most valuable. Never underestimate the value of this process to improve your success.
6. Consider why you are unique
As Herman Melville once said, 'It is better to fail in originality than to succeed in imitation.' When you are crafting your content strategy you need to focus on why your company is unique, and how you can put that across! Remember, you're (likely) up against plenty of other brands selling similar products. You've got to give your audience a reason to choose you over someone else. Content is the best tool you've got to showcase your uniqueness. Creativity is vital to help your content to stand out.
7. Choose your type of content
Choosing which type of content you will produce is a key step in any content strategy. You might prefer to focus your efforts in one area, or produce a combination of various content types. When you are making your decision, keep your target audience in mind all of the time. Did your market research indicate any preferences? If so, ensure that you adhere to these.
Blogs: blog content is one of the easiest ways to respond to informational search intent, boost traffic and establish your brand as a thought leader. Remember, when it comes to blogs quality is more important than quantity. Keep your content fresh by updating your best posts every now and then. As industry trends change it's useful to rework the same topic from a slightly new angle.
Videos: according to Biteable, '72% of customers would rather learn about a product or service by way of video.' What's more, online videos are expected to account for 82 % of traffic by the year 2022. There are plenty of types of video content you can put out there including video blogs, webinars, tutorials, interviews or live streaming.
Infographics: infographics are a great way to improve your blog content and boost SEO. Infographics are eye-catching and you can embed and import them with ease. There is plenty of software out there that you can use to design your own infographics, no design skills necessary. Some of the top tools for infographics include Venngage, Infogram or Canva.
7. Decide where to publish 
Once you've determined which kind of content you will produce, you must decide where to publish it. Much of your content will go straight on your website, but you'll also want to think about which other platforms you'll use to put your content out there. You should course on the platforms that your audience uses the most. You should also consider the types of content that succeed on each different platform. Twitter is a great place to post news related content or memes, while Instagram works well for photographs, (and particularly customer or employee generated content). Over the last year or so TikTok has taken the world by storm, it's an excellent place to publish video content.
Overall, it's advisable to choose multiple platforms. In 2020, some other popular places to publish are Quora Creative, Snapchat, Pinterest, Linked In, YouTube and Zest.
8. Content management 
Next up, you've got to plan your content management, and there are many tools available which can help you. Some of the most popular content management tools are Hubspot Content Management, Sqaurespace or Wordpress. Hubspot is a marketing solution which also arrives with some great content management features. Some of the best features of this tool include blog recommendations, social media analytics, A/B testing, predictive lead scoring and SEO.
One of the most overlooked tasks when it comes to content creation is proofreading blog content. Nothing looks more unprofessional than grammatical and spelling errors! To create the perfect content try tools like PaperRater, to check over your writing.
9. Consider podcasts
Creating a podcast for your business is another fantastic way to build a relationship with your community and extend your reach. Podcasts are more than just marketing, many people listen to them for leisure, and to learn new things. With a podcast, you're also allowing your audience to get to know you, and learn about your ideas. Creating this kind of relationship can help you to establish shared values with your audience, and allow them to view you as more than a corporation. Start off by listening to the top podcasts in your industry, to get some inspiration.
10. Seek to improve
Developing your strategy is just the beginning. Once the wheels are in motion you've got to seek to improve your content marketing all of the time. Look at the brands who are famous for producing killer content. It doesn't matter if they are in your industry or not, just focus on what they are doing that works, and how you can use this insight to shape your own strategy. For further inspiration about content marketing, look at online magazines such as Digiday, Visibility Magazine or Campaign Magazine. Marketing is an ever changing industry, and it's vital to pay attention to the latest techniques and trends.
Published: June 8, 2020
2176 Views