If you feel a bit lost when it comes to discussing the technical issues related to your project, there is some encouraging news. As in any field where your skills aren't enough for expert solutions, the lack of expertise in IT and relevant background isn't a cause to refuse Napoleonic plans in digital entrepreneurship.
Since you can delegate this side of building your business to a trustworthy specialist, it isn't an obstacle to founding a startup.
But who is ready to put you out of your suffering caused by tech questions like which technology stack fits your aims better or how to reduce costs on a cross-platform product?
The role of this character in the game known as technological entrepreneurship is called Chief Technical Officer. This is an expert who is skilled in transforming your vision of service into an actionable application loved by users.
To sort out how to select a professional or whether it's reasonable to search for an agency, you can lean on the recommendations accumulated by the Purrweb experts. So, you'll be able to sieve the alternatives through the sieve of clear criteria and gain top-notch CTO services
What are the benefits of working with a Chief Technical Officer?
Transferring your project idea into a plan that's understandable for engineers
The pivotal value of this role is the ability to work as a perfect intermediary between the teams of technical experts, investors, and business owners. The well-performed CTO services include accurate "transcription" of your vision of the future service into an actionable plan with time and budget limits.
Selecting a suitable technology stack in accordance with technical task requirements. 
When a Chief Technical Officer recommends an appropriate technology for a cross-platform solution, it reduces the budget of the project by up to 30%. The reliability, flexibility, and opportunity for scaling also depend on the chosen tech stack. So, don't underestimate the significance of this point.
Choosing the right strategy for product development and appropriate tactics
The skill of a CTO is to predict the weaknesses of the product and prevent its appearance in the future, as well as strengthen the significant features. An experienced CTO knows how to boost team productivity and deliver the work on time and within budget. Qualified CTO services are honed to help discover a balanced solution in terms of volume of investment and adequate deadlines.
Control of team's work: its effectiveness in terms of time, budget, and quality.
To embody exactly what you expect, the expert keeps a finger on the process of teamwork, analyzing whether the executors are performing in the right direction and at the correct speed. Being a result-oriented person, the provider of CTO services keeps an eye on effectiveness and doesn't permit any unreasonable losses of money or time.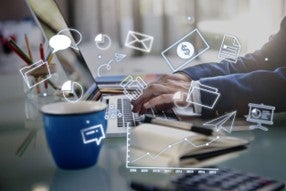 How to start working with a CTO?
There are several avenues to work with a technical expert. Let's weigh the pros and cons of each:
In-house technical expert
When you're at the very beginning of your career in digital entrepreneurship, it can be unreasonably costly and hard to find a specialist with the necessary background. Highly skilled employees are usually in high demand which entails very competitive salaries and fewer  adequate applicants. The situation is aggravated by the lack of your own expertise to hire an expert who can offer quality CTO services. In the USA the average annual salary of a Chief Technical Officer spins around $160,000-$300,000.
Freelance expert in CTO services
One alternative to hiring in-house is to hire a freelancer. The downside to this is the absence of any guarantee that the work will be done well or finished completely. Though the price for CTO services in the freelance marketplace can look very attractive, think twice whether cutting costs this way is worth it.
Full cycle agency with CTO services
When you're addressing an agency with a highly scored reputation for CTO services, you select the most reliable way to save money and get quality. The reason is the expanded experience of specialists in various spheres related to product development. And thanks to their part-time occupation, CTO services became affordable for organizations, regardless of their budget and scale.
The main value of CTO services from agencies is the opportunity to build solutions on the expertise in various domains and attract specialized experts if needed.
If you ask for help in the form of CTO services in Purrweb, the experts will assist you with a range of issues.  Having completed more than 250 projects, the experts know enough about better technologies for applications, as well as organizational, marketing, and other issues.
What are the criteria to confirm you're working with a trustworthy candidate?
Prominent technical background
Profound technical expertise in the industry based on fundamental education in the domain is a must-have. To be on the cutting edge of industry development means constantly learning theory and checking it in practice. The right candidate has a diploma in Computer Science and a portfolio rich in relevant works.
Unprecedented communication talents
It's great if the candidate can be proud of his MBA or other close qualification since his role presupposes non-trivial abilities in organizing people in groups with complementary skills and psychological compatibility. The better a team is composed, the higher effectiveness it demonstrates.
Creative thinking and ability to build a strategy for product design and development
Establishing a balance between the uniqueness of the application and its availability for effortless navigation is a task that requires non-trivial thinking. Make sure the candidate has a great level of empathy to understand your end customers in order to make deliverables that are admired and appreciated.
As for services like Purrweb, the team involves experts whose professional achievements coincide with the mentioned points.
Leaning on their professional education and erudition, you can be sure you won't feel like a peg in a square hole when it comes to getting decisions on pivotal questions.