You've likely visited sites where the company shared some case studies with visitors. There are several ways you can utilize business-to-business (B2B) case studies to improve conversion rates and earn the trust of potential clients.
Online B2B sales are around $6.6 trillion a year. Businesses see the need for a digital presence, so if you want to stand out from the competition, you need to gain every advantage you can. B2B case studies may be just the thing to show users why they should hire you instead of another company.
You can tell a story with words, images and video of how your company helps your customers with business and technical issues. Where do you get started with B2B case studies, and how can you ensure they're effective? Here are some steps to follow to make sure you get the most traction from your efforts possible.
1. Stick to a Single Point
Don't try to use a case study to show every wonderful thing you've ever done as a company. Instead, narrow your focus to one main idea. What big problem did you solve for the client? How did you make their business more efficient, profitable or stronger?
Source: https://bitly.com/pages/resources/casestudies/case-study-bitly-campaigns
Bitly shares a case study on its site about how it helped a client with an omnichannel shopping experience. It hones in on one topic — omnichannel marketing — to share one of its strengths as a B2B brand.
2. Identify Pain Points
The best case studies show your leads how you can solve their biggest problems. What are some common issues your target audience deals with frequently? Gather data from various sources, such as questions people ask customer service, target keywords and what comes up in forums and social media groups.
Knowing people's problems gives you an opportunity to prove you solve them. Share case studies of happy customers with the exact problem others seek solutions to.
3. Start a Ticking Clock
Adding a sense of urgency to your case studies shows people why they need to hire you right now. The chances that someone finds their way back to you after bouncing from your site are slim. It's much better to collect their contact information now than to risk losing them forever.
A ticking clock or short timeline urges them to subscribe or contact you. You can offer something for a limited time, for example, as a call to action (CTA) within your case study.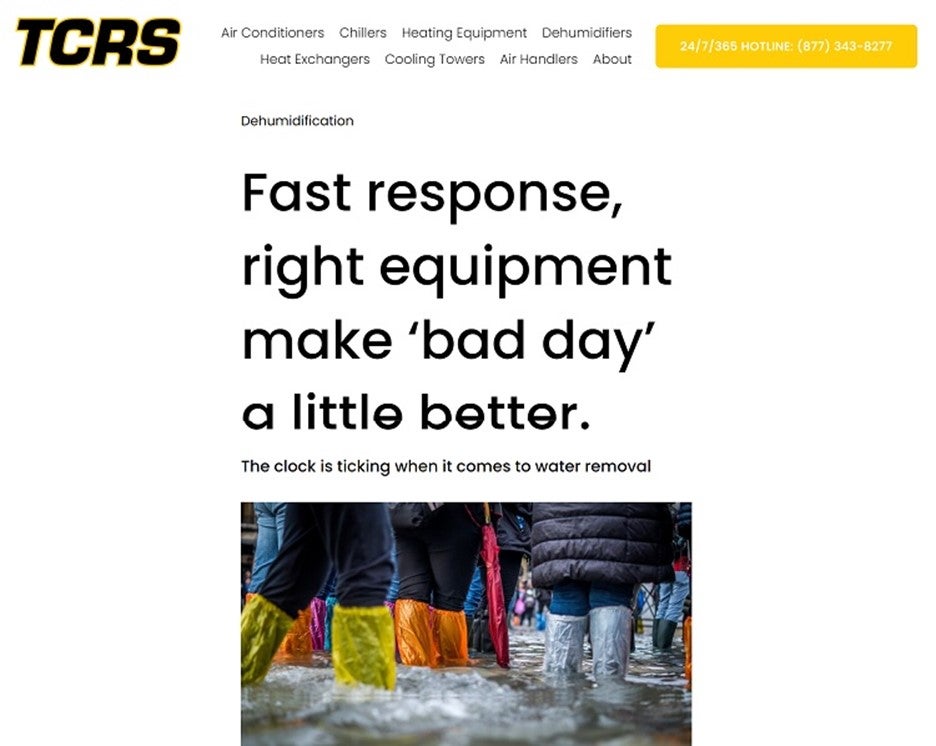 Source: https://www.tcrentalservices.com/tc-rental-information-source/fast-response-right-equipment-make-bad-day-a-little-better
Temperature Control Rental Services (TCRS) hones in on a case study showing the urgency of removing water after a burst pipe or other catastrophe. It shares some statistics about the cost of water removal and what happens if you don't dry things out quickly. It looks at a specific client to highlight the facts.
4. Tell a Story
The best case studies tell a story. Since the beginning of time, when primitive man wrote on cave walls, people have loved storytelling. Families gather around a table and share tales of ancestors while businesses talk about their challenges and successes. A case study is really just a tale that proves a point about your product or service.
If you're utilizing video from your customer to complete your case study, use a storyboard to lay out the main points you want to make. Start with the problem the customer faced, how your company helped them and what the results were. You may have to do a lot of editing to hone the video down to the main gist.
5. Prove Results
Before customers invest their hard-earned dollars with your company, they want to know you can bring them results. What will their potential return on investment (ROI) be? If they can't at least get an ROI that improves their bottom line, they may not sign up with you.
Think about the biggest benefits your product or service offers to clients. Once you fully understand your company's unique value proposition, you can select case studies proving how you've helped other customers in those areas.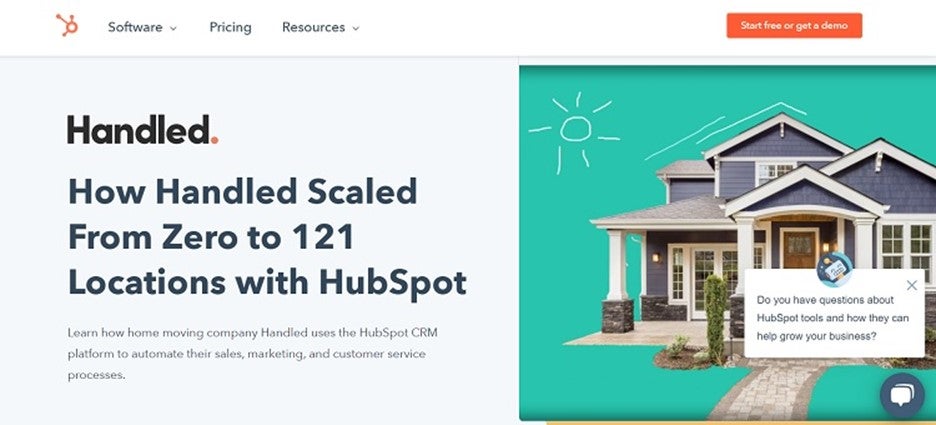 Source: https://www.hubspot.com/case-studies/handled
HubSpot takes a look at a client who expanded to additional locations thanks to its help with automating sales and marketing. It points out how its services made the process easier for the other business.
6. Remember Visual Elements
It's easy to get so involved in the storytelling process that you forget to add details such as visuals. Make sure you include graphs, charts and photographs to help illustrate your point.
It's much easier to add these items in a video, but what if you are using a written case study instead? You have to be much more intentional about adding those little touches to make your story come to life.
Any image you add to your story should be relevant and add something to the facts. If you use a photo, why are you placing it where you are? If you include a graph, what does it show?
What Makes an Effective B2B Case Study?
Why do users read through one case study and convert into leads and ignore another? Many small details make for an effective B2B case study. The ones listed above are a great place to start. Make other minor adjustments as you go along and see if you get better results and click-thru rates. A case study library is something you should build over time.