In today's competitive business landscape, employee comfort is essential for productivity, job satisfaction, and overall company success. 
According to recent market research, the global workwear market is projected to grow at a CAGR of 5.1% from 2020 to 2026, reaching a value of $18.6 billion by 2026. Therefore, there is no excuse for not selecting the best and most comfortable workwear for your employees.
This article aims to discuss key factors to consider when selecting the best workwear brands for your small business and identify top brands in 2023 that prioritise comfort without compromising on functionality, durability, and style. Let's jump in.
Different Types of Workwear
Within the workwear industry, there is a huge variety of workwear types to choose from, including branded uniforms, protective clothing, and casual attire. The specific workwear your employees need depends on factors like their job roles, industry requirements, and safety standards. 
It is therefore crucial to do your research and choose workwear brands that cater to the diverse needs of your employees.
Popular Workwear Brands
Some of the best workwear brands in 2023 include Essential Workwear, Pro-Job, Regatta, Clique and Yoko. These brands offer a wide range of garments suitable for various industries, ensuring that employees can work comfortably and efficiently.
Workwear Prices and Quality
Workwear prices can vary depending on the brand, material, and design. It's essential to strike a balance between affordability and quality, as low-cost garments may compromise on comfort, durability, and safety features. 
Brands like Essential Workwear and Regatta offer high-quality, affordable garments that prioritise practicality and comfort.
Material and Fabric Selection
The quality and breathability of the fabric play a critical role. While natural materials like cotton are often more breathable, synthetic fabrics can offer moisture-wicking and stretch properties that enhance comfort. 
Look for materials that regulate temperature and moisture to keep employees feeling fresh throughout the day.
Workwear Durability
Durability is vital, as it affects the longevity and comfort of the workwear. The key to great workwear is high-quality, long-lasting garments that can withstand the rigours of daily wear. 
Investing in durable workwear is a cost-effective decision in the long run, as it reduces the need for frequent replacements.
Workwear Safety Features
Depending on the industry and job role, employees may require specialised workwear with safety features such as flame-resistant or waterproof clothing that provides protection against flames, chemicals, or other safety hazards.
Additionally, many workwear brands offer high-visibility clothing, which is commonly used in industries such as construction, roadwork, and mining. High-visibility workwear features reflective stripes or bright colors, making workers more visible to vehicles and other workers on the job site, thereby reducing the risk of accidents and injuries.
Workwear Customisation Options
Workwear customisation options provide businesses with an opportunity to create a cohesive brand image and project a professional appearance. Adding branding elements to workwear can increase brand recognition and reinforce company values among customers, employees, and stakeholders.
Embroidery and printing are popular methods for adding custom branding elements to workwear. Embroidery involves stitching the logo or design directly onto the fabric, while printing involves printing the image onto the garment using ink. Both methods are durable and long-lasting, ensuring that the branding elements will remain visible even after multiple washes.

Embroidered workwear is the most popular branding method with almost half of customers choosing to add an embroidered logo to their workwear.
Workwear Sizing Options
To provide workwear that fits your employees comfortably, ensure that the chosen brand offers a range of sizes to accommodate different body types. This will help employees feel confident and comfortable in their work attire.
Workwear Return Policies
Choose brands with customer-friendly return policies in case the workwear does not fit or meet your expectations. This will allow you to exchange or return items without hassle, ensuring that your employees have the most comfortable and suitable workwear.
Workwear Maintenance Tips
Invest in workwear that is easy to maintain, such as machine-washable and wrinkle-resistant garments. This not only contributes to the overall comfort of your employees but also saves time and effort spent on garment care. 
Conclusion
Maximising employee comfort through workwear selection is a critical aspect of running a successful small business. By considering factors discussed in this article, you can make informed decisions about the best workwear brands for your business. 
Brands like Essential Workwear, Pro-job and Regatta have proven their commitment to providing comfortable, functional, and stylish workwear for various industries, making them excellent options to consider for your small business in 2023. 
FAQs
What are the different workwear brands available for small businesses?
Some popular workwear brands for small businesses include Essential Workwear, Stanley/Stella, Regatta, Clique, Yoko, Uneek, ProJob, Kustom Kit, Portwest and Orn.
What are the different styles of workwear available?
Workwear styles vary based on industry and job roles, including uniforms, protective clothing, and casual attire. The chosen workwear should be appropriate for the specific needs of your employees and comply with safety standards.
What materials are used in workwear?
Materials used in workwear include natural fabrics like cotton and synthetic materials such as polyester, nylon, and spandex. Each material offers different properties, such as breathability, moisture-wicking, and stretch.
What sizes are available in workwear?
Workwear is available in a wide range of sizes to accommodate different body types. Choosing a brand that offers an extensive size range ensures that all employees can find comfortable and well-fitting garments. If unsure about which sizes to order, check size guides provided on the brands websites. 
What colours are available in workwear?
Workwear comes in various colours to suit different company branding and industry requirements. Selecting a brand that offers a broad colour palette allows you to find the perfect match for your company's image.
What patterns are available in workwear?
Workwear patterns can range from simple, solid colours to more intricate designs, such as stripes, checks, or camouflage. The chosen pattern should be appropriate for your industry and align with your company's branding. 
Workwear can also also be customised to feature various prints, including company logos, slogans, or other designs. Options like screen printing and embroidery allow you to incorporate your unique branding elements into the garments.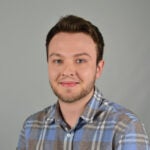 Author: Jamie Irwin is a seasoned Marketing Executive at Essential Workwear, a leading UK-based family-owned business specialising in branded workwear and safety equipment. With over 4 years of industry experience, Jamie is passionate about helping clients bring their brand to life through high-quality, customised workwear.