How to Successfully Hire the Right Attorney for Your Small Biz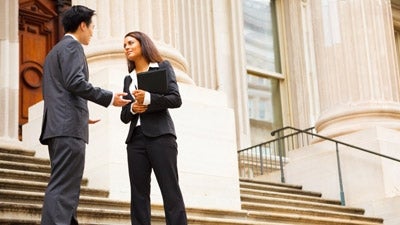 Previously, I've written about how professional advisors are an ace in the hole for small businesses. Many of you have responded by inquiring how to choose and work with
the right attorney for your small business
.
First, it's a great question. Finding the right professional is critical. You don't want to rely on your family attorney or your friend's buddy unless you're confident he or she has the experience you need. Your business requires an attorney who specializes in business law for small to midsize businesses.
A good place to begin your search for an attorney is to talk to other business owners. Find out whom they trust and what they like about their company's attorney. Generally speaking lawyers aren't warm and fuzzy people. (I can say that because I am an attorney myself.) So if someone speaks highly about his or her attorney, that's a good indication of a
trusted and positive working relationship
.
Your attorney should speak English to you—not legalese. Unless you've got a law degree or have worked in areas related to business law, you can't be expected to understand all the legal jargon. A good attorney will patiently explain things in terms that you, the business owner, can easily comprehend. No attorney should ever talk down to you or make you feel foolish for not being familiar with the legal mumbo jumbo. You should feel completely at ease asking as many questions as you'd like. Remember—the only dumb questions are the ones you don't ask. After all, it's your business and your success.
In addition to feeling comfortable asking questions, you shouldn't hesitate to get a second opinion if the lawyer's advice doesn't seem right to you. After all, it's your business and any decisions you make resulting from legal advice may affect your success.
Which is better—a lawyer in a small firm or one belonging to a large partnership? That depends. Theoretically, a sole practitioner or a lawyer in a small firm will have lower fees than a big-firm attorney. But that's not always the case. Furthermore, don't rule out a large firm if your concern is based entirely upon
cost concerns
. Large firms have associates and paralegals who often do much of the work at lower hourly rates. Also, big firms have lawyers who are highly specialized in technical areas of the law making access to high-level expertise easier. And the benefit of working with a large law firm is that it has more clout. In other words, if you ever have a legal problem, a letter from a prestigious firm is going to be more intimidating than one from a local attorney who works out of his or her home.
Because lawyers are in business to make money, that means they need clients. So don't be afraid to ask for an introductory meeting to see if you feel comfortable with the attorney's style. And don't hesitate to negotiate fees or request a fixed price for a particular project. A fixed fee allows you to budget for the expense so you can better manage your cash flow.
Finally, always check an attorney's references and see whether there are any complaints filed against him or her with the Bar Association in your state and/or the American Bar Association.
Published: November 5, 2013
1870 Views