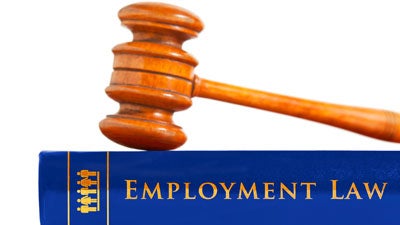 According to the U.S. Small Business Administration (SBA), entrepreneurs must deal with employment laws covering everything from preventing discrimination to posting the correct workplace posters. There are a complex variety of state and federal laws related to employment and labor. In addition to this, there are very industry-specific laws. Below introduces employment laws for small business owners.
Employment laws are divided into different areas. These include Wages and Hours, Safety and Health and Benefits, Retirement Standards and Workers' Compensation. There are both state and federal rules for these different areas. In addition to this, these different laws may change every year. Employees are required to post both state and federal workplace posters in highly visible areas, such as the employee lunch room. You can learn more here from the
Dept. of Labor
.
The Dept. of Labor offers a useful tool called
FirstStep
. This online tool will determine which laws, recordkeeping, reporting and poster requirements apply to your specific industry. For example, there are very specific requirements for federal contractors, agricultural workers and underage employees. In addition to this, there are specific industrial OSHA laws regarding safety and health.
Small business owners are usually entrepreneurs who have limited legal and HR training. Therefore, it is highly recommended to consult with an experience employment attorney. Consider using an employment attorney to review your hiring process, decisions and documentation. Many specialty attorneys offer both employment and commercial litigation. Consulting with a competent employment attorney is an excellent way to learn employment laws while staying compliant with state and federal employment laws.
Employee Eligibility Verification
Federal law mandates that employers verify the job applicant's work eligibility. That is, the employer must verify within three days of hire that the employee has the proper documentation. This is done through having the new hire complete the I-9 form. Keep in mind that employers cannot tell the new hire which ID documentation to use, but only need to keep the I-9 for three years. Employers can register with E-Verify through the U.S. Citizenship and Immigration Services (USCIS) and verify employment eligibility.
In conclusion, small business owners can improve their understanding of state and federal laws through the Dept. of Labor's website and using a competent employment attorney. Learn more about Employment and Labor Laws from the
U.S. Small Business Administration
(SBA).
Author: Anica Oaks is a professional content and copywriter who graduated from the University of San Francisco. She loves dogs, the ocean, and anything outdoor-related. She was raised in a big family, so she's used to putting things to a vote. Also, cartwheels are her specialty. You can connect with Anica here. If you need professional legal consultation and services, Anica suggests the services of specialty attorney Ravi Sattiraju.
Published: July 10, 2015
3836 Views