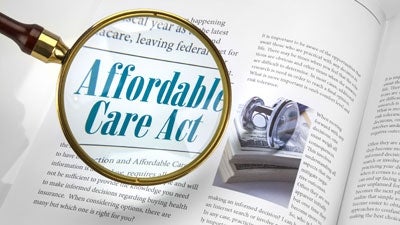 It goes without saying that the ACA (aka Obamacare) has taken a lot of heat. Especially in the small business community, business owners are concerned about how the new legislation will affect them. However, contrary to what you may have heard, several features of the Affordable Care Act (Obamacare) can actually benefit small businesses. Politics aside, here's four ways Obamacare is actually helping small businesses.
1. Your employees can now find low cost health insurance on Healthcare.gov
While it's true that group health insurance rates have been rising, rates on individual policies have plummeted. According to a 2014 Kaiser Family Foundation study, a group plan cost an average of $6,025 for one person. On the other hand,
Fit Small Business
found that an individual policy on the Obamacare Exchange costs around $3,500 per year.
As a small business owner, this means you and your employees can now buy health coverage for yourselves or your families at a much lower cost than before. One drawback is you can't buy these policies for your workers. They have to sign themselves through their state exchanges.
2. Your employees can slash their health insurance costs with Obamacare subsidies
Say you take the route above and your employees start looking at plans on Healthcare.gov. If their salary is below $46,680, they can apply to get a subsidy on their health insurance premium—the monthly fee for coverage. If they have a family the cutoff is even higher: $95,400 for a household of four.
How much can they save? If your employee is single and earns $25,000 a year, they could save about 32% on their premiums. A family of four that earns $60,000 can save almost 50%.
3. Small business owners can find affordable group plans through Obamacare
Although the low cost of individual health policies makes it an attractive option, some small business owners would still prefer to offer a traditional group health plan. Employees are more familiar with this type of plan and would probably see it as more of a benefit than giving employees a stipend to purchase individual insurance.
Fortunately, the Small Business Health Insurance Options Program (
SHOP
) is intended for exactly this purpose. Available on
healthcare.gov
, the SHOP exchange allows small business owners to buy small group health insurance plans. It costs a little more than the individual exchange (about $4,000 per employee vs. $3,500) but it's much less than the $6,000 big businesses are paying for health insurance.
4. Small business owners can apply for SHOP tax credit
If you choose to go the SHOP route, you can potentially receive a tax credit that cuts the cost even more. Up to 50% of the amount your business spends on health insurance can be saved. To qualify, you must have fewer than 25 employees and their average salary must be below $50,000. The credit is most significant, however, if you have closer to 10 or fewer employees and/or if their average salary is around $25,000 or lower.
Author: Jeremy Marsan is a staff writer covering benefits / health insurance for Fit Small Business, an online "how-to" publication for small business owners and managers.
Published: February 23, 2015
3042 Views