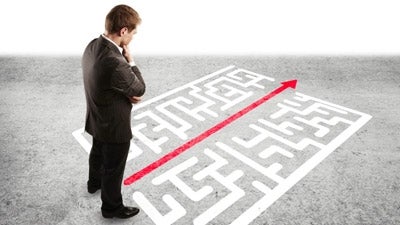 Is your business too complicated?
After running an ultra-high-growth, successful business for three years, I noticed a disturbing trend creeping around the edges: complexity.
As we grew our team, expanded our product line and added more marketing strategies into the mix (all at a high speed), each piece started to leave a messy little trail in its wake.
This is a common side effect of fast growth. It can cause big problems if left unchecked. That old, special-offer landing page you forget still existed can cause a huge headache when customers who now think they're getting a bad deal discover it.
The answer? Organization and simplicity. Conduct regular simplicity audits by going through the main areas of your business, simplifying and documenting. Here's how:
Simplify Your Products and Services
Do you have a clear list with every product and service your company offers along with pricing?
Make a list now, and compare it to your revenues. Is there anything that you almost never sell? Most companies find that the 80/20 rule applies to their revenues: 80 percent of cash comes from just 20 percent of offerings. What would happen if you sold only the 20 percent and eliminated the rest?
Simplify Your Offers and Promotions
Old promotions can cause a major pile of junk after years in business. We often end up with a big jumble of landing pages, discount codes, specials, and limited-time offers. When we're no longer using these promotions, they're often just forgotten—but not by the Internet. Customers are still coming across your old promotions, then becoming frustrated when what they thought was a great deal takes them to a 404 or irrelevant landing page.
Establish a process for closing up old offers. Redirect pages to one central hub.
You may also want to create one generic "expired offer" page on your site to let people know that the offer they clicked on has expired. Then, provide alternatives for actions they can take or products they can buy. This means your prospects won't be left with a dead offer or 404 when they click on an old link, and it's less confusing to the user than a generic homepage. Once you finish up an offer, just redirect the URL to your expired offer page.
Simplify Your Email Marketing
Go into your
email marketing
provider and read through every follow-up sequence and autoresponder. Do the links still work? Are the offers still live? Is the information still relevant?
Always keep your auto-responders as evergreen as possible and make a list of any special landing pages to which your automated emails direct.
Simplify Your Business Spending
Comb through all of your credit card statements for any recurring charges (this should be easy if you keep regular detailed profit & loss reports). Do you still need everything you're paying for? Is there anything you cancelled that is incorrectly still being charged?
For any services you want to keep, take a quick look at their pricing page or shoot them an email to make sure you're still on the best plan for your needs. Companies usually keep users on their old plans to avoid confusion even as they might introduce more useful options. See if you could save money by switching to a yearly plan, or free up cash flow by switching to a monthly one.
Then make a quick Google Doc or Evernote with a list of all of your cards and which recurring services get charged on them. This makes updates easy when your card changes.
Instruct everyone on your team (including regular contractors) to write out a list of their duties. They shouldn't include vague categories like "customer service" but specific duties like "respond to contact sheet," "listen to and respond to voicemail," etc.
Are there any overlaps? Are there any holes that get filled in by whomever happens to be around? Confusing roles lead to extra complexity in your business, and people can end up dropping the ball. Meet with each team member individually, then the group as a whole, to
clear up any confusion
.
Make Simplicity Audits a Regular Process
Unfortunately, this isn't a one-time event.
Add simplicity audits
to your calendar at minimum every year. A little proactive clean-up can add to huge gains in your business over time.
Laura Roeder is a social media marketing expert who teaches small businesses how to become known as #1 in their field and claim their brand online. She is the creator of Creating Fame and Your Backstage Pass to Twitter.
Published: October 21, 2013
2106 Views