The Bay Area has been hamstrung by a series of problems in recent years, notably excess demand for housing owing to the rapid and unprecedented growth of Silicon Valley hiring. Over the years, housing prices have increased markedly with a median home price of around $1 million being the norm. This reflects a significant upturn in performance since the dramatic collapse of the property market in 2008/2009 which resulted in prices hitting a multi-year low point in the aftermath of the crisis. Heading into 2020, the situation looks a little different.
According to the National Association of Realtors (NAR), there is a slim chance of a recession gripping the property market in California. Further, the NAR posits that the country will experience positive but subdued jobs growth and stable interest rates throughout 2020. In the Bay Area, new home construction will take place at a slower rate, with less inventory available for new homeowners. With this in mind, it will likely be a sellers' market with prices tapering off somewhat, and rentals remaining high.
Real estate trends indicate that homes in Santa Clara County have dropped year-on-year for some 10 months, and now stand at $1.08 million (Zillow). Much the same is true in the Bay Area overall, where prices are gradually falling. For example, in October 2019, the median home price across all 9 counties averaged $805,600. The size of single-family homes is expected to decline in 2020 and beyond, with less square footage available to homebuyers.
Based on current trends, the new normal in the Bay Area real estate market looks to be characterized by smaller homes which are invariably more affordable to homebuyers. This doesn't necessarily mean that it is a buyer-friendly market in the Bay Area—on the contrary, available inventory is being bought and the housing market is still characterized by strong demand. For all those who fear a Lehman Bros debacle repeat performance; there's little risk of that happening given stringent regulatory frameworks that have now been put in place to prevent a recurrence of such a catastrophe.
What's Happening in Oakland?
Across California, the housing crisis is well known. It is especially poignant in the Bay Area where the homeless problem is at its worst and people are increasingly likely to live in tiny houses, pods, and in their vehicles given the exorbitant costs of housing. Yet, there is a silver lining to this cloud, given that Oakland California will have substantially more housing units available in 2020 than San Francisco. Oakland produced 6,800 housing units compared to San Francisco's 4,700 housing units. Equally important is the spike in housing production in Oakland which is up 15 X more than housing production in 2018.
The mayor of Oakland has given the green light to property developers in this city to start building homes. These new zoning regulations have been relaxed in the downtown area, removing the requirement for parking regulations and making it much more cost-effective for new building to take place. Some analysts make the mistake of comparing absolute numbers of new units built in San Francisco (24,000) over the past 7 years vs the number of new units built in Oakland (9,000). Oakland has a much smaller population, and ratio wise the figures completely surpass San Francisco.
The Rising Costs of Living in San Fran and Surrounds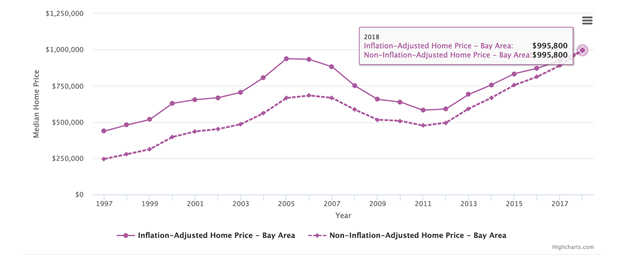 Source: Inflation-Adjusted Home Price Bay Area Vital Signs HighCharts
One leading property developer in Oakland California, Danny Haber of oWOW has been working hard to provide affordable housing to middle-income earners in the city. This real estate developer detailed his plan to provide cost-effective solutions to combat the housing scourge in a widely publicized Danny Haber interview with Ceoworld.biz recently. oWOW is a vertically-integrated company with a small team of property developers, designers, and experts. The company identifies opportunities in the market and works with officials to foster the development of abandoned buildings, foreclosed properties, or other structures in need of redevelopment for the purposes of supplying cost-effective, luxury housing to the market.
While the problem isn't quite as severe in Oakland as it is in San Francisco, the spillover effects of excess demand and failing supply are endemic in the region. If regulations allow, it is entirely possible that developers can fast-track the process of new-home construction with the assistance of private enterprise (Apple Inc, Google, Facebook, Cisco, Microsoft et cetera) to invest substantially in the property market. San Francisco took two big steps forward with the provision of housing facilities, with affordable housing for teachers and other subsidized apartments. Rezoning is an important requirement for developing the property market to meet demand in these areas.
Various other property developers are taking their cue in and around the Bay Area, purchasing properties to convert into low-cost, multi-family, affordable housing too. Realtor.com forecasts that Bay Area housing costs will decline 4% – 5% in the San Francisco metro area, and as much as 3% South Bay Area in 2020. Coupled with all the existing trends, it is clear that a new normal is the order of day in one of the country's most highly sought-after enclaves in the north-west of California.  And yet, the development of new apartments for high-end earners in Oakland is also raising rents higher than surrounding Bay Area cities.
For example, 1-bedroom rentals in Oakland increased by 5.1% in 2018, steeper than San Jose, but less than San Francisco. Now, the median rental price in Oakland is $2,470 per month for a 1-bedroom unit, and $2,990 per month for a 2-bedroom unit. While expensive, it certainly pales in comparison to San Francisco's high rental prices of $3,500 per month for a 1-bedroom apartment. It is worth pointing out that rental prices in San Francisco are approximately 18% higher than the median price in New York City, and up to 40% more expensive than Boston Massachusetts. Nationwide, the median rental price for a 1-bedroom apartment is $1,230 and for 2-bedroom apartments it is $1,465.