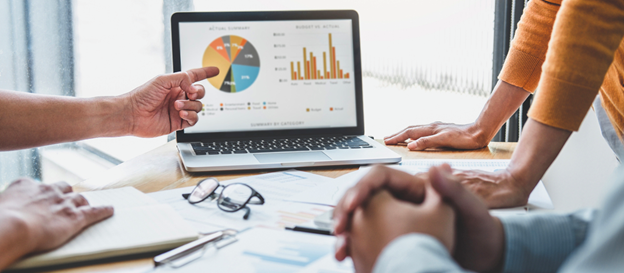 More is not necessarily better, and that is definitely the case with data. Digitalization offers countless options for data collection and analysis, but it often creates less clarity. This is a significant disadvantage for businesses looking to improve their performance through strategizing.
Business reporting and analysis are valuable tools when used skillfully and conducted strategically. Different techniques can help you identify your organization's needs and current reporting flaws to create an effective process that will help you investigate the past, analyze the present and plan for the future.
Business analysis can benefit any enterprise
Business analysis offers solutions that can bridge the gap between current and desired outcomes. The process defines changes that can bring results in areas of business highlighted as critical, based on the collected data.
Analysis works together with strategizing: while analysis looks into the past and current results, strategy maps out the future by anticipating market changes, challenges and opportunities. Both internal and external environment need to be included in the process to create accurate predictions.
How to streamline your reporting efforts
Concise and useful reports are a result of streamlined and efficient reporting processes. Here is how you can improve your reporting in three phases:
Implement a centralized data system. By defining a unified set of relevant operational and financial data, you can significantly reduce time required to gather information.
Define key performance indicators (KPIs) and units to be used across reports. By choosing language that is widely understandable (not only to your financial team), you will ensure that the reports are easy to use and analyze. Determining correct KPIs will produce granular data that shows useful insights, rather than mountains of indecipherable information.
Eliminate unnecessary reports and irrelevant spreadsheets, and focus only on the ones that provide real value to your decision-making process. Collecting, processing, and analyzing data that will never be used for strategizing is time and resource consuming, and should be avoided.
Implementing business analysis techniques 
Following efficient reporting, there are plenty of business analysis techniques you could rely on to achieve higher efficiency and better clarity. Some of them are:
Business Process Modeling (BPM)
Brainstorming sessions
CATWOE technique (Customers, Actors, Transformation, World view, Owner, Environment)
MoSCoW model (Must or Should, Could or Would)
MOST analysis (Mission, Objectives, Strategies and Tactics)
PESTLE model (Political, Economic, Sociological, Technological, Legal and Environmental external factors)
SWOT Analysis (strengths and weaknesses, opportunities, or threats)
Six Thinking Hats exercise
The 5 Why's exercise
However, the biggest improvement your organization can implement is an automated process for customer-related data collection and analysis. If your organization is not already using a customer relationship management software (CRM), that should be one of the first points of consideration.
CRM software helps you develop and maintain customer relationships while automating costly and time-consuming processes of collecting and analyzing large amounts of customer information.
Reporting and analysis should be integrated into everyday activities
Leading a team without high-quality reports and effective analysis is like navigating a ship without a compass. It will cost your organization time, opportunities, and income, both in the short and the long term.
However, effective business strategy does not necessarily involve complex IT systems and expensive solutions. By investing in the right software, you can achieve better reports and more efficient analytics without making your internal processes more complicated.