Treat Customers Like They Matter or You Will Lose Them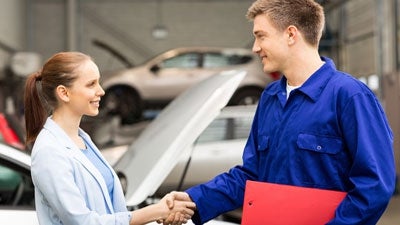 Recently I had to go to a local collision repair shop for an estimate for some repair work on my car. I was sent to this particular shop by my insurance company for a quote, but was told I could have the actual repair done at any accredited collision repair shop.
The first thing I noticed was a sign on the back wall that stated "Quality starts with great service." I was greeted quickly by the receptionist who took some basic information and then asked me to take a seat indicating an estimator would be right with me.
Well, I sat for 5 minutes watching 2 people sitting at desks working away at their computers. One of them took a phone call and the second commented to the receptionist that she would be a while. At no time did either acknowledge me.
Suddenly the one who took the phone call stood up and indicated that I should follow him outside to my car. I guess he was one of the estimators.
After asking me some questions and taking some pictures, we returned to his desk where he filled out the forms on the computer and after 10 minutes printed out the sheets and handed them to me. The whole time I sat at his desk, he said not 1 word to me.
So what should I think about the quality of this organization? What do we learn from this example?
MY PERSPECTIVE: They did a good job of setting expectations with their sign. The receptionist was friendly and efficient. But then the problems started to show.
Here are some simple things that I think would have gone a long way to improving the customer experience.
Telling me that the 2 estimators were currently finishing a claim and giving me an indication of my wait time would have gone a long way.
If the estimator spoke to me rather than the receptionist (I was actually closer) it would have made me feel like a valued customer versus an inconvenience that needed to be dealt with.
Introducing themselves when they asked me to come outside to do the estimate.
Explaining what the estimator was doing on the computer would have made me feel part of the process instead of a bystander.
As a result of this experience, I will probably take my business elsewhere rather than dealing with this company in spite of the fact they had been specifically referred by the insurance company as a trusted supplier.
The funny thing is, they already had me in their shop and there would have been no cost to displaying some simple customer service behaviors. No one was rude or treated me badly, yet, the customer service experience pushed me away. Learn about how this company could have made things right by reading,
5 Steps to Turn a Negative into a Positive Customer Experience
.
Too often we get so busy that we forget the simple things. None of the things mentioned would have cost either time or money, yet because they were forgotten, they lost a $3,000 repair bill.
The worst part is they probably have no idea what they did or why they lost my business. I am sure they think they are doing a good job. Something to think about.
This article was originally published by Bill Hogg
Published: April 13, 2015