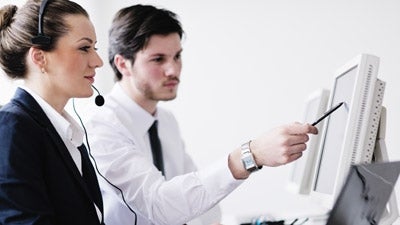 Understanding what it means to deliver
great customer service
and being the type of person who can deliver it are two very different things. Anyone can read about strategies or participate in
customer service training
, but it still takes a certain type of personality to consistently deliver good service, day in and day out, to pleasant customers as well as those who are more challenging.
As companies strive to
become customer-focused
, most agree that it begins with the hiring process. They hire people who are capable of delivering good customer service and already have some understanding of what it's all about. That would be the human side of customer service.
To find the right candidate for the job, the hiring manager would review applicants' backgrounds and experience, their responses to interview questions, and more. If an applicant has a great deal of experience delivering customer service, that could indicate that he or she is suitable and up to the task. Still, in hiring decisions, there is rarely a 100 percent certainty that the applicant who looks good on paper and in an interview will deliver the level of service that the company requires. That is where the technical side of customer service comes in—with customer service training.
Not surprisingly, I believe every employee should take part in regular customer service training. Ongoing training keeps customer service skills and strategies fresh and in the forefront of employees' minds. Employees and managers alike are reminded of the proper attitude that is necessary for delivering excellent customer service. The human aspect of customer service training is to help employees develop and exercise "people skills." Effective training is technical in its execution but helps people to apply a human touch to their job responsibilities.
Let's say, for example, that you own a restaurant and need to hire a server. "Bob" has applied for the job, and although he has never worked in a restaurant, he does have some customer service experience. His previous position was as a front-desk clerk at a very nice hotel. He delivered great customer service to the guests at the hotel; however, he has no experience with waiting tables.
Not a problem, if you have a technical customer service training program in place. This is where Bob can learn which side of a guest is the correct side to pick up and set down a place, as well as all of the other details and nuances that go into creating an excellent customer experience in a restaurant setting. Having a background in customer service is not a substitute for the technical training.
For any business to deliver good customer service, its employees must have both the attitude and the skills. The best companies know this, and through hiring and training make sure their employees have both.
Want to make sure your customers always have a great experience? Make sure you have the combination of technical training and the human touch. Together, the two elements are greater than the sum of the parts.
Published: January 28, 2014
1924 Views