Customer Service Strategy: Deliver Value with Time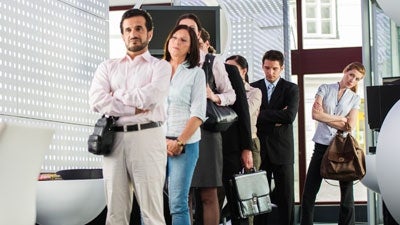 Have you ever arrived for a lunch date with a friend only to have that friend show up 20 minutes late? Did you enjoy those minutes, sitting alone, studying the menu and looking around? Probably not. I don't know many people who enjoy waiting. Even the most patient person is likely to be frustrated by having to stand in a long line, or being put on hold on the phone, or waiting on a response from anyone. And while you may cut your tardy friend some slack, the company that makes customers wait may not get the same consideration.
I recently had to spend the night in a hotel after a flight was canceled due to bad weather. I called the hotel's reservation line and was able to secure a room, although the reservations person told me the hotel was nearly booked solid. I showed up at the hotel late in the evening and couldn't believe how long the line was to check in. When I finally got to the front desk, the clerk said that they didn't expect to be so busy. But, since the hotel was all booked up, someone should have expected it. The manager's bad staffing decision eroded the image and reputation that the hotel worked so hard to build up through its advertising and marketing.
Long wait times on the phone are another source of frustration. When you call a company for help or support, don't you just hate hearing, "We're sorry. Due to unexpected call volume you may experience longer than normal wait times."
Situations like these are enough to make you feel as if some companies don't respect your time.
Customers often are willing to take advantage of new, time-saving ways of doing business. They will choose the self-service checkout in the grocery store to skip a long line, or avoid the store altogether and order products online. Even when it comes to customer service, customers may turn to an online alternative rather than having to make a call and be put on hold, transferred to numerous people and have to repeat their story multiple times.
The best companies understand that customers want time-saving options. Amazon.com, for example, offers "one-click ordering" and, with its Prime membership, free two-day shipping on most purchases. Customers love the speed and convenience, and are even willing to pay for it.
Some other companies have a tier system offering various levels of support. Customers may earn access to a special number for faster service by purchasing more or paying a fee. While I'm not so sure that is the best strategy, it is working if the customer has the following response:
The company may not be the lowest priced, but it is fairly priced and I'm willing to pay a little more for the value it delivers. I love that my questions are answered and problems resolved without having to wait.
Your customers want you to know this: Value my time and you value me. It's part of delivering amazing service.
Published: February 3, 2015
2564 Views