Marlo Richardson, owner of Stage21 Bar and Lounge in Culver City, California, picked an incredible time to start a business. She opened the doors of her sports-centric lounge just as the COVID-19 pandemic was kicking into high gear. However, with savvy business moves and ideas, Marlo was able to mitigate any loss of business income and make money. Here, she gives a useful survival guide for other restaurateurs looking to make it work during this unprecedented time.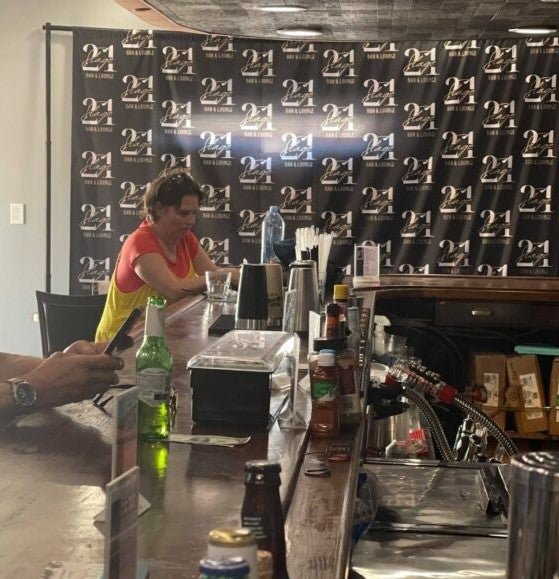 When I was just on the cusp of opening my business, Stage21, the world was shutting down around me. The restaurant business was tricky pre-pandemic. Now, it was looking impossible. Restaurants were losing billions in revenue due to shutdown mandates and employee shortages.
However, I was determined to forge ahead and get my dream up and running. My team and I applied a variety of strategies to pivot as the world turned upside down.
Offer Affordable and Fun Options
Affordability was important to customers, some of whom were struggling with job loss. We wanted to make it clear that you could still afford to leave your home and have some (safe) fun! We heavily marketed our lower-priced items to entice folks. We created combo specials and happy hour discounts. We wanted people to expect that they could receive more but pay less.
Customize Your Offerings
At Stage21, we had to get creative. We needed to keep our costs low but still offer value to our customers. We created custom cocktails that looked great and tasted good as well. These were not drinks people could easily make themselves at home. These were genuinely custom inventions. One example was our Killadelphia drink, which is a spicy margarita that includes fresh jalapeno. The liquor may not be top shelf, but it is easily marketed and sold because it's customized and something people cannot get anywhere else.
Expanded Menu Options
We expanded our menu offerings to include unique items, making delivery and take-out a more attractive option. We always try to give the same amount of food with take-out and delivery orders that people are used to getting when they come in and sit down. Managing expectations for our customers has been vital.
Safety First
Customers want to know that they'll be safe when they choose to visit a business, especially amid the new Delta variant of COVID.
We take safety precautions very seriously and have since the beginning, earning our clientele's trust.
Our servers and bartenders are masked. Tables inside are spaced appropriately, and each has their own bottle of hand sanitizer. We have made our outdoor set-up as attractive as possible. I purchased TV adapters so people can still enjoy sports events outside since that's why they visit Stage21 in the first place! We want the outside eating area to be just as comfortable as being inside enjoying a meal, like a fancy picnic.
In the future, we hope to continue customizing our bar menus and expanding our menu options to keep customers on their toes. They will return again and again if they are expecting something new and different every time.
A New Normal
The COVID-19 pandemic devastated so many businesses, hitting the restaurant industry especially hard. It's been over a year of navigating supply-chain issues, employee shortages, and people being concerned with leaving home to enjoy entertainment time.
Most of these challenges on their own could quickly destroy even the most seasoned restaurateur. Since starting my business in the midst of a global pandemic, I have found that always keeping the customer at the forefront guides me in my decision-making process. Anticipating what a customer wants and needs from you as a business can help you weather even the darkest times. In addition, watching your spending and bottom line makes good business sense at any time, but especially during a crisis such as COVID.
I encourage any new business owner, restaurant or not, to think creatively, don't be afraid to make bold moves or try something new, and have faith that if you are bringing a solid, affordable, and quality product to the table, people will support you.