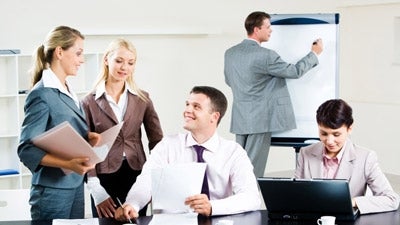 I'm a communicator. It doesn't really matter if it's good or bad, I just have some mechanism in my brain that fires off when I believe communication is necessary.
It's irresistible.
This isn't necessarily a bad thing. According to
this great post in Psychology Today
, one key step in effective communication is to "say what you mean and mean what you say. Be direct and honest; don't dance around the issue or play games."
Maybe I'm doing something right.
It's important to understand the gravity of effective communication in business, then build a culture around it. Putting great communication at the center of your business is the greatest way to ensure success. Bill Gates said it best, "I'm a great believer that any tool that enhances communication has profound effects in terms of how people can learn from each other, and how they can achieve the kind of freedoms that they're interested in."
Here are a few steps that will help you build a culture of communication in your business.
1. Don't Punish the Bad Ideas
Bad ideas are an important part of the creative process.
Valve
, the company responsible for major names such as Half Life, Counter Strike and Portal, firmly believes in giving their team the freedom to fail. As stated in their
iconic employee handbook
, "Nobody has ever been fired at Valve for making a mistake. It wouldn't make sense for us to operate that way. Providing the freedom to fail is an important trait of the company, we couldn't expect so much of individuals if we also penalized people for errors. Even expensive mistakes, or ones which result in a very public failure, are genuinely looked at as opportunities to learn. We can always repair the mistake or make up for it."
Something tells me that bad ideas are celebrated at Valve because they help shed light on the truly good ones. Discouraging or punishing bad ideas brings a sense of fear and can eventually stifle an innovative team.
2. Every Personality is Different, Think of Key Ways to Communicate with Everyone
According to the well known
Briggs Myers Type Indicator
, a personality assessment based on the the work of Carl Jung, there are 16 possible psychological types that cover all walks of life.
The key to effective communication is realizing that different people learn, process, create and communicate in completely different ways. Understanding your teammates and communicating well based on your findings is the best way of working as a functional and efficient team. Todd Liles, in
this great post
, explains the importance of effective, personality based communication, "When you understand your personality, and the personality of the person you are communicating with, then you can begin to adapt to increase communication."
When building a culture of communication, it's important to understand the different methods of communication and how they can fit into your team workflow.
First, let's start with a quick and simple explanation of "
asynchronous communication
." Async communication is a simple and passive way of communicating with your team on your own schedule when messages aren't urgent or time based. This can be through email, or third party tools designed with this type of discussion method in mind. A few great tools that will help you get started in facilitating great asynchronous communication are:
iDoneThis, a great way of keeping up with what your team is working on in a passive and easy to understand daily digest that's designed with productivity in mind.
P2, a WordPress theme designed for passive communication throughout the day. P2 functions like an internal WordPress blog for your team to discuss the hot topics of the day.
Research shows that some of our greatest ideas come to us in the shower. Having a place to share these creative thoughts with our team in an asynchronous way should be an important part of any team's workflow.
4. Talk, Even When It's Not Comfortable
I'm a firm believer in speaking when no one else wants to speak. In any productive environment, frustrations can run high and in these moments, if communication stops then collaboration and creativity also stop. In tense situations, communication has a propensity to become stale simply because it's more comfortable to avoid it.
Leo Babauta best explains why people avoid discomfort in his
great post
on zenhabits: "Discomfort isn't bad. It's just not what we're used to. And so we avoid it, but at the cost of not being able to change things, not being healthy, not being open to adventure and the chaos of raw life."
Avoiding uncomfortable discussion when it's necessary will only cause a bigger problem in the future. Recognizing the problem and fixing it is the only way to move forward and tackle the issue head on.
5. Enable Transparency in Every Aspect
In
Buffer's
innovative
Culture Playbook
, they rely heavily on transparency as a way to bring about happiness and productivity to their work. Buffer Co-founder Leo Widrich discusses their commitment to transparency in
this great Fast Company blog post
, "Everybody who works here knows how much everyone else gets paid, what steps everyone is taking to improve, and even how much everyone sleeps." He continues, "We envision a company where people are treated as full human beings, not productivity automatons, with a complex set of motivations and aspirations. Our team inspires and shows us how openness about vulnerabilities leads to greater collaboration, trust, and personal growth."
Increased transparency naturally creates an environment of less confusion with more focus on the actual work that's being done. If you think about it, most conversation within offices is centered on figuring out what's really going on. This is a major time waste but can be cured by simply being more open and transparent.
In closing, no matter what you do, do it in the name of greater communication. Make it your aim to solidify and bring about a culture that's centered on Earth shattering communication. Build a team that's well oiled and institute practices of effective transparency where your creative team can thrive.
This article was originally published by Under30CEO
Published: August 30, 2013
2668 Views