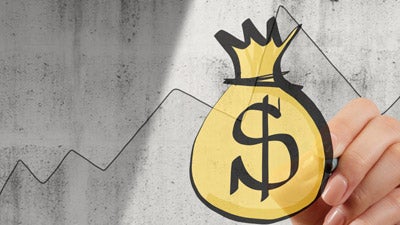 Commission-based sales plans
have long been standard in the sales industry. Many small business owners are reluctant to abandon them, believing the widely held opinion that salespeople are primarily motivated by money. However, a number of companies—including Apple, Carphone Warehouse, and Best Buy—have successfully scrapped commission schemes in favor of salary-based remuneration, and other businesses are beginning to follow suit.
Traditional commission-based models often cause problems in the workplace. Generally no other employee is paid by commission, and this division tends to separate sales teams from the rest of a company's staff. A divided business is rarely a happy one, and pay differences can foster a negative atmosphere.
Companies which operate a commission-based plan often have a high staff turnover. It's common for salespeople to change jobs on a semi-regular basis, in order to secure a more lucrative commission contract. Unethical and underhanded practices also tend to emerge, as employees manipulate their sales figures to secure a larger wage.
Calculating wages for commission-based staff can be a time-consuming task, especially in large companies. Generally an effective commission plan needs to take many different factors into account—such as the profit margin on each product sold, or whether the sale was made to an existing customer. Both the salespeople and the company spend large amounts of time calculating wages—something which many small companies can ill afford.
By paying sales staff a straight salary, businesses can bypass many of these issues. As employees are no longer competing against one another to make a sale, teamwork begins to play a larger part in the workplace. This can lead to a more positive company culture, which in turn reduces staff turnover. Wages are also much easier to calculate, and employees become less concerned with profit.
Customer service is one of the main reasons why business owners choose to scrap commission-based payment plans. Rather than trying to sell the products with the highest commission, sales staff will actively engage with customers, taking the time to listen to their problems and analysing their needs. Your sales team are the face of your business, and are often the only point of contact your customers have with your company. If the in-store experience is relaxing, engaging, and enjoyable, you are more likely to build a loyal customer base.
Straight salary schemes are still relatively uncommon. One of the reasons companies are reluctant to make the jump from their existing commission plans is staff retention—many believe that such a drastic wage change would alienate their current sales team. However, this isn't necessarily the case, as salary-based packages offer workers a greater degree of security. Many people are still reeling from the global recession, and priorities are beginning to change. Financial security is more important than ever—employees are less inclined to take risks, and are more likely to welcome the stability offered by a regular payslip.
On commission-based schemes, an employee's salary is directly related to their performance. Many business owners fear that without a financial incentive to motivate workers, sales would rapidly fall. However, a full salary tends to inspire the same level of effort in workers as commission would—if a staff member doesn't meet their targets and perform well, they risk being fired and losing their pay altogether.
Apple has never offered commission, choosing instead to pay workers an hourly wage. Although the average Apple employee's salary is relatively low, they generally earn more than they would at other high street stores. This is designed to entice salespeople away from potentially lucrative commission contracts, and onto Apple's payroll.
Apple has removed the traditional emphasis on financial gain. Employees are given a higher purpose to work towards—staff believe they're "enriching people's lives" rather than just earning a wage. This allows workers to focus on each customer's individual needs, which in turn improves the in-store experience. Customers genuinely believe that they're talking to experts, who will provide them with the product that best matches their needs.
No two businesses are the same, and it would be wrong to suggest that one payment method is superior to another. However, employers should never blindly follow accepted practices without considering the alternatives. The traditional commission-based wage model isn't necessarily the most effective—paying employees a full salary could have positive effects on company morale, sales, and profits.
Author: This post was written exclusively for Small Biz Club by Simon Markland. Simon is the director of Voovit, providers of international shipping and excess baggage services.