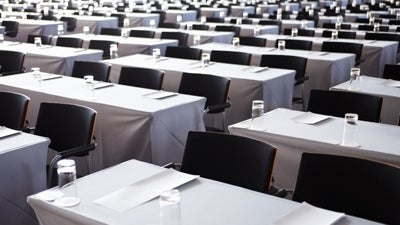 The initial stages of planning an event can be daunting. Whether you are a nonprofit planning a fundraising gala, an athletics company planning an obstacle race or fun run, or an entertainment company in the initial stages of planning a music festival, the success or failure of an event comes down to the bottom line: finance. People may have a great time attending your event, but operating at a loss puts the event, if not the company, at risk.
It's important to plan a realistic budget of your event early, and to revise and make adjustments when necessary. Here are some things to keep in mind as the planning gets underway to help keep your event on track:
In the early stages, it's important to have an open, frank conversation with those involved with the event planning about how much you are willing to spend to produce this event. You must be able to make informed decisions about what expenditures can (or cannot) be made.
2. Review the Event's Needs
How much will the upfront costs be? What are the event's revenue sources (ticketing, food & beverage sales, merchandise, auction items, etc.)? Once you determine what the event's needs are, you can review and revise the scale and approach to the event to make sure expectations and execution strategy are realistic.
3. Build Your Budget and Expense Checklist
On Site Expenses

Venue Costs

Food/Catering

AV

Third Party Vendors

Event Rentals

Decor Vendors

Entertainment

Production

Marketing

Admin Expenses

Cost Overages/Emergency Funds
4. Plan How to Pay Your Expenses
Do your vendors need to be invoiced, paid ahead of the event, or at the time of the event? Do they need to be paid with a check, or credit card, or wired the funds? Do you have a plan to pay any last minute expenses that might occur on the day of the event? Do your staff have access to funds to pay for any expenses that may occur (whether via corporate credit card, petty cash, or personal credit card with reimbursement)?
Best of luck with your next event!
Published: May 19, 2014
2477 Views