6 Misconceptions About Employee Expense Management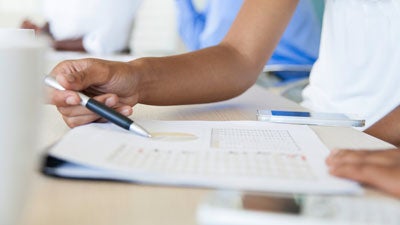 When your company already has an employee expense management program in place, it's easy to dismiss criticism of the program instead of taking a hard look at what it would take to change it. There are several misconceptions and myths regarding employee expense management that can cloud your judgment on this essential aspect of running a business. It's important to take your time and properly analyze your current expense management system, as optimizing your process or switching to another solution entirely will save your company time and money.
Take a look at the most common misconceptions about employee expense management below:
1. Our current employee expense management program isn't perfect—but it's fine.
Just because your expense management program isn't broken, doesn't mean it can't be significantly improved. Take a hard look at the way you manage expenses. Create a wish list about what you would like to be changed, and note weak spots. If you find yourself paying exorbitant sums on corporate credit card interest or worry about credit risk, it's time to switch to a new employee expense management solution.
2. A new employee expense management program won't help us control expenses.
Maybe your business expenses are already pretty lean—and that's great—but a close look at how employees pay for expenses may magnify any existing problems and uncover new ways to save. Prepaid business card solutions like PEX Card allow you to set spending rules for each card, allowing employees to spend money at the gas pump, but not at restaurants.
3. I trust my employees not to waste money, so why change?
Employees may not be directly altering expense reports, but how many times have you ordered an extra drink or dessert, or took a cab when walking was an option, just because you could? Travel expense accounts in particular are easy to take advantage of. A stricter employee expense management program can help you save money while reducing your company's overhead.
4. Employee expense management isn't a priority for my company.
Why wouldn't your company want to save money on expenses? Setting good expense management policies and enforcing them, along with implementing a comprehensive expense management program should be a priority for any company. Your bottom line and your employees will thank you. If your business relies on employees making purchases with their own funds, often the turnaround time for reimbursement is 3-4 weeks. That's less money in your employee's pockets, and potentially less trust between employee and employer.
5. Changing our expense management program is time-consuming and too difficult to implement.
Yes, there is always an initial investment when changing the way things are done at work. Finance managers, office managers, accountants—or anyone that deals with expenses—have to be educated on the new program. Employees need to be informed of the new procedures. However, after the initial training, a reformed expense management solution will be easier and save time for all involved, potentially making a dramatic positive effect on your bottom line.
6. It's too expensive to switch expense management programs now.
The point of a new employee expense management solution is to save you money, but also time spent by people processing expenses. While there might be an upfront cost, long term savings will be worth it. By optimizing your employee expense management solution, you can cut major costs from your company's overhead, reduce your overall level of debt, free up liquid capital, and protect your business from credit risk.
This article was originally published by PexCard
Published: June 23, 2015
3429 Views