Until recently, the only way to create a mobile or web application was to master a programming language, get familiar with UI/UX design principles, and learn QA basics — or hire developers to all of that for you.
Depending on your app's complexity, the development process took anywhere between a couple of weeks to several months. Add if you needed a mobile app for both iOS and Android devices along with a web version, you could boldly multiply the original time (and cost!) estimates by three.
This all changed with the introduction of low-code application development platforms. Although the low-code platform market traces back to 2011, it wasn't until four years later that Gartner acknowledged the growing demand for mobile applications and the lack of skilled IT professionals. The consulting firm viewed rapid application development tools as a viable solution to the IT supply/demand problem — and oh boy, were they right. It is estimated that low-code app builders will be responsible for 65% of all development activity by 2024!
What is low-code development exactly, and why should your company care? Read on to find out.
Getting to Know the Low-Code Basics
The low-code development concept revolves around efficiently creating full-featured applications that meet modern UI/UX standards. App builders make all of that happen. 
Application development software, which may reside in the cloud or on premises, features ready-to-use plug-ins, prepackaged templates, and drag-and-drop UI design tools.
Unlike traditional programming languages and application development frameworks, low-code tools do not require extensive coding and can thus be used by both programmers and "citizen developers" (aka business users).
Although low-code app builders vary in complexity and functionality, they do have several features in common:
An end-to-end development environment

that simplifies the process of designing, creating, testing, and managing your application — on your own or with your teammates 

Visual modeling capabilities,

which allow users to add the desired functionality to their app by simply dragging and dropping elements from the development board

Out-of-the-box modules

enabling advanced application features, such as database management, user authorization, push notifications, and API-driven integration with third-party tools and services

Multi-platform compatibility,

or the ability to create mobile, conservative web, and progressive web applications (PWAs) using the same codebase
You should not confuse low-code app development platforms with no-code tools. 
Low-code solutions require at least basic training, which often comes in the form of YouTube videos and tutorials created by the company behind the solution. No-code app builders, on the other hand, are similar to hosted blogging platforms and landing page builders and can be used by citizen developers with virtually no experience.
Types of Low-Code App Development Tools
Low-code development tools come in a huge variety of forms depending on what you're looking to create. Here are the general categories of platforms:  
Website builders.

Website development software like Wix, Squarespace, and IONOS belong to this category. In addition to content creation capabilities and customizable design themes, these tools often include built-in plug-ins for SEO, analytics, and customer management.

Mobile app development platforms.

Solutions like Appery.io, AppSheet, and App Yourself dominate the low-code/no-code app builder category. Even though their learning curves, features, and pricing options vary slightly, they serve the same purpose — to empower users to create fully functioning, visually appealing apps for Android and iOS devices.

Business Intelligence and workflow automation tools.

Using app platforms like Creatio, OutSystems, and Zoho Creator, you can build robust tools to support customer relationship management, sales analytics, inventory tracking, purchase-to-pay operations, and other business functions.

Multifunctional app development platforms.

Appery.io, a

low-code app builder

mentioned in the mobile category, is one of these tools. Initially designed for users looking to create a cross-platform mobile app, Appery.io has since branched out to support the development of web applications and PWAs running in mobile and web browsers.
What is Low-Code Development's Role in Digital Transformation?
The COVID-19 pandemic and subsequent cancellation of traditional business activities like in-person meetings and offline events have made it difficult for companies to acquire, engage, and retain customers. Multiple retail, entertainment, and travel companies, including Lord & Taylor and Lakeland Tours, filed for bankruptcy last year. Even technology companies, which were better prepared for working from home and attracting customers through digital channels, had a hard time migrating apps and data to the cloud, revamping corporate security strategies, and finding teleconferencing tools that best suit their business needs.
Today, digital transformation is no longer an option — it's an essential survival tool.
Take the US restaurant industry. In 2020, 17% of all restaurants in the country (that's a whopping 110,000 locations!) closed their doors permanently due to lockdowns. Those open for takeout org delivery seemed to be doing better — but the devil's in the details.
Full-service restaurants' profit margins typically fluctuate around 3-5%. Delivery apps and services, meanwhile, charge a 30% fee off every order.
If you don't have your own mobile app, you might end up paying the lion's share of your revenue to companies that process orders and payments via an app! 
It's no wonder we saw two years' worth of digital transformation in the first two months of the pandemic — and low-code app development tools were part of this massive digital overhaul.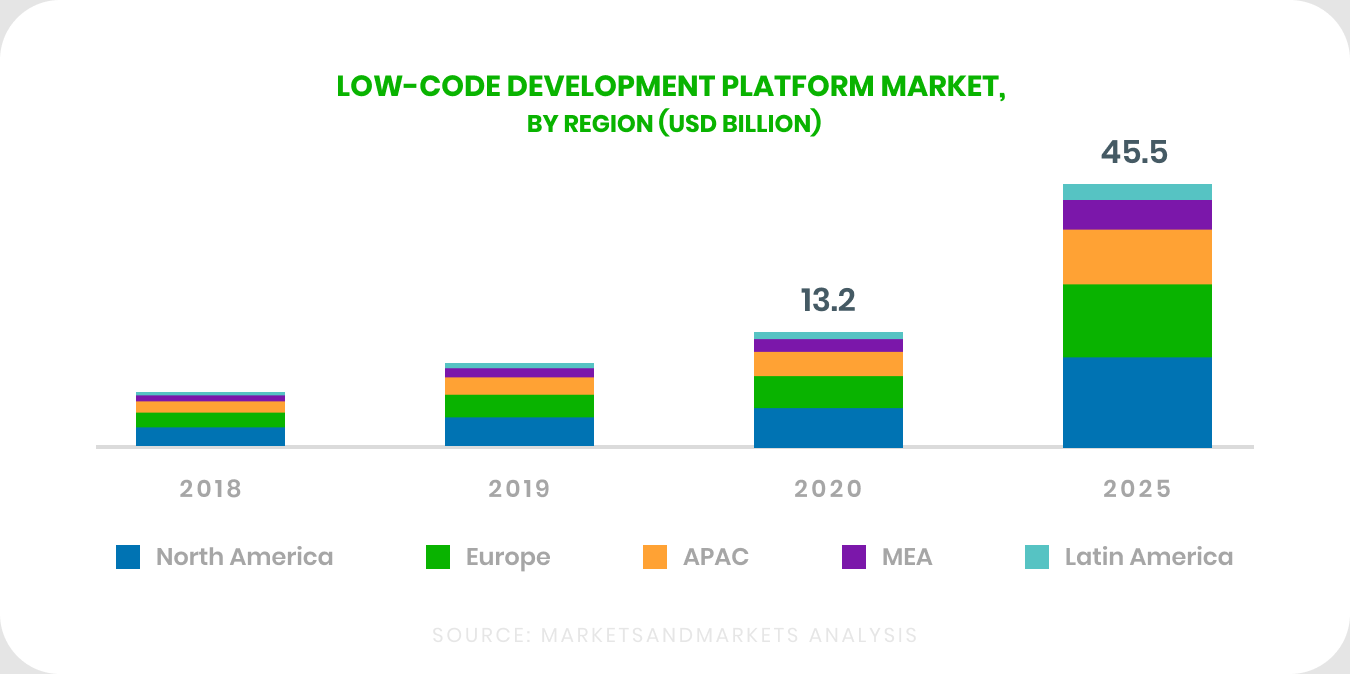 Image source: MarketsAndMarkets
Having reached their historic peak in 2020, low-code app development platforms could become a $45 billion market in just four years, growing at a CAGR of 28.1%.
The massive popularity of low-code app builders can be attributed to the fact that they were specifically designed to fill an immediate need for new software while keeping software development costs down.
And although some experts believe the future of coding is no coding at all, it's low-code app builders (which are a little more technical!) that give you more control over your applications — and an idea of how the software that moves your business forward and deals with sensitive data actually functions under the hood.