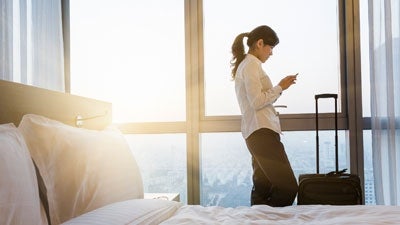 Is there anything more exhausting than traveling for work? You have to get up early, battle crowds at the airport, sleep in unusual places. It doesn't stop there. In your free time, you have to be on your A-game networking and making sales.
Wouldn't it be nice if there were an app (or five) that could make the process a little less strenuous? There is. Here are some of the top apps to help you become a better business traveler.
When you're scrambling to get ready for a business trip, the last thing you want to worry about is your itinerary. Will your plane be delayed? What's your flight number? Are there alternate flights available?
Wouldn't it be easier if an app collated all the information you need in one place? With
TripIt
, you can make that happen. All you have to do is book your trip and the app goes to work to monitor all the details in the background giving you a smoother experience from start to finish.
Cold contacts are awkward. There's no way around that. Wouldn't it make your professional life on the road a little bit easier if you knew who you were going to meet before you walked in the room?
With
Refresh
, you can. Download this app and let it work its magic to find details about the people you'll meet on your trip. Refresh searches the web and social media to pull up important information that'll help you ease into conversation and spark stronger business connections in minutes.
3. FullContact Card Reader
You need every business card that lands in your hot little hands. After all, how will you connect with the new contacts you meet when you get back to the office? The problem is, keeping track of those business cards is tedious. They get lost, dropped, or stained while you make your rounds.
With
FullContact Card Reader
all you have to do is snap a picture of the business card and upload it to your CRM or contact list. Fast, easy, and painless.
Let's be honest. There's a lot that happens when you travel. It's easy to forget important details, ideas, and to-do list items.
With Evernote, you don't have to store all that information in your head. Get it out on digital paper by keeping notes on the go. When you're back in the office, pull them up on your phone or computer, and get to work.
Your scheduling needs don't stop when you're traveling. You still need employees to man the store while you're gone. To get those employees to work, you need to come up with a schedule that'll ensure you're never short staffed.
Doing so while traveling is a challenge (to say the least). You have to track down availability and time off requests, and then fill in the schedule.
ScheduleBase
eliminates that headache. With this app, scheduling becomes faster and easier. You can even email or text the schedule to your team, giving you one less thing to worry about.
Traveling doesn't have to be stressful. What travel app would you add to this list?
Published: March 2, 2015
2069 Views