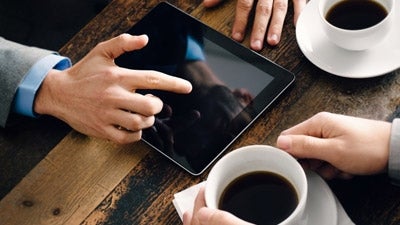 If you occasionally work in coffee shops for a change of pace, or travel frequently for your small business, you've probably connected your laptop or tablet to a public WiFi network. After all, it's convenient and, in many locations, free. What's not to like?
Unfortunately, shared public computer networks may expose your small business to some common cyber security risks. Here are some tips to help keep your business safe:
Check the network's security. WiFi networks that don't require passwords are the most risky, because none of the information you send or receive while using these kinds of networks is secure. According to the Federal Trade Commission, your best bet is to only use WiFi networks that are set up to use encrypted passwords (WEP and WPA2 are the most common encryption protocols; of the two WPA2 is the strongest). Generally, you must enter an encrypted password before you even open your web browser. If you're not sure whether you're entering an encrypted password, assume you're on an unsecured network.
Make sure you're on the right network. Hackers often create "dummy" WiFi networks that look legitimate but aren't. For instance, a legit network might be listed as "NSM Free WiFi," while the dummy network—only subtly different by spacing and capitalization—might be "NSM FreeWifi." According to the FBI, once you log in to a dummy network, hackers can gain access to your computer and capture account information, user names, passwords and important data. Thieves can also redirect you to fake websites to mine more of your personal information.
Don't do financial business on public WiFi. Wait until you're back at your office or home to access your business bank account. Don't make online purchases (e.g., buying ink cartridges for your office printer) while on public WiFi, particularly if you patronize websites that automatically store your credit card information. Hackers could easily gain access to your financial details.
Close password-protected accounts promptly. If you need to log in to your email, Facebook, Twitter, LinkedIn or other accounts, log out right away when you're done; don't leave accounts open for hours on end. Hackers can gain access to your computer and, subsequently, these accounts can cause mischief—or grab your passwords and see if they'll open other accounts.
Follow good password practices. Don't use the same password for multiple online accounts, for the reason just mentioned: Hackers who figure out one of your passwords may try it on multiple accounts. Use strong passwords, or consider using an encrypted program like 1Password or LastPass, which generates hard-to-hack passwords for you and automatically fills in account information when you visit your favorite websites so you don't need to remember them.
Turn off WiFi when not in use. If you're just reviewing or updating documents and don't need online access, the FBI recommends that you turn off your computer's Internet access to further protect it. And be sure to turn off network security preferences like "Allow file sharing" or "Allow remote login/remote management."
Keep software up to date. Maintain the latest possible versions of your computer's operating system, security software and virus protection/detection programs, says the FCC. Small business cyber security includes running antivirus programs regularly, particularly after you've been travelling or working offsite on an alternate network, the agency says.
Take your own network with you. One of the safest options might be to skip public WiFi and set up your own virtual private network (VPN) you and your employees can access anywhere. Service providers like T-Mobile, Sprint and Verizon also sell small, "mobile hotspots" that let you take your own password-protected network wherever you travel. They're available as pay-as-you-go or subscription-only plans.
Consider additional protection. If you travel a lot and want extra protection for your crucial business information, consider business insurance with data compromise coverage, which can help with the financial or legal burden in the event that personal data held by your business is compromised.
Published: August 21, 2013
3265 Views