Google+ is becoming an increasingly significant component to the success of local franchise businesses trying to obtain more customers through Google.
In 2012 there was an average of 925,000 new profiles created each day.

The Google +1 button is used 5 billion times a day during the same year. Sweet sassy molassy.

Google Local listings have now merged with Google+, making your businesses' Google+ profile into your one of your most vital profiles (besides your website) on the web.

Your peers are already interested in investing in Google+!
The mission of this article is to give you a 30,000 ft. overview of Google+ and describe different ways that you can utilize Google+ to generate more brand awareness and bring your local franchise businesses more potential customers through the Internet.
What is Google+?
For those of you who haven't heard too much about Google+, for now just consider it to be Google's version of / response to Facebook (though the two channels have a variety of unique differences—click here for great Google+ information).
Getting The Most From Your Google+ Business Profile
If you haven't set up a Google+ or Google Local account for your franchise business then go to Google Places for Business and create one.
If you're new to Google+ or Google Local and have 10 or more locations that you'd like to upload click here.

If you already have a Google Local listing set up, go log into that profile (it should've automatically merged with Google+ in May, 2012).
Here's the first step to getting the most from your Google+ Business profile—be sure to fill in all the blanks (i.e. hours of operation, phone number, address, services that your business offers, general business information, pictures of your business). That way, when customers or prospects visit your profile, they see a great snapshot of your business and easily find your contact information (example of a good profile: the Steamatic carpet cleaning business in Fort Worth).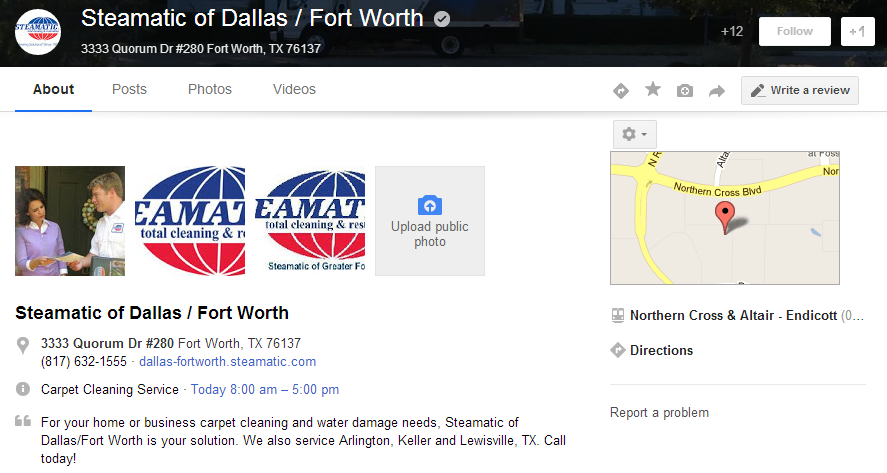 Google +1 Button
Go and get a Google +1 button installed on your website and/or the microsites associated with your franchise business. Check out the Google+ Webmaster FAQ to help address any questions that you or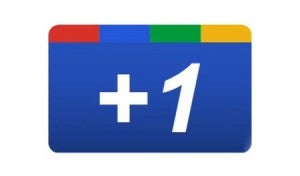 your web designer or search marketing firm may have about adding this button to your web pages. What's the benefit of adding a Google +1 button to your site? Keep reading.
Google+ and SEO
The main reason, in my opinion, why you want your business and your target audience to get more involved in Google+ is this: it's going to have an "SEO-like effect" on your website! Let me explain in more detail:
When someone is signed into Google (through accounts like Gmail or Google+), Google tracks and remembers their history of actions (i.e. what places they visit, how long they stay at those places, what websites they +1, what people they connect with on Google+). From this wealth of data Google is able provide you with personalized search results based on your previous online behavior—pretty creepy and cool at the same time.
The people at Google also understand that, more than anything, people trust the opinions of their friends and family when making a variety of decisions (i.e. what car to buy, what books to read, what doctors to see). So what have they done? They've modified your personal search results based on how you AND your Google+ connections (if you have any) have used the +1 button.
For example: let's say I'm looking for a new dentist in Nashville and I perform the search "dentist Nashville" on Google. This picture below shows the top organic "unpaid" search results for this query.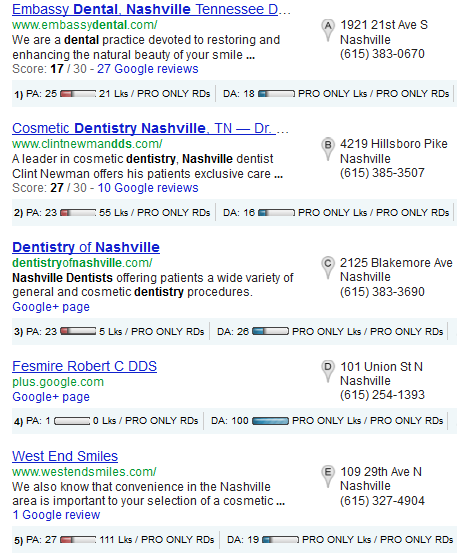 Dr. Richard Gaw is a dentist in Nashville and, as we can see, he doesn't rank on the top of page one for this lucrative search. Rather, his website ranks on Page 4 for the search "dentist Nashville." It's very unlikely he's going to be found by any potential new patients performing that search when his website is so far down the rankings. This will hurt his ability to acquire new patients through the Internet.
However, it just so happens that three of my Google+ connections have clicked his website's +1 button. The result? When I'm signed into Google and perform the search "dentist Nashville," I'll find Dr. Gaw on Page 1 of my personalized search results (see below picture).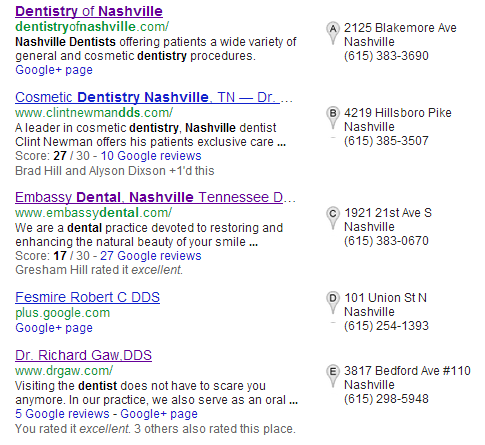 To reiterate: Google knows that three of my connections trust Dr. Gaw enough to +1 his website; if my friends trust him then I'm more likely to trust him too, so they put his website right in front of me versus leaving it in the abyss that is Page 4. This is a smart play by Google—it makes it easier for people to find what they're looking for and keeps them from attempting a search query on Bing or Yahoo.
Final Takeaways
The takeaways? The more people you can get to +1 your website:
The better chance it has of ranking higher in people's personalized search results.

The better chance you have of generating more online business from your current customers' network of connections.

The more visibility your franchise business will have online.
Additional Google+ Best Practices
A few final best practices to end on:
Don't just go and add a bunch of new, random connections to your Google+ profile. Google judges your profile's "authority" based on the company you keep; if you're connected with a bunch of spammy profiles you'll see no added benefit. However, if you're connected to people who have large followings, are in your local area and post well-regarded content, you'll look more credible to Google.

Connect with Google Authorship. People are more likely going to click on a link with a picture next to their description (see example picture). Plus, when you post original content at different places and link it back to your Google+ profile, you'll make it easier for Google to assess your level of topical authority based on people's interest with your content across the web—basically it helps ensure you get credit from Google for any excellent content that you post. Need more on Google Authorship? Click here

Start posting valuable content on a weekly basis.
What is valuable content? Here are some examples:
Funny pictures or videos that your customer base would enjoy. Like, the Kool Aid guy.

Information on promotions or discounts that your business is offering.

An article on the top 10 restaurants in your local area.

A post on one of your employees getting engaged.

A quick post on an award that you were recently nominated for.

A link to a video testimonial or positive review.
What isn't valuable content?
Posts telling people to come and do business with you for no reason other than because you say so.
Get the idea? The more that a business or person brags about themselves the less likely people are to believe them. Does Red Bull talk about how many sales they make every year? No. Does Red Bull promote ads about people performing amazing feats? Yes. Do you like Red Bull ads? Probably.
In conclusion, Google+ is only going to become more influential to the success of your business online. Get a Google+ profile for yourself and your business, start growing your connection base and add a "+1" button to your websites and/or microsites. You may not see any immediate benefits but it's better to be ahead of the curve than behind.
This article was originally published by Franchise Solutions
About Matthew Job

Vice President of Sales – Local Search Masters. Experienced in search engine optimization and social media marketing. Climbed Mt. Kilimanjaro and lives in Nashville, TN.