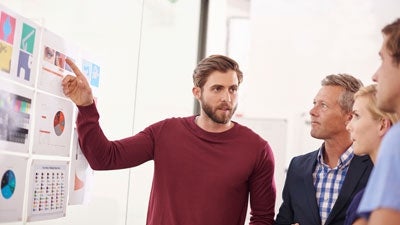 One of the benefits you get in exchange for your franchise business investment is training. This is a very valuable part of the package. The Small Business Administration lists lack of knowledge and experience as a top cause of business failure. Sometimes this is because the business owner is a skilled technician, but not that good at managing a business. Sometimes it's a broader lack of knowledge and training, as people without a business background jump into business without even realizing what they need to know.
Either way, your franchisor will provide you not only with a proven system which has been successful for others, but also with training in the skills you need to make it work for you.
The quality and the quantity of franchise training may vary. Some companies hold regular meetings or conferences, some send coaches directly to your location to work with you, and still others offer self-paced training either online or in books and workbooks. Some franchises provide training only for the owner, and others offer training for key employees.
You should take the training options into account when you are researching your franchise options, but there are steps you can take to make sure that you will get the most possible benefit from any training system:
Concentrate on learning as much as possible. Some franchise training events double as fun networking events. That's great, but avoid the temptation to skip out on sessions or chat during a lecture. The more active you are—even if that activity is just writing out the key points in your own words—the better the information will stick with you.
Trick your brain. Our brains are hard-wired to pay less attention to things we already know, and much of the training will probably be on subjects that are already familiar. It's natural for your mind to wander if you feel like you don't really need to pay attention. However, you'll probably miss the new information or the ideas that are similar but not completely mastered. Trick your brain into thinking you doing something new by approaching the information differently. If you usually take written notes, try drawing charts of information instead. If you usually sit quietly and listen, try asking questions. The changes will rev up your attention.
Use multiple channels. People have their own personal best ways to learn, often from visual information, by listening, or by getting their hands on the materials. You can provide your favorite channel for yourself to some extent; for example, color code your notes to get a visual cue or volunteer to try things out for a better chance at hands-on learning. However, research shows that multiple channels are the most effective for learning, so do your best to involve all your senses.
Put things into practice as soon as possible. When you get back to your franchise location, jump right into the system as soon as possible, practicing the things you learned. That will reinforce your learning before you forget.
Bring others along. Studies on the effects of training make it clear that having more than one person from a single organization at the training is one of the best predictors of training success. If you can have another team member join you for training, and you discuss and practice it together, the chances of your following through with the system correctly are much better.
Published: June 9, 2015
1810 Views