This little device is putting brick-and-mortar retailers back into the consumer spotlight where they belong and helping drive more customers to their stores.

This innovation has the potential to transform the retail landscape and allow even the smallest independent retailer to gain a competitive advantage over online retailers in the digital age. Built by technology company Pointy, retailers simply plug it into their store's POS, continue scanning their products as usual, and it automatically builds them a page with all the products online, ready to be found by customers who are doing Google searches nearby.
Why Are Retailers Using Pointy?
Well, there are a number of reasons:
They provide a quick and completely effortless way for stores to get all of their products online in a matter of minutes. They just plug it in and they're ready to go
They charge a remarkably low once off price of $299 with no monthly fees and offer a 90 day money back guarantee
They build each of their retailers a Pointy Page from scratch so it won't require any work if they have an existing website
An example of a Pointy Page: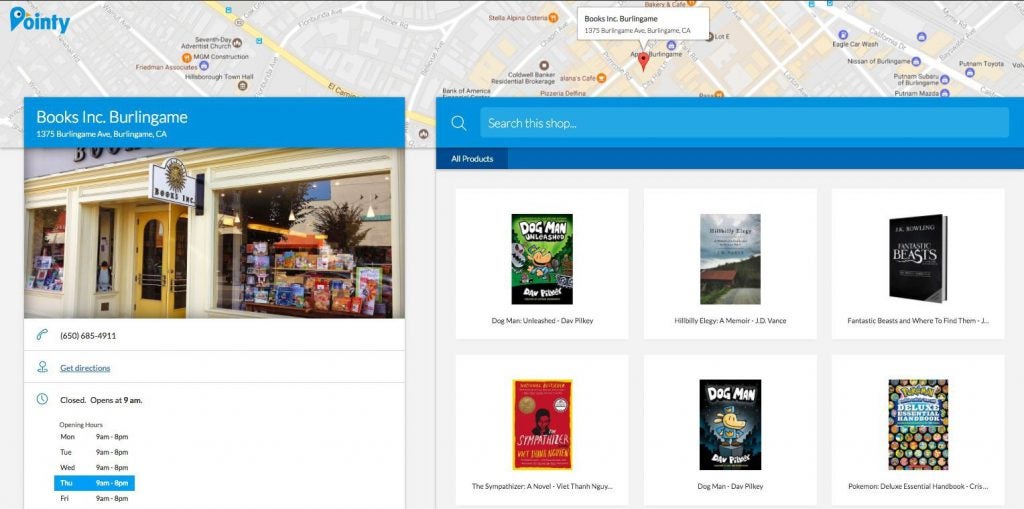 What's The Big Deal About Being Found Online?
Google did some research recently and found that when people use mobile search to help make a decision they are 57% more likely to visit a store and 51% more likely to make a purchase. By having a robust online presence, brick and mortar retailers have the ability to significantly influence in-store purchases.
Currently, most independent retailers rank number one when you search for their store's name. However, even if someone is 50 feet away from them and is searching for a product they stock, they find the large players like Amazon and eBay on page one instead.
Pointy helps solve this problem. They build a page online with all your products on it which is optimized to do well in local searches. Rudy Nehrling from Good Earth Natural Food Co in Indianapolis—one of the 1,000 stores currently using the service—says Pointy has given his store the upper hand over online giants:
"First and foremost we are a brick and mortar store. We want customers to visit Good Earth and get that unique in-store experience that simply cannot be mirrored online. Thanks to Pointy, when customers do a simple Google search for a product that we stock, we appear high up in the results and they can be directed from there to our store. They are putting independent retailers back in the driver's seat."
What Types Of Store Can Use Pointy?
The great thing about Pointy is that it can be used by almost any brick and mortar store. The tech company have customers across all verticals, from the world's oldest independent bookstore in California to a newly opened electronics stores in London. All the store needs is a barcode scanner, products with standard barcodes and a store front. Pointy co-founder Mark Cummins said they built the service with simplicity in mind:
"Running a brick & mortar store is a hectic job so time is precious for most retailers. That's why we've made Pointy incredibly easy to use. We've had stores set up and go live with thousands of products with less than five minutes' work."
How Can I Try Out Pointy?
To get started and see if your store is eligible for Pointy, simply visit their website (www.pointy.com) and complete their short survey. If your store is a good fit, they'll ship you a device right away for just $299. Once it arrives, all you need to do is plug it into your POS and continue scanning as normal. Pointy will take care of everything else. If you're not completely happy, they have a 90 day returns policy!