With the expansion of the current pandemic, business firms are going full-time remote. That may apply to your organization too, but are you ready for it? Truth is, the rise of remote work and its demand are unavoidable and you should take proper advantage of it. As the anxiety of managing your first remote team may build-up, you need to get familiar with the challenges that come with it. Whether you hired a new remote team or tuned-up the existing employees, our 7 essential tips will help in managing remote working teams at best.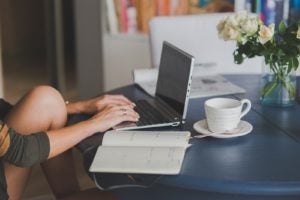 Source: Pexels
Extrude the loneliness of your remote working teams
We take regular human interaction for granted until we can't find a single person to talk around all day. The current outbreak has put us in that exact place. Socializing and sticking around other people work as influences in keeping our minds healthy. This idea is highly applicable to your remote employees, considering that they will be alone in isolation for quite some.
As an employer, you have to be aware of this. Take steps to engage them with each other whenever possible. 
Prioritize effective communication for avoiding misunderstandings
It will be an obvious challenge for you to ensure a proper communication system for remote employees. In a remote workplace, the sense of the actual message can go blunt. Understanding the meaning of a text can be hard, especially when the sender and receiver are living in distance.
Ask your team to prefer video calls for meaningful communication. The facial expressions will help to get a deeper understanding of the message. This is even more helpful for extended conversations as people have to keep complete focus on the display and hear everything. It will prevent misunderstanding and make way for going forward with works.
Let employees know their importance in the firm
Remote workers can feel like miss out opportunities. The opportunity to connect with colleagues and higher management, running into each other from time to time, going out for coffee breaks- etc. Even you may feel like your employees don't hear you the same as they used to be in the office. In a remote working environment, employees can face problems like lack of visibility from management and less limited access to company data.
As the employer, counter this challenge by building trust inside the team. Take time to get to know them, arrange one to one meetings with employees for at least 30 minutes a week. Let them know their importance in the organization by your direct contact and exchange ideas in the personal meetings. This will help them to encourage to work in an isolated situation.
Send necessary items at home
In an office where every single item of work is present and inside the reach of hands, people can easily participate in work and pass all the barriers to meet the goals. An ideal office has a distinctive team just for handling and counting the utilities needed for daily work. So it's never a problem to have a shortage of supplies.
Things are not the same in the case of remote employees. They can't just walk to the storeroom looking for utilities and grab them for work. If you want your remote team to be as effective as in the office, you have to consider the matter of office supplies. So ask your team individually for their utility list and make sure they all are delivered to homes. Check if they are running out of supplies and prepare the delivery on time. This will ensure their continuous productivity in the pandemic time.
Make sure your employees have a suitable working set up
Your employees may have a great desk in the office. They probably have monitors and everything else for the perfect work setup. In a government-mandated quarantine though, they would have none of that. They may not have a comfy chair as they had in the office or a good desk. So guide them to find the best desk for work. Ensure they a distinct place for work. Suggest decorating the table in their way. 
If someone needs the office chair for hours-long work, let them have it. Many of them might live in tight places like small apartments, where making a separate workplace could be hard. In that case, ask them to use room partition so they won't be disturbed by kids or other persons in work time.
Use remote employee monitoring software
As the employer, you need to ensure that your employees are doing their part by completing tasks on time. It's hard to know whether the employees are doing their jobs when they are remotely working in distanced places. To solve this problem, you can use software like CloudDesk remote employee monitoring software. It's an affordable software that will help you know whether employees are doing their work or not. 
It will also help to find self-proven and proactive workers as their dedication and sincerity to the job would be visible. It helps to build trust from both sides, so try this app inside your team. The 30-day free trial will help you to know more in detail- so have a look.
Deploy an employee engagement app
In an emergency time like the COVID-19, employees need the motivation to be active on work and to maintain safe health. Keeping your employees encouraged will help to go through this pandemic. CircleCare employee engagement app works with this motto, it will help employees to achieve health goals. 
With this app, you can motivate the employees to stay healthy and stay connected to daily life. It keeps employees engaged and increases productivity. So deploy this app within your team and let them flourish during the pandemic period and beyond.
Making your employees reliable is necessary to improve their remote work. You need to build confidence in your team and create work ethic, skills, and accountability into your employees. If you want to invest in a remote team and understand the needs and challenges of managing remote employees, you know you have to have a remote employee monitoring software. So try CloudDesk, get to know how it works with the 30-day Free Trial. Want to exchange some information about your remote team plan? Hit the Contact Us button, we'll be in touch in no time.