In order to stay ahead, graphic design has become an essential aspect of every brand. It is not possible to generate leads if the potential clients do not grasp what your firm does. There are many ways to deliver your message, but we'll focus on the types of graphic design that have a different impact on audiences.
Graphic design is a craft where professionals create visual content to communicate messages. But different countries and cultures might require different approaches. For example, if you're looking to do business in the UAE, professional and skillful graphic design companies are assisting with the best possible graphic design services to boost up businesses.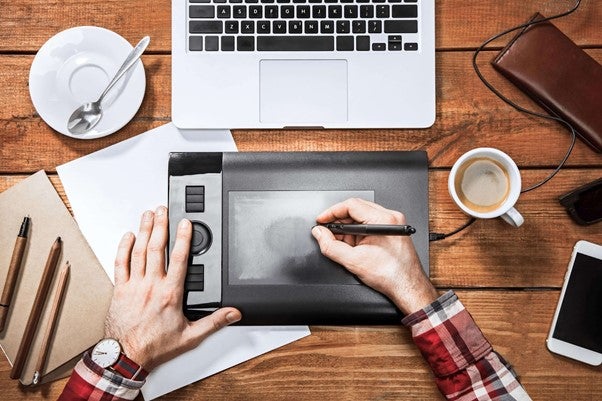 Photo by envato 
Let's get to know some top of list Graphic Designer Companies in Dubai:
  Impulse Media Solution
Are you looking for a seasoned pro Graphic Designer in Dubai? Impulse Media Solution, with a well-rounded skill set, has been empowering brands with professional graphic designing services since 2012. Skillful Graphic Media services with creative and reliable content. Their services include Logo & Branding, Infographic design, Vector design, 3D Designs, Photoshop Design, Podcast Design, and much more.
  PRROWESS
You won't need to hire a full-time design team, because Prrowess will take care of that for you! A design team that is available to you 24 hours a day, 7 days a week, in real-time, can save you time and money. With Prrowess there is no limit to the revisions and edits hence they will keep working till it's perfect.
  PrezLab
As a full-service creative and design solutions provider, PrezLab offers a broad range of services to clients across all industries and locations. Services range from the public sector to those in the banking and financial sectors. In addition, they are having experience in offering social media content design and management services such as infographics, explainer films, and design language adoption. They are also providing on-demand graphic design, motion graphics, and social media content management services.
  Cloud9 IT Services
Cloud9, the top Graphic Design Service provider in Dubai. Their Graphic design is a craft. In other words, they are creating visual content to communicate messages, by applying visual hierarchy and page layout techniques. The Graphic Design services by Cloud9 consist of best-fitting typography and attractive pictures. To meet users' specific needs they are focusing on the logic of displaying elements in interactive designs. Thereby, optimizing the user experience.
  ITxITPro
ITXITPro comprises a team of passionate creators, web designers, developers, and webmasters. Having a highly experienced team of web designers who can deliver exceptional, scalable, and engaging digital platforms with unique aesthetical brilliance. For an all-around solution to all the designing queries, they adopt a streamlined method to ensure the seamless delivery of services.
  Studio3
Studio3 is a Creative Agency in Dubai. They have a reputation for excellent inventiveness, high-quality design, and a tailor-made approach to client service. In collaboration with their clients, they believe in coming up with distinctive ideas and solutions. A tiny, creative team with big ideas, their strength lies in delivering professional service, and at the same time fun and friendly.
  ITFAQ
Itfaq is a french company based in Dubai, with vast experience in Software Development, digital marketing, branding, and SEO. Services include Logo, typography, tagline, color palette, imagery, shape, and form, style consistency, tone of voice; business cards, packaging, merchandise, and stationery.
  Poixel
Poixel wants to build a long-term relationship with people that share their vision and are willing to work with them to make their philosophy a reality on the market. Using the team's abilities and knowledge in marketing and design, As Poixel creates new brands from the start. The Poixel team will evaluate your brand and provide a unique market strategy and brand identity design to strengthen its market position.
  CBA NVM
CBA NVM offers a broad range of graphic services, from concept to completion. There are two types of marketing: online and off-line. Everything from powerful key graphics, complex and multi-layered images to extremely concise pictograms are created, designed, drawn, and animated by them.



Sandpaper
Sandpaper is a digital design and communications agency with a reputation for effective, results-orientated design solutions. Annual (financial) report design and content, as well as a sustainability report. Brand logo identity design, brand guidelines, and brand positioning are some of the services they are offering to clients.



Davel Creative Agency
Creativity reigns supreme at Davel's creative agency. With extensive experience, Davel holds focus on the following services: Branding & Positioning, UI/UX, and graphic design, Web development, Motion graphics, Marketing, Photo, and video production. Their graphic design services include online graphic design, Design Visual, Identity Logo, Design Identity, Design Motion, Design Visual, Design Luxury, Branding Motion Logo Development, and much more.