Friends,
I hope you all are staying safe, practicing social distancing, and avoiding the COVID-19 Virus.  Here at Betwext, we are lucky.
Our team already worked from home… so it's business as usual (sort of).
Linda and I are hunkered down, working from home… and going out as little as possible.  Like many families, we're struggling to keep both of our 70+ year old parents at home.
But that's another story…
Let's Face it, the WORLD has changed.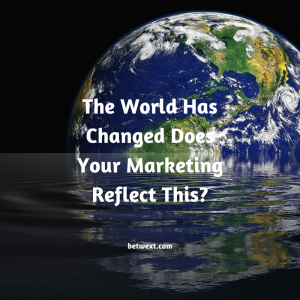 Everyone's a little bit scared… Millions and millions are on lockdown… Layoffs and furloughs are the new normal… and the dynamic of working from an office has forever changed.
My question is… have you changed your marketing to reflect this?
If not, there's a number of things you need to start doing immediately…
But before I get to these tips… I want to share what's driving me crazy.
As you know I'm on dozens of lists, I'm always watching commercials, reading ads, and studying online marketing… not to mention the thousands of text marketing messages I see.
Over the last week, I've seen more insensitive marketing than I care to mention.
Everything from advertisements for Concerts (remember social distancing people?)… to advertisements that pretend nothing is going on in the world.
I know why this is happening.
It's LAZY marketers.
To be honest, I had to take a long look in the mirror the other day, and realized I was part of the problem.
The world changed in the last 10 days… and we hadn't updated our messaging to address the change.
Right now – that's priority number 1 for all marketers.
You can't bury your head in the sand… you can't pretend we're still in the go-go days of a booming economy… you can't assume your customers are thriving.
Take action now.  Show people you're a real person… and your business is there to help… and in the long run it will pay off.
So, let's jump in…
A Few Things To Change In Your Marketing TODAY!
I want you to realize the world HAS changed.  Take a long look in the mirror, and realize it's impacted you – regardless of what you're telling yourself.
There is a REAL health risk in the world today.
If you go "run errands" you could catch COVID-19 and die.
Not only that, but the economy is in a recession.  Believe me, I've studied the financial markets for over 2 decades… this is going to be ugly.
People are losing their jobs.  Families are at risk of losing their homes.  Your neighbors might not have enough to eat.
It's scary.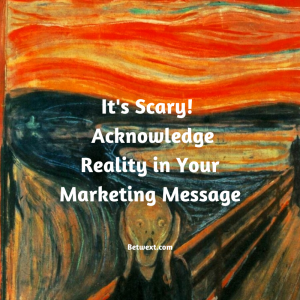 I'm not saying this to shake you up.  I'm telling you this so you understand it's ok to acknowledge reality in your marketing message.
Don't ignore what's going on in the world… you don't need to frighten people… but just acknowledging what's going on is critical.
Maybe you change your messaging.
Maybe you change your call to action.
Maybe you create a new offer for people to take action on.
Maybe you become more human in your interactions.
I also want to share an idea with you.
We're in a recession.
That means people are going to hesitate more before buying.
Think about it.
If you just went through a layoff or were put on furlough… saving money is critical.
As a marketer, your message needs to change.  The hard sell of products isn't going to work.
Focus more on VALUE.
Focus on risk reversals (like better warranty and return policies).
Focus on price reductions, or payment plans.
Along with these changes, you need to communicate more, not less.
When I say communicate MORE… I don't mean send the same ad 3 times instead of once.  I mean use your communications to share your story, share what you're doing to help out, share the little joys of life.
Become more human to your customers and you'll benefit.
But that's not all…
As a marketer, you need to work hard to bring in NEW customers.  You should also be working hard to KEEP the customers you already have.
Here's what I want you to do.
Take a hard look at your current company policies and procedures.  What can you do differently to help out your customers in need?
Remember the world isn't going to end.
Now's the perfect time to refocus your marketing and reconnect with your prospects and customers.