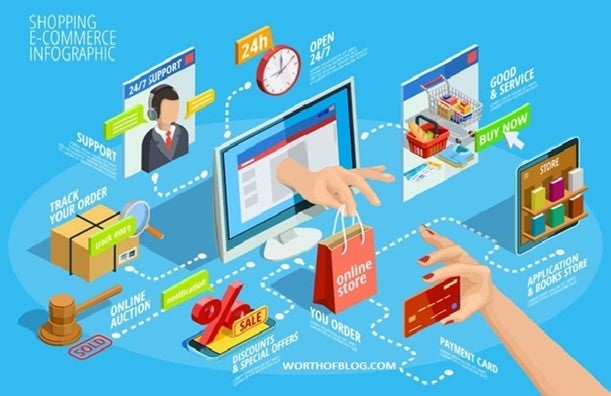 eCommerce has totally redefined the way of retail business by enabling businesses to reach out to customers online and sell their products on a large scale. Hence, choosing the right eCommerce agency for your business is of utmost importance.
You might be thinking about why it's important to hire an eCommerce agency when you can build your website yourself? Well, designing and developing an eCommerce website isn't that easy. There are some parameters and frameworks you have to work on to get the best for your business. Your website must be able to drive sales, fetching new customers, and making a profit from being just aesthetically sound.
The best step you can take toward designing and developing your eCommerce website is to hire a trusted and reliable eCommerce agency. Let's say you live in Colorado and you're searching for  a Denver eCommerce agency, you'll see a lot of companies popping up. But, don't just pick one because it's showing on the top results or it's located in your town. Choose an eCommerce agency that has good experience and works with all types of businesses, small to medium, and even enterprise.
But, there are a lot of them online. How will you choose the best for your business? To help you with that, we've put together these top 5 questions to ask when hiring an eCommerce agency for your business.
1. How long have you been working on the eCommerce platform?
A good way to measure the expertise of a company is to ask them this question. If the platform you're asking is complex, like Magento for example, you should look for a "solution partner" agency that has experienced and resolved many of the challenges you may face while developing your website on your own. This can save your time and money in development costs.
2. Have you worked on other sites in my industry?
By asking this question, you can see how that agency can perform on your project. Consider that you hire an agency that has no experience in your industry, you might end up wasting time, money, and resources.
For example, If you're an auto parts seller, you may need certain customizations to showcase your products better that are not available from an out-of-the-box eCommerce installation. If your agency has worked on similar sites before, they may have already developed certain functionalities or close to it. Ask for their portfolio, recent clients, testimonials, or case studies. You can use this to measure their efficiency and expertise as well.
This can save you countless hours of discovering new functionalities and features online. if the solution you're looking for is already there, you should proceed with that agency.
3. How does your agency handle QA and testing?
Today, almost all the eCommerce agencies, undoubtedly, have a QA and testing protocol. If someone hasn't, don't proceed with those old-school experts. By asking this, what you have to find out is how robust their process is. Ask about their QA and testing process in writing or a flowchart. If they can provide you that on the spot, Voila! You may already have a winner for your project.
4. How does your reporting system work?
Ask them to show some samples of their reporting. First things first, it should be easy to read. Secondly, it should clearly show the overall progress of the project. Next, what tasks have been performed? What tasks are ongoing? What tasks are having issues?
A weekly phone meeting will work as a cherry on the top here. But you need accountability and transparency too, and that only comes with constant and detailed reporting.
5. How many eCommerce projects have you launched?
Don't get me wrong, quantity over quality isn't your main goal here. You just have to ensure that the agency has plenty of experience in both migrating current websites to your platform and launching websites from scratch. If you find one with some good examples, this is the key.
6. Does the agency have in-house web developers or do they outsource projects to subcontractors?
You might be a little surprised by this, but, here's a little-known secret…
Many eCommerce agencies around the world use off-shore developers. And that's not a bad thing to consider. You might be living in Denver or Detroit, you want the best eCommerce developers for your project, right? Well, sometimes for that you have to look off-shore. 
If the agency you're considering uses off-shore eCommerce developers, ask them that how many of them are highly trained and certified for your platform. This will give you a good measure of how skilled they are and what's their level of expertise.
Conclusion
If you're thinking of taking your business online, you must hire a top-rated eCommerce agency to help you enjoy a fully competitive and customizable website design. As mentioned earlier, if you're based in Denver and you want to excel in business locally as well as globally, choose the agency cautiously.
Before you get in touch with them and come to an agreement, remember to analyze and question the company based on the factors above. Because a good agency can make your business, and the bad one can hurt it. So, choose wisely.