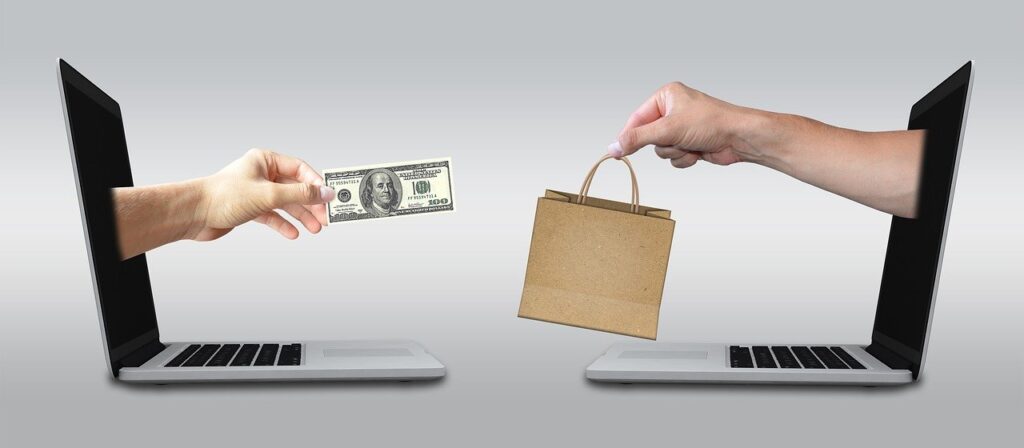 Source: Pixabay
Customers will keep you in profit; repeat customers will keep you in business.
This is because over 65% of a company's business comes from existing customers. This is why it is important to track, measure, and optimize key performance indicators like customer retention rate and reorder rate in your e-commerce business.
According to a recent Harvard Business School study, a customer's 6th purchase was an average of 40% higher than their first, and their 8th purchase, an average of 80% more.
Additionally, further studies show that it is 7x more costly to acquire a new customer than it is to retain an existing customer.
So, wouldn't you rather that they return than churn?
In this post, I'll show you how to improve e-commerce customer retention and reorder rates, cut churn, and boost average order value and customer lifetime value this holiday season by taking five simple steps, but first
What is Repeat Purchase?
According to the Financial Dictionary, repeat purchase is further purchases of a product by a BUYER who, after having tried the product, is sufficiently satisfied with it to make additional purchases.
From experience, we also know that this customer satisfaction stems from
satisfaction with product/purchase, and
satisfactory buying experience
In fact, PwC in its "Experience is Everything" study reports that 42% of consumers will pay more for a friendly, welcoming experience, and 52% will pay more for a speedy and efficient customer experience.
So…
What is Repeat Purchase Rate?
Also known as reorder rate, repurchase rate, repeat customer rate, etc, repeat purchase rate measures the percentage of your customers who come back for another purchase.
A high reorder rate is usually a sign that customers love the price, the product, or the process of buying from you. It means you're doing something right.
Low reorder rates, on the other hand, imply that you're doing something wrong with your pricing, products, or purchase process.
Why Is Repeat Business Important?
A high repeat purchase rate is connected to:
lower cost of customer acquisition
higher customer retention
lower churn
greater customer satisfaction
higher average order value
higher customer lifetime value
higher revenue and ROI
brand loyalty
positive word-of-mouth
great reviews
On the other hand, a low repeat purchase rate is connected to:
higher cost of customer acquisition
lower customer retention
higher churn
lower customer satisfaction
lower average order value
lower customer lifetime value
lower revenue and ROI
brand disloyalty
negative word-of-mouth
damaging reviews
Following are:
5 Simple Ways to Improve E-commerce ReOrder Rate This Holiday Season
Know Your Customer to a T
Most businesses know their customers, but only a few know their customer. The former stops at broad segmentation, the latter excels at personalization.
Knowing your customer to a T is a must for e-commerce businesses. It will give you deeper insights into their wants, needs, and preferences enabling hyper-targeting.
If you run an online store, for instance, this in-depth knowledge of your customer can help you serve them the best deals, offers, or product recommendations based on their interests, demographic, income, preferred device, etc.
Hubspot's Buyer Persona creator can help you to create a detailed buyer persona for your ideal customer. It takes a few minutes to complete but can help you to become more customer aware.
Improve Site Loading Speed
A slow loading site can negatively impact your e-commerce business.
Did you know that one in four visitors will abandon a site if it takes more than four seconds to load?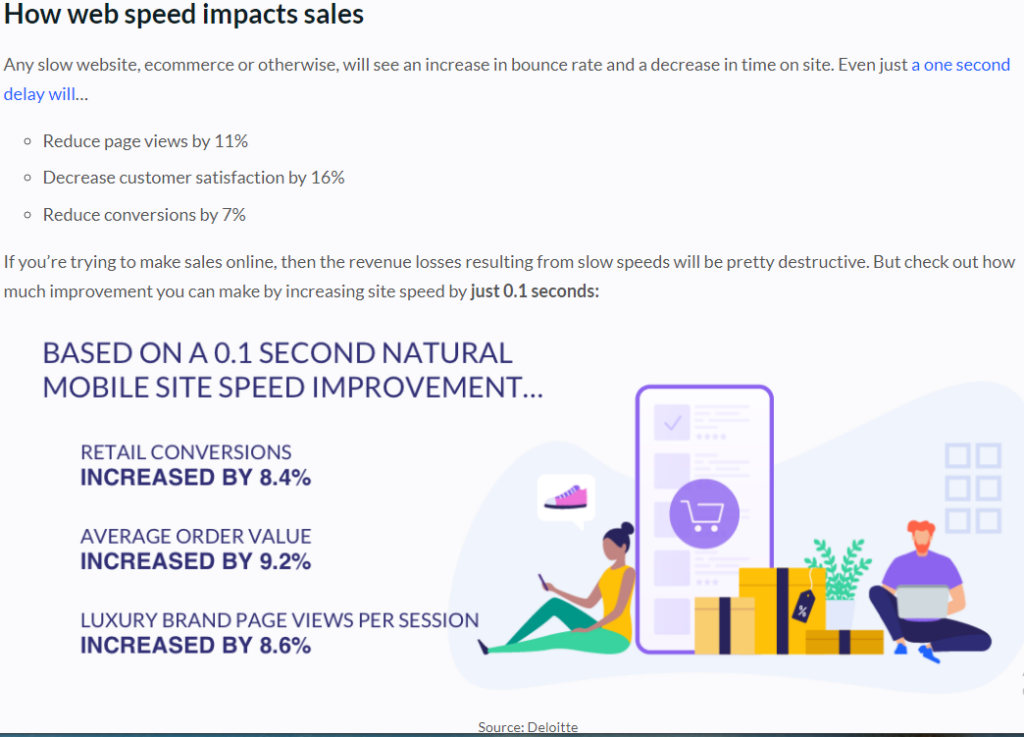 Source: WebSiteBuilderExpert
Google Test My Site easily measures your site loading speed and offers suggestions and tips to help you improve it.
Google PageSpeed Tools, WebPageTest, Pingdom, and GTMetrix, are some other tools that can help you determine and optimize your site loading speed.
Optimize Your On-Site Search
After visitors land on your website, one of the first things they do is to browse around or search for products. Imagine a customer walking down the aisle in a supermarket looking for products.
According to a 2017 eConsultancy report, 42% of companies ignore on-site search, another 42% bundle it up with other metrics, and only 15% pay attention to it.
Most online shoppers come directly to your store hoping to find a product. Can your on-site search mechanism help them find it quickly?
Search autocomplete suggestions or predictive search helps users complete their search query. It is important because most online shoppers misspell product/brand names. This can return a "product not found" result, resulting in a lost sale.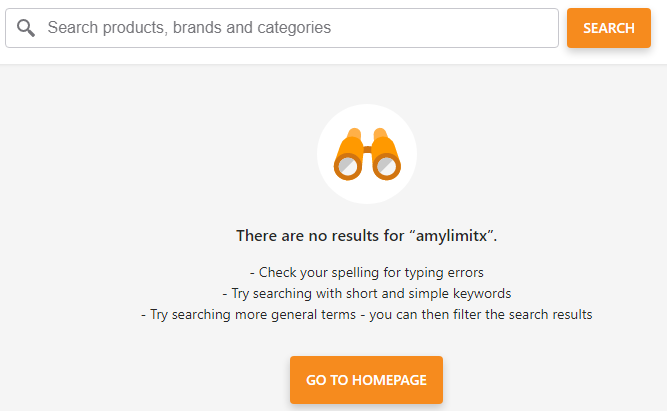 Source: Jumia
Baymard reports that 96% of major e-commerce sites now feature autocomplete suggestions, but 27% have several and severe usability issues.
Optimize Your Checkout Process (Buy Button, Shopping Cart, Steps to Checkout, Payment)
Some shoppers spend considerable time searching for products online. Clicking the "buy" button shouldn't be an additional hassle. Ensure the design is conspicuous and easy to click.
Similarly, populating an online shopping cart can take hours between tasks.  Some shoppers load up their carts ahead of payday only to have it all disappear when they're ready to checkout. Ensure that your "saved items" feature works correctly.
When online shoppers are ready to checkout, too many form fields can be an obstacle. According to Baymard (Institute), the average US checkout flow contains 23.4 form elements, with 21% of US shoppers abandoning an order solely due to a too long or complicated checkout process.
Payment is another thorny issue for many online shoppers. According to the same report, 6% of shoppers abandoned checkout because there weren't enough payment methods, with 4% of cards declined. Payment should be a breeze, not a freeze. Include multicurrency and currency conversion features for more flexibility.
Provide Fast, Cost-Effective Shipping & Returns
After a successful shopping experience comes shipping. In fact, high cost of shipping, taxes, and fees contribute to over 50% of abandoned cart cases.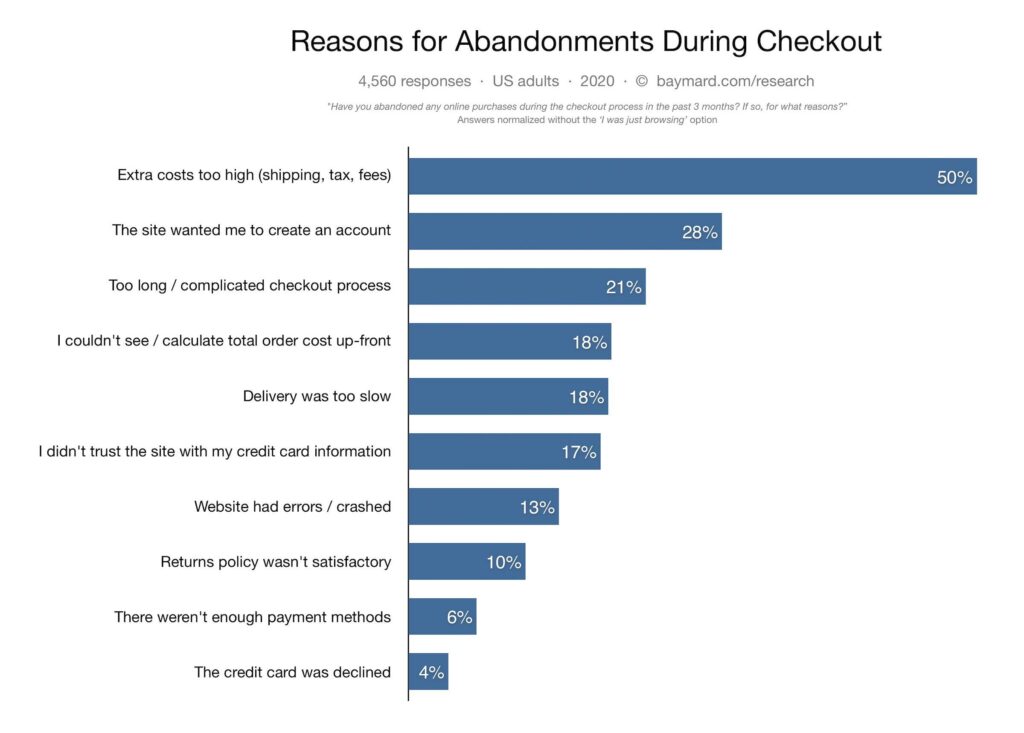 Source: Baymard
Shoppers hate surprises like extra shipping fees. They also do not take well to long shipping times. During this holiday season, 25% of online shoppers will be buying gift items and timely delivery is key.
You can help your customers enjoy their shopping experience by capping it up with cost-effective and timely shipping, fulfillment, and delivery.
Sometimes, products arrive and leave customers disappointed. You can redeem the situation by offering a friendly return and refund policy with minimal reverse logistics cost to you.
Conclusion
These tips will help you deliver a pleasant shopping experience to your customers, and increase the chances of a repeat purchase.
To improve your e-commerce reorder rate, remember to:
Know your customer to a tee
Improve site loading speed
Optimize your on-site search
Improve your checkout process
Provide fast, cost-effective shipping and returns.