Acquiring new customers is good, but guess what, retaining existing customers is even better. In fact, research suggests that "65% of a company's business comes from previous customers." Plus, data also claims that "Acquiring new customers costs 5 times as much as retaining existing ones."
But the biggest surprise of them all? It turns out that the difference between losing a customer and retaining one lies in just one bad experience, according to research by Oracle. Long story short, you could be adding a new customer to your mailing list every day, but if you're not retaining (and rewarding) your existing loyal fan base, you'll soon find yourself at the short end of the (business) stick.
In this post, we will look at the top-4 ways in which businesses – small or big – can get on the good side of their customers and stay there.
Top-4 Tried & Tested Customer Retention Tactics that Truly Work
1. Leverage Chatbots for a Seamless Customer Service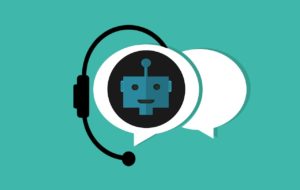 Let's make one thing very clear. When it comes to making your customers happy, nothing comes close to delivering a friction-less customer service experience. This is where you can deploy AI-powered chatbots.
Let's look at some real-life examples of brands using chatbots to create truly amazing customer experiences:
Bulb uses live chat in the most humane manner possible – complete with profile pictures and user names: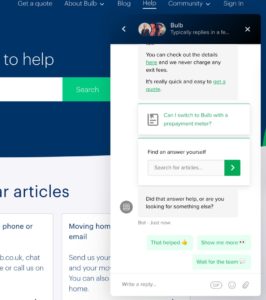 Nordstorm's live chat is available 24x7x365: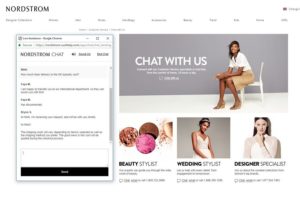 2. Draw your Customer's Attention with "Automation"

"More than half of consumers expect a response from customer service within an hour, even on weekends." – Edelman Digital
The adage "Out of sight, out of mind" holds true for the increasingly overwhelmed, digitally-savvy customers of today. So, if you're wondering about how to re-engage lost customers and stay relevant in their minds, automation can be your best bet yet. In simplistic terms, when we say automation, we're referring to software. Instead of draining your valuable human resources to perform routine and repetitive tasks, let the software take over. It can communicate faster, be ever-present, and take your customer relationship management to the next level.
3. Offer the Right Support with the Right Platform at the Right Time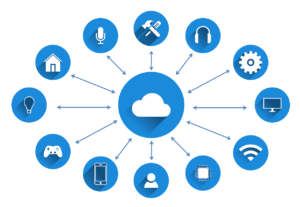 "91% of consumers are more likely to shop from brands who recognize, remember, and provide them with relevant offers and recommendations."
There's no doubt that we live in a multi-connected world. Your customers are always reaching out to you on diverse platforms – from smartphones and laptops to social media and websites, the list is truly endless.
And this is why offering the right kind of support using the right platform is key. Moreover, you cannot have a disjointed customer service – where your agents are juggling between multiple platforms and numerous customers, creating confusion at best and mismanagement at worst. Enter Integration.
Often times, customer support teams are seen handling queries on all-important apps such as Facebook, Zendesk, etc. By integrating your CRM and live chat services to various apps, you can streamline communication and deliver a smooth customer experience.
Take a look at Sephora, which brilliantly makes use of different platforms to interact with users and respond to them in a manner that's consistent with the chosen platform:
Sephora's chatbot on the messaging app, 'Kik":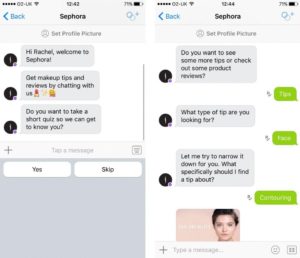 Sephora's mobile app, "Virtual Artist," which offers a 3D experience to users: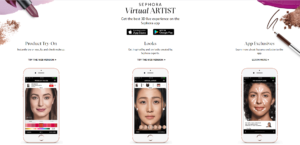 Sephora's digital platform community, "Beauty Insider" where users can design their personal makeup profile, join groups based on their interests, participate in Q+A sessions, browse photos for inspiration, or get some expert-level makeup advice: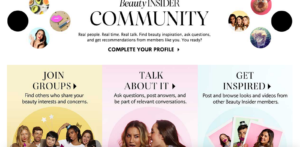 4. Embrace the Customer Feedback Loop
Turning a deaf ear to your customer's feedback is the most fatal mistake your brand can make. Highlighting its importance, a study by BrightLocal found that "82% of US consumers read online reviews for local businesses, and the average consumer will read 10 reviews before feeling able to trust a business."
The moral of the story? While you need to extend a listening ear to your customer's woes, you also need to actively do something about the feedback being received. Here are some of the most successful brands in the world that make a conscious effort to integrate customer feedback into their existing business model, creating life-long brand advocates in the process:
Starbucks is truly leading the customer feedback game. The brand not only encourages users to speak up but incorporates the feedback in their menus to make the customers feel valued and well, heard (pun intended):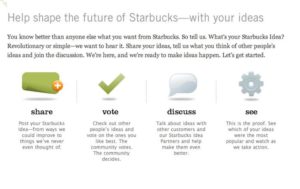 Here's another example of brand that makes it a point to hear out their customer – especially in case of a negative feedback; not shying away from criticism at the least (which is sure to win hearts):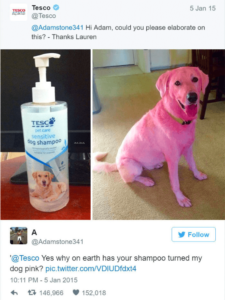 In a Nutshell
"A mere 5% boost in customer retention can boost profits by 25% to 95%."
Here are the top-4 takeaways you need to remember if you wish to retain customers and turn them into "brand fanatics:"
Turn down the workload, offer convenience to customers, and work smart by using chatbots.
To reconnect with lost customers in a speedy and quality-driven manner: Automate, automate, automate.
Be present on diverse platforms but operate from a centralized tool so that you can branch out to reach more customers in a systematic way.
If the customer is king, customer feedback is queen.
Try these customer retention strategies and bring your A-game to the user experience table. Are you in?