As a founder, you fully believe in your product and the value it is meant to add up to the world. That's how startups hatch.
Entering the business lifecycle they usually lack an intricate business model and, crucial one, proper financing.  Turning for funding, the entrepreneurs must prove that the product will be developed right, will meet the expectations and, what's more important, bring revenues and enhance what was invested.
What will ensure that scenario unfolds right? Tech talents, who will make sure that the brilliant idea will find its practical implementation. Among all the specialists in the infrastructure that supports the startup arteries, the tech department is the one where no bargaining is possible. To believe that there will be one tech wizard instead of a full stack development team might cost quite a lot, especially reputation-wise.
What Makes Startups Successful
It's been already mentioned above that in the most frequent cases startups start their way into the business world on quite an underfinanced wave. When searching for the money to be invested the founders make sure that what they have to offer is legit and a future top-notch success. For that certain areas have to be covered.
A clear-cut vision of the project
An idea is a gold, no arguing about that. However, all the "whens", "whys", "hows", "whoms", and "whichs" must be clearly defined. Sure thing they will be modified further down the path. Investors who are willing to fund the idea ask legit questions and expect to get the answers that are not far-fetched or "wait, it's going to be a hit". For example,  according to CISQ, companies lose a whopping profit annually when previously considered outstanding software implementations have gone wrong. Skilled full stack engineers would help to save precious dollars. Investors should know their money is safe.
Market game-changer
The product that is aimed at hitting the market must be if not one of a kind( quite hard to achieve) but quite close enough. Product features have to create the demand, particularly for your product, among the others in a similar niche.
Rich tech talent pool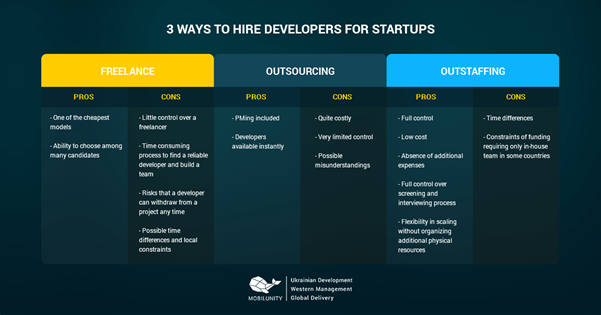 Source: https://mobilunity.com/blog/3-ways-to-hire-developers-for-startup/
Startups must perform impossible but get the brightest specialists on board since it will be them who help make your product eliminate competition. The startup employee ecosystem might be quite broad even if the whole staff will be working remotely.  The remote full stack development team, remote audio annotation team, or remote law experts deliver the same value, as long as the work is performed efficiently.
Loyal community building
Founders must invest time and energy into creating a place where the potential and already-involved customers can connect and share their feedback, providing insights for the founders to improve the product.
Learning from the best practices
Great startups are never shy to learn from successful experiences. Of course, nothing is stable in the business world, where things change at a record speed. Yet, there is always some trick that works well regardless of time.
These are general truths that bear practical wisdom. Though every entrepreneur must understand that every project has its particular needs to grow and prosper.
Startup Team Members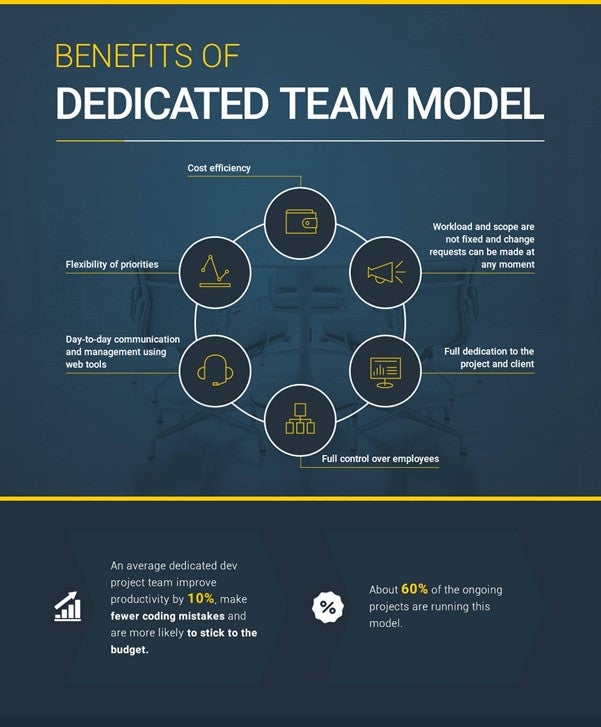 Source: https://mobilunity.com/blog/hire-dedicated-development-team-in-ukraine/
Startup employee organization is composed of various specialists who have an expertise in marketing (SMM, brand manager) sales (sales coordinator, sales lead), legal matters( layer, tax consultant),  development (full-stack developers, leads), quality assurance (QA engineers), data labeling and annotation services (data annotator), etc.
To make a startup live a long life, there must be no such thing as hiring a Jack of all trades. People you hire to take care of the departments have to live up to the trust of those who expect funding to not be going down the drain. To launch and maximize a startup the professionals should look the following way.
Chief Executive officer (CEO) and Chief Technology Officer (CTO)
These people represent the founding department and monitor areas of their expertise. CEO supervises all the matters happening within marketing, sales, law, management, and HR sections. Also, the CEO makes sure CTO's department meets all the business demands. CTO is responsible for all the tech aspects.
Full stack development team
Full stack development specialists ( full stack developers and team leads) cover all the layers of the development processes and make sure there is everything smooth and harmonious from the client's side and server's side.
User experience team
The UX team ( researchers, designers, leads)  makes it possible for the user to enjoy the functionality, usability, and graphical aesthetics of the product. Also, they make sure they get the immediate feedback and inform the team about  features to be altered.
DevOps team
DevOps specialists( cloud architect, system administrator) ensure the smooth bridge between the final version of the product that goes to the market and the user who is about to get an outstanding experience from interacting with it. Also, DevOps engineers are responsible for monitoring the cloud infrastructure.
QA team
QA engineers ( analysts, testers, leads) make sure the quality of the product is undoubtful by eliminating bugs and issues.
Data scientists
Data is crucial when it comes to ensuring excellent customer experience. The better you know your clientele branch, the better experience you can provide them with. AI helps data collected to become actionable. Computers cannot work through visual information the way humans can. Therefore the machine has to be instructed on the information to be construed and equipped with the context for making decisions. That's why data annotation professionals are  essential. Whether it's a text, video, or audio annotation, a human-led function will label it for the machine's further recognition and delivery.
Sales and marketing department
This department (sales coordinators, brand managers) develops strategies that will advertise and promote the product to the level of "being highly coveted" and ensure sales deals to be sealed.
Law sector
Legal specialists ( law, tax, accounting) are crucial in any size business in order to secure its money and a good name.
The well-balanced work of the professionals mentioned above is known to deliver outstanding outcomes for the startup, its investors, and its clients.
The Importance of Having a Good Full Stack Development Team
All the members of the startup staff bear the indispensable value for establishing and maintaining a  solid position in the market. However, if the product is not developed in accordance with the latest development trends, then there will be no need for other employees.
To secure the tech side, startups should opt for full stack development. Having the full stack developers on board will save time, money, and cells of the nervous system. A developer who masters a combination of front-end and back-end skills adds a  huge value to the development workflow by reducing spending time on communication and discussion that is inevitable between front-end and back-end developer specialists. Time is money. Saved time saves more money.

Source: https://mobilunity.com/blog/3-ways-to-hire-developers-for-startup/
Hiring a highly-qualified full stack development team is possible even if the HR infrastructure is not well-developed within the business. Turning for help to business-provider agencies will help to solve the case, choosing the most fitting talents for the exact product needs.
Conclusion
In order to bring a startup idea to life successfully, founders should attract decent funding that will result in hiring the most competent people to cooperate with so that the product or service meets its ideal clients. Full-stack professionals will help grow the seed into the apple fast and efficiently, helping it reach its customer. That will  ensure the experience that nurtures loyalty, places the product on the map, and delivers promising revenues.
Author: Anastasia Stefanuk is a passionate writer and a marketing manager at Mobilunity. The company provides professional staffing services, so she is always aware of technology news and wants to share her experience to help tech startups and companies to be up-to-date.