When your business starts to grow, you might find that some of your processes are actually hindrances. They could be repetitive; some can be made a part of just one process, while some are actually useless.
It is common for start-ups to have business processes that are all over the place. It may be manageable at first and it could work but when your business starts gaining traction and you're getting more clients and more sales, you'll find that it is difficult to achieve more if you do not have a laid out, streamlined, and solid business process.
What is a business process?
Simply put, a business process are things that need to be done in order to complete a service or deliver a product. At 1800Approved for example, the business process starts when a potential customers fills out the online form and ends when the customer drives away with a new vehicle.
The things or processes that happen from beginning to end are the ones that you need to simplify. The processes have to be defined, easy to understand, and straight to the point otherwise your team could end up doing things that are unnecessary.
Here is how a typical business process looks like.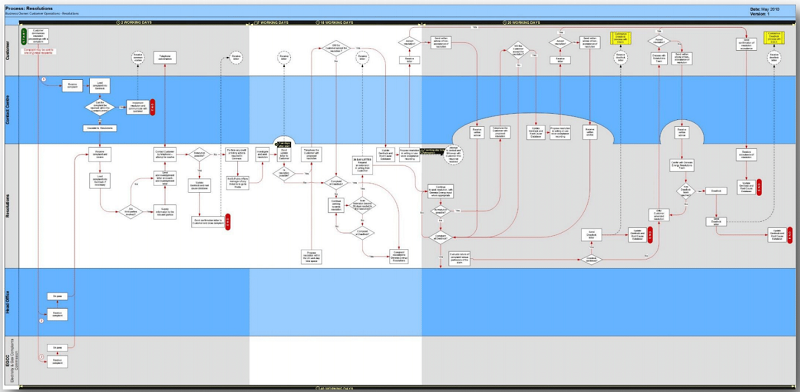 Image source
Yeah, I know. You get confused just by looking at it. That is the exact feeling employees have over business processes that look like that. The worst part is employees will start doing things by themselves, creating shortcuts when and where they think possible and confusing everybody else in the process.
The solution? Simplify.
Your goal is to make sure that a new employee will be able to grasp the process easily. Depending on where the employee will fit in the process, he or she should be able to clearly see what the tasks are and how they fit in achieving the goal. Be it completing a service or delivering a product.
How to simplify your business process?
Revisit your goals – What is it that your process achieves.
Take a step back and look at your processes from afar – Draw up our current process and look at it objectively.
Identify processes that can be grouped together or eliminated. For example: Shipping a product to a customer could involve the following process.

In this case, the process can be simplified with just the following processes.

Of course, you can't ignore the fact that stocks and boxes may not be enough and that orders may come in over the weekend and shipping is not available so you can put those in as "notes" in the processes.
Discuss the process with the people involved.
Implement the process.
Check for areas of improvement.
Essential elements of a business process
Like what I said earlier, your business process should be;
Defined – It should be clearly laid out in order to avoid confusion
Easy to understand – Use simple words. Action words whenever possible so people know exactly what to do.
Streamlined – Simplify and remove unnecessary steps
Building a solid business process can significantly increase the efficiency of your business and allow you to take on more customers with ease. Once you find the process, scaling your business will be a breeze because you will not be taken aback by the sudden increase in sales volume.