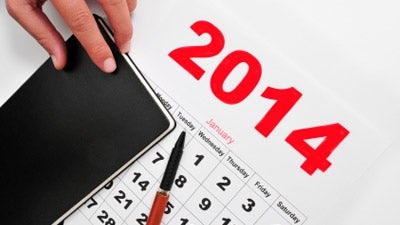 We've entered the home stretch of 2013 and the
holidays are in full swing
. The next few weeks will be hectic for everyone, but particularly for small business owners as it is easy to get overwhelmed this time of year. It's time to take a moment to stop and make sure your business is "legally fit" for 2014.
Here's a checklist of legal aspects for small businesses to consider before the calendar hits 2014.
1. Incorporate or change your business structure
Many small businesses start out as
sole proprietorships
or
partnerships
, but then eventually transition to another entity. For example, if your business is not incorporated, you may want to consider incorporating (either as a C Corp, S Corp, or LLC) to shelter you from some financial risk and possibly give you more flexibility when it comes to taxes. Discuss the different legal entities with your CPA, so you can determine the right entity for your situation and the right time to make the change.
You can look into a "delayed filing" option with a document-filing company. This means that you can get all of your paperwork submitted now and it will be held and filed on the first business day of 2014, allowing you to start fresh next year. This will simplify your paperwork and tax filings, as your business will have the same business structure for the whole year.
2. Close an inactive business
Did you start a business a few years ago, but it's no longer operating? Even if you're not actively promoting the business and it has no revenue, you still need to file a formal termination of that LLC or Corporation. Otherwise, you will be charged fees associated with the business, you'll still be expected to file an annual report, and you'll still need to submit tax returns to the IRS and state.
If you have an
inactive business
, you should file an "Articles of Dissolution" or "Certificate of Termination" document with the Secretary of State where your corporation or LLC was formed. In most cases, you'll need to settle any owed taxes before you can do this. You should also cancel any kind of permit or licenses you hold with the state or county.
Again, make sure to take care of these matters while it's still 2013. There's simply no reason to pay an extra cent in fees toward a business you've essentially retired—there's a lot more you can do with that money!
3. Hold your annual meeting for your Corporation or LLC
If you've gone through the work to incorporate your business, make sure you keep it in good standing. Keeping good corporate books is a frequently overlooked corporate activity. The end of the year is a good time to hold your annual meeting for your Corporation or LLC. Along with the meeting, you'll need to generate written minutes/resolutions to be signed by the shareholders (Corporation) or members (LLC).
4. File "Articles of Amendment" for any changes
If you made any changes to your Corporation or LLC—for example, you changed your business address, authorized more shares, or a board member left—you'll need to file an official notification with your state of incorporation. In most states, this paperwork is known as "Articles of Amendment." While this type of paperwork may seem pretty trivial, it's critical to keeping your LLC or Corporation in good standing (and thus protecting your personal assets).
5. Review your estimated tax payments for 2013
Now that we're nearing the end point for 2013, review what your business has made year to date and assess your
estimated tax payments
to avoid underpayments or overpayments. You'll want to adjust your final 2013 payment (due Jan 15th) as needed.
The next two months are a perfect opportunity to tie up any loose ends you've been putting off throughout the year. For example, does your business need a
Fictitious Business Name
(or DBA)? Did you get a Tax ID number (
Employer ID Number
)? Are all your necessary licenses and permits in order?
The next few months will be busy, but set aside some time to take care of your business' legal and administrative activities. By addressing certain issues in 2013, you might be able to save money in fees, taxes, and penalties moving forward. And in other cases, you'll be preparing your business for a fresh start in 2014!
Published: November 19, 2013