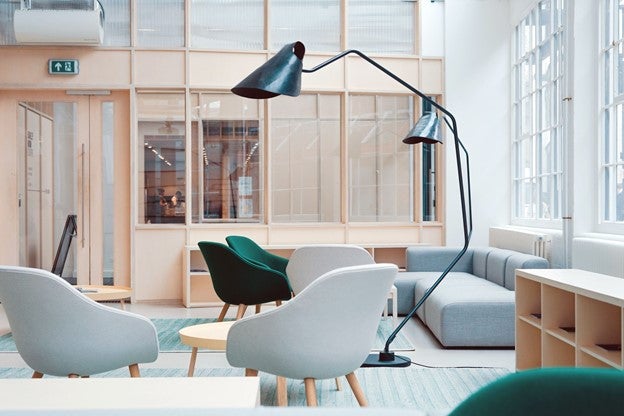 Photo by Toa Heftiba on Unsplash
The COVID-19 pandemic has led to many changes in people's working patterns. Hybrid and remote working is becoming more widespread, which has led to many businesses downsizing office space, or taking the time to redesign their existing ones. 
Whether working at home or in an office, your surroundings are very important to your productivity and overall health and wellbeing. Healthier employees are happier and more productive and take fewer days off. Plus, taking the time to think about the welfare of your employees in this depth gives a greater sense of team culture and positivity. 
When it comes to designing your office, don't just linger over the aesthetics, think about the health of your employees too. 
Giving employees a say 
Rather than just going ahead with sweeping changes, why not get the opinion of your employees, who will be able to point out any trouble spots or ideas for improvement.
Send out some communications about the project and see if there is any interest in people volunteering to help plan the renovations. You might be surprised at how many good ideas they have when it comes to how the space looks and functions. 
If you're a smaller business, your employees may well have connections in the local business community or with contractors that could be useful to you. 
They can also be a great source of inspiration when choosing the overall look and feel of the office. Many modern workplaces opt for a colorful or a vintage industrial look with wooden floors, reclaimed wooden furniture. You can also get industrial vintage lighting and black iron fittings UK-wide from a number of places. 
Beware of sick building syndrome
Sick building syndrome is a very real concern for many workforces. The term covers a range of symptoms experienced by people who spend a lot of time in the same building. There's no one cause, but many people find that their symptoms disappear or improve when they take a vacation or work somewhere else. 
These symptoms can include:
General flu-like symptoms

Headaches and migraines

Skin conditions – itchy, dry skin

Sore eyes and throat

Fatigue

Mental fog and inability to concentrate
While there is no one definitive cause of sick building syndrome, there are a number of factors thought to cause it including: 
Large open plan spaces

Large amounts of soft furnishings together

New carpeting

Air conditioning

Poor ventilation

Badly organized space

Poor cleaning standards and hygiene 

High ambient temperature

Humidity levels that are too high or low

Dusty areas
Why feeling well in the workplace is important
Many employers believe that as long as their premises are safe for employees, that's where their duty of care ends. While legally, that is the case, creating a healthy workplace has a myriad of benefits for both employees and companies. Unhealthy workplaces lead to lower morale, employee engagement levels, higher sickness, and absence levels, and lower productivity. So why wouldn't you want to address this when renovating your office? 
Natural light and greenery
The workplace can feel like a stressful and clinical space. Many scientists believe that people naturally seek out things that connect them with nature, such as natural light, fresh air, and other people. 
Light is important in everyday life. It is important for our mood, sleep patterns, energy levels, and productivity. Lack of natural light, especially in the winter months can trigger Seasonal Affective Disorder (SAD), a type of seasonal depression. 
You may not have that much control over the number of windows your office has, but if you're looking for new space, make sure that plenty of natural light is high on your agenda. 
If your windows are limited, ensure that you're designing your office to take advantage of this. 
As well as natural light,  plants in the office can also have a positive and calming effect. Studies have shown that they can reduce stress levels by more than 30 percent. 
Artificial lighting
Sometimes, it's not possible to flood every area with natural light, or the winter months make the days shorter. In this case, you need to plan your artificial lighting scheme carefully. 
Fluorescent and flickering lights can cause eyestrain and headaches. Modern LED lighting uses less energy and is closer to natural daylight. Be careful to choose the right lighting levels for your office. You don't want to make the space too murky, or go in the other direction and light it up like a stadium. 
Colour temperature is just as important as lighting levels.  When deciding how each area of your office is to be used, assign a color temperature that best suits your needs. The light that is whiter, is said to encourage focus. Reception areas work better with yellow tones. You can also install lighting systems that subtly change throughout the day depending on the natural light levels. 
Use space wisely
The trend over the last 20 years has been to have an open-plan office. It is meant to encourage collaboration and teamwork. But this kind of office planning also has its cons too. Many people find open-plan offices noisy, with too many distractions. There's also a lack of privacy, so you can feel crowded and overwhelmed at times.  It has also been shown that open-plan office workers have higher levels of stress. 
You don't have to dispense with an open plan entirely. There are many ways to create a versatile space by sectioning off areas with furniture and mobile walls. 
By being flexible with your use of space, employees won't feel confined. For example, meeting rooms can be used as a social space or chill-out areas if needed. 
Workstations that promote health
Poorly designed desks can cause any amount of health issues including back and neck pain, poor posture, headaches, and migraines. Additionally, sitting for too long every day is terrible for our overall health. Prolonged periods of sitting can increase the risk of weight gain, diabetes, stroke, and heart disease. 
Providing workstations that can be converted to a standing desk is a great way to encourage employees to stay more active and even boost productivity. 
A poorly laid-out workstation needs to be addressed before it becomes an issue. Invest in quality, ergonomic chairs and show employees the correct way to set them up. You should also provide them with advice on where to place keyboards and phones etc. 
Adopt user-friendly tech
Today's workplace is all about technology. There are many options to make your working environment better and improve your productivity. But in order for this technology to be useful, it needs to be user-friendly or automated. If employees are constantly battling with conferencing technology or electric window blinds, then it's going to create a stressful situation for your employees. 
Think about ventilation
A constant supply of fresh air is not only good for the physical health of employees, it also improves cognitive abilities too. 
When designing an office, think about ventilation and air conditioning systems throughout the office. Has the indoor air quality been measured regularly? 
Keep the temperature stable
In any workplace, the war over the thermostat is never won. There are always some people who prefer to be warm or those that seem to feel cold no matter the temperature. Offices that are too hot, too cold, or have a rapidly fluctuating temperature, can affect people's health and productivity. 
Studies have shown that temperatures above 30 degrees can cause a noticeable drop in productivity as people get uncomfortable and even drowsy. During particularly hot days, temperatures above 30 degrees can cause productivity to decrease by up to 90 percent. The same is true of colder temperatures. Anything below 15 degrees can increase the number of errors that happen. This is thought to be down to the body concentrating on keeping important organs warms, meaning that employees cannot think clearly. 
So in general, the ideal temperature for an office is between 18-20 degrees. When planning out air conditioning, it's important to take into account the different areas of the building. For example, rooms with an exterior wall tend to be colder than internal rooms. 
The type of work happening also has an effect. For example, if employees are doing manual tasks or having to move around a lot, they may feel hotter than if they were at a desk typing. 
Have as many zones as necessary and have them controlled with a thermostat so that you're not constantly turning the heat up or down depending on the weather outside. 
Final thoughts
Office design is now very human-centric. Every day you hear about companies who have built gyms, yoga rooms, or chill-out spaces. If you have the room and the budget for these types of extras, that's great. But even if you don't there are so many things you can do that promote health, safety, and wellbeing for your employees. Don't think of it simply as an additional cost, what you gain in employee productivity and loyalty will pay for this many times over.