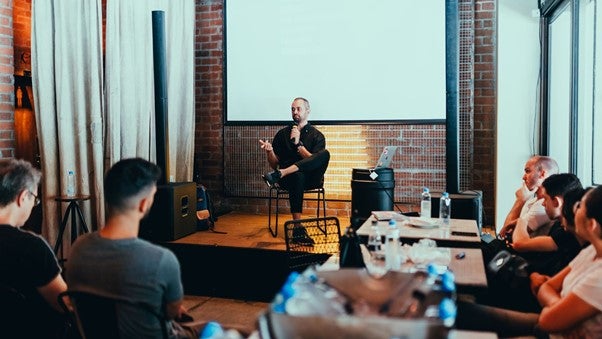 Seminars are a form of conference in which a qualified professional aims to educate a group of people on a subject. When it comes to corporate seminars, you can find events themed around all kinds of subjects from marketing strategies to leadership skills. You may even be able to find seminars on very niche topics like how to use Quickbooks or how to launch PPC ad campaigns. 
There are many benefits to seminars. Below are just a few different reasons to attend seminars.
Learn new skills
The most obvious reason to attend seminars is to learn new skills. You often get to hear advice from a professional (which may include a few 'secret' tricks that you wouldn't learn elsewhere). 
Some seminars involve simply listening to a speaker, while others may be more hands-ons (these are typically classed as workshops). These hands-on seminars may even serve as a form of training for you and your employees.
Obviously it's important to research a seminar beforehand. Make sure it's truly run by a professional and avoid seminars that appear to be trying to sell you something (any advice in these seminars is likely to be biased). 
Network
Seminars can be a great opportunity for networking. There will be lots of professionals from other companies attending. You may be able to meet people who you can form cross-promotional strategies with or even potential clients.
Get to the seminar early as this can be a great time to mingle with other attendees. Bring some business cards just in case!
Get out of the office…
A seminar could be a chance to get you and your employees out of the office. A change of environment could help to break up the monotony of everyday work and may help to keep you and your team inspired. Look at it as a work day out – but one that still serves a professional purpose.
..Or stay in the office
Of course, you don't have to leave the office to attend a seminar. The rise of webinars has made it possible to attend seminars remotely from any location.
As with regular seminars, you can find webinars themed around all kinds of subjects – you could consider a personal development webinar or you could learn hard skills like accounting or SEO. These are often delivered live via video call to a select group of people. While you may not be able to use a webinar to network, it can still be a great opportunity to learn from a professional. 
Strengthen your team
By encouraging employees to attend seminars, you can get them to learn new skills – skills that may even extend beyond your expertise. This can result in a much stronger and more knowledgeable team.
You can also strengthen the bond between employees by encouraging your team to socialise outside of the office. By getting involved in seminars yourself, you may also be able to put yourself on a similar level (when deciding which seminars to attend, it could also be worth getting your employees involved in choosing seminars). All in all, they can be a great team-building activity.