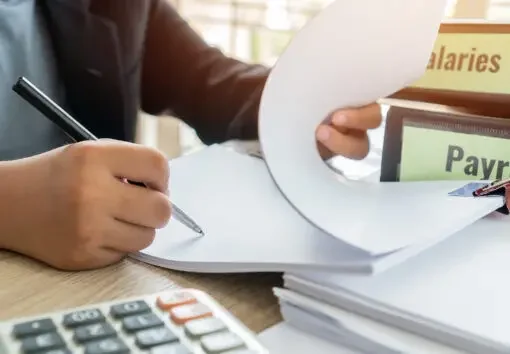 If you're a business owner in Texas, one of your greatest priorities should be paying your workers their fair salaries. After all, in a 2023 ranking of the best and worst job markets, Texas was quite ahead of the pack at rank 11. But to stay competitive, you can guarantee your employees' satisfaction by paying them accurately and on time. To do that, you'll want the best tools to calculate paychecks in Texas.
Accounting and running payroll can be tough, especially for business owners with dozens of other tasks on their plate. That's why plenty of businesses turn to payroll tools to help them calculate paychecks.
What's a Payroll Calculator?
A payroll calculator is a tool that helps you determine how much money your employees should be taking home each pay period after benefits, deductions, payroll taxes, and fringe benefits have been accounted for.
The amount of tax people pay depends on factors such as their tax bracket, marital status, number of dependents, and location, so it can be hard to determine by hand unless you're a tax professional.
Why Should You Use a Payroll Calculator?
As an employer, you'll get in quite a lot of trouble with the Department of Labor if you don't pay your employees correctly. Similarly, if you deduct too much tax, you'll have to refund the employee or correct it in future deductions, which would be another headache.
Mental gymnastics it might be for employers, workers are most attracted to very frequent paychecks — think weekly, biweekly, or monthly payroll. This is because it's easier to budget for day-to-day life with a more consistent cash flow.
As such, a payroll calculator is a worthwhile investment so employers can run payroll accurately and as frequently as they'd like, without taking up too much of the boss's time every week.
How to Calculate Paychecks in Texas
So what sort of payroll calculators are there? While you're always welcome to use this free Texas paycheck calculator to calculate paychecks yourself each pay period, it's true that a paid software service offers more perks, such as automatic payroll runs. Let's take a look at three of the most popular payroll software systems in Texas today.
Gusto
First on our list is Gusto Payroll Solutions, which helps you "hire, pay, and manage your team all in one place." Gusto can help you calculate and run payroll, manage employee time, and administer HR and benefits all in one place.
Gusto offers three service packages at different price tiers. The first, called the Simple plan, is offered for $40 per month with an additional $6 per user per month. This particular plan includes comprehensive single-state payroll services, including W-2s and 1099s, fundamental tools for hiring and onboarding, health insurance administration, and a service for employee financial benefits. Its Plus and Premium plans only add more and more tools to their packages.
In other words, Gusto helps you put all of your employee management tools into one basket, making it an enticing deal for small businesses just getting their payroll systems in order. With an extensive array of services at an economical cost, Gusto's offering presents an attractive proposition for emerging Texan companies seeking an all-in-one payroll solution.
Quickbooks
Next up is Quickbooks by Intuit, a reputable seller of accounting and bookkeeping software. Intuit's payroll solution is sure to calculate your paychecks quickly and accurately, and can help you auto-track income and expenses, pay employees and contractors, track time, and run payroll.
Quickbooks' entry-level Payroll Core plan includes full-service automated payroll runs and tax filing, taxes and forms, team health benefits management, 401(k) plans synced to the platform, 1099-MISC and 1099-NEC e-filing, workers' compensation administration, and next-day direct deposit. Its Payroll Premium and Payroll Elite packages offer more support and features to help enhance these processes.
The biggest draw about Quickbooks is that it natively integrates with the rest of the rest of Intuit's software tools for accounting, bookkeeping, banking, and taxes. If your business is looking to upgrade several of its internal tools at once, a switch to the Intuit ecosystem could greatly remove data silos and ensure that your payroll processes are automatically accounted for on all financial fronts.
Patriot
Our final payroll solution is Patriot Software, lauded for its affordability while offering a broad spectrum of essential payroll tools.
Starting at $17 per month plus $4 per employee or 1099 contractor, Patriot's Basic Payroll plan includes unlimited payrolls at multiple pay rates, frequencies, and locations, simultaneous contractor payrolls, electronic W-2s, free two-day direct deposit, time tracking, an employee portal, workers' compensation integration, and more. For an additional $20 per month, Patriot will also file and deposit your federal, state, and local taxes.
If your company is looking to keep costs down while calculating payroll for several categories of employees at different times in a pay period, Patriot's a great deal for you. On the downside, though, you'll have to upgrade to its Full Service plan if you want tax filing services as well.
Conclusion
Calculating paychecks and running payroll in Texas can be quite a struggle, especially for business owners with a lot on their plate already. Hopefully, this free paycheck calculator tool and these three payroll software recommendations have given you a good place to start when it comes to simplifying your payroll process, so you can get back to running your business.
Published: September 5, 2023